Woodrow Wilson's name will remain on Princeton University's public policy school, despite calls to remove it because the former U.S. president was a segregationist, the university announced Monday.
"Princeton must openly and candidly recognize that Wilson, like other historical figures, leaves behind a complex legacy of both positive and negative repercussions, and that the use of his name implies no endorsement of views and actions that conflict with the values and aspirations of our times," the Wilson Legacy Review Committee said in a statement, according to the university's communications office.
RELATED: Princeton Weighs Removing Woodrow Wilson's Name
Princeton was challenged to take a deeper look into Wilson's life in the fall, when a group of students raised questions about his racist views and their impact on his policy. The Black Justice League held a 32-hour sit-in inside the Princeton president's office, demanding Wilson's name be removed from programs and buildings, including the Woodrow Wilson School of Public Policy and International Affairs, and for other changes to be made on campus to make the university more diverse and inclusive.
"The process that the Princeton Trustees undertook to understand Woodrow Wilson and how we name institutions and buildings across campus was fair and robust," Cecilia Rouse, dean of the Woodrow Wilson School of Public Policy and International Affairs, told NBC News.
"Importantly, they understood that it was important to address and reinvigorate the issue of diversity and inclusion across the campus. I wholly support this attention to diversity and inclusion, because Princeton — like all Universities — flourishes when many voices and opinions are embraced," she said.
The committee released a report recommending that "both the Woodrow Wilson School of Public and International Affairs and Woodrow Wilson College should retain their current names and that the University needs to be honest and forthcoming about its history."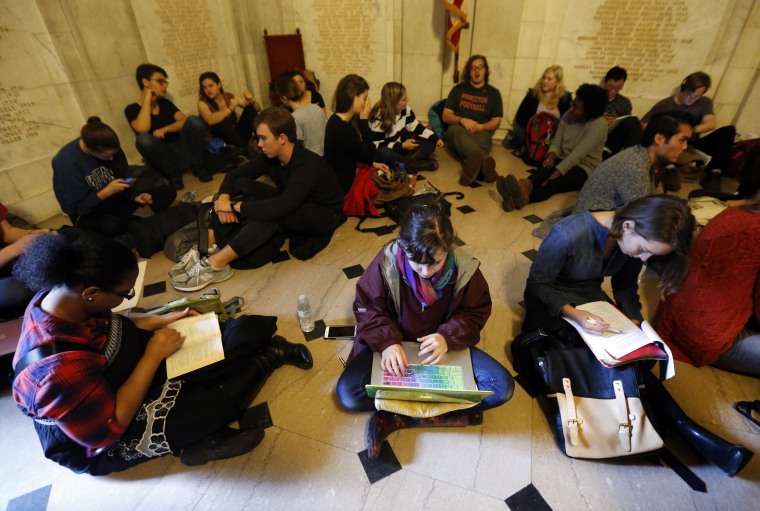 While the university will not remove Wilson's name from the campus, the committee agreed with the sit-in protesters that the university needed to further commit to diversity on-campus. "The most important recommendation we make is for a renewed and expanded commitment to diversity and inclusion at Princeton. What is needed is nothing less than a change in campus climate that elevates Princeton's commitment to diversity and inclusion to a higher priority," the report said.
Changes will include establishing a pipeline program to encourage more minority students to pursue doctoral degrees and diversifying campus symbols and art.
The board of trustees' decision comes on the same day that the school launches an interactive exhibit putting Wilson in context for his era while emphasizing that he was a man apart from it — for better and worse. "In the Nation's Service? Wilson Revisited" will run through Oct. 28.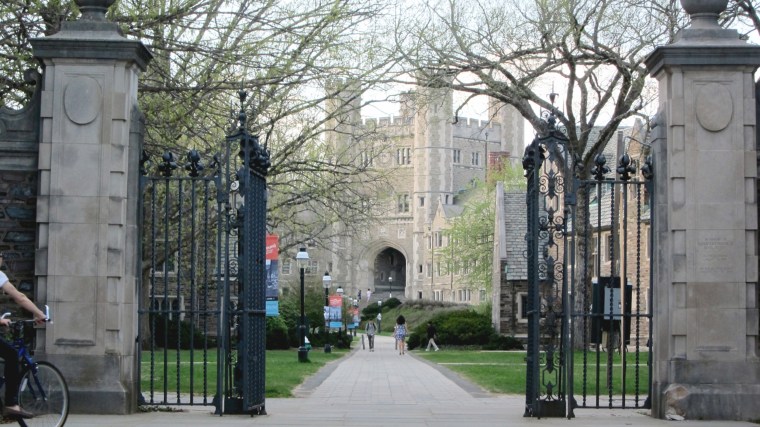 "What we were trying to do here is take the line that separates 'Wilson good' and 'Wilson bad' and expand it," said Daniel Linke, archivist at the Seeley G. Mudd Manuscript Library at Princeton and curator of the exhibit. "There's a nuanced debate to be had. He's still affecting us today."
Wilson was president of Princeton from 1902 to 1910, and the country's 28th president from 1913 until 1921. Wilson won the Nobel Peace Prize in 1919 for being the architect of the League of Nations.
Wilson also allowed his cabinet to re-segregate federal government departments and also forced civil servant applicants to include photographs, considered by African Americans at the time as a move to weed them out.
The debate over Wilson's name was part of a wave of racially motivated activism on college campuses across the country this school year that began with protests at the University of Missouri. There, black students — including members of the school's football team — successfully protested for the ouster of Missouri's president.