The California desert doesn't normally conjure images of big waves and pro surfers. Yet if all goes according to plan, the desert city of La Quinta might get both.
Professional surfing legend Kelly Slater plans to open the world's largest artificial wave in the Coachella Valley, made famous over the last decade for its eponymous music festival. The wave will use technology by Kelly Slater Wave Co., which has spent the better part of a decade creating the perfect man-made wave. One already exists at the Kelly Slater Surf Ranch in Lemoore, California, more than three hours north of Los Angeles.
Download the NBC News app for breaking news
Slater's latest enterprise would be part of the 400-acre Coral Mountain resort, which would include homes, a private club, multiple dining venues and adventure sports.
To realize this strange California dream, the 11-time world champion surfer teamed up with private real estate investment and development firm Meriwether Companies and Big Sky Wave Developments, founded by Michael B. Schwab, son of the brokerage pioneer Charles Schwab. The idea was to breathe new life into a destination that for decades was synonymous with golf.
"The Coachella Valley is dominated by more than 150 golf courses," said Noah Hahn, a partner at Meriwether Companies. "This is a radically different vision."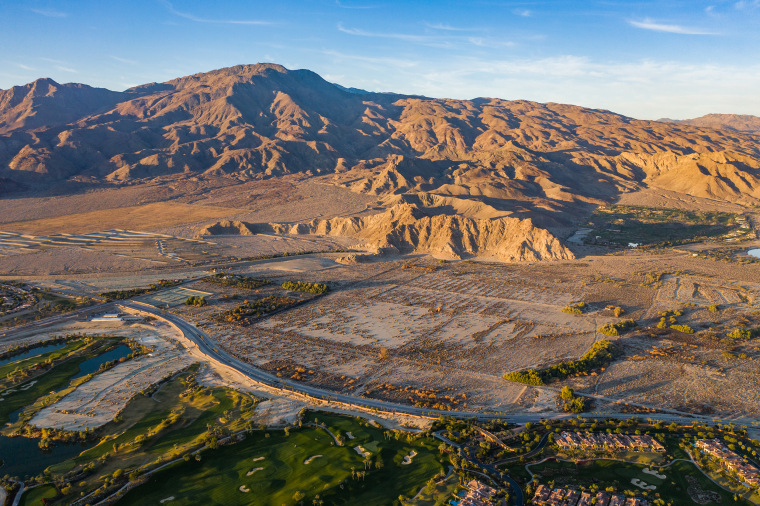 The wave might be an especially jarring sight in a state that grappled with a nearly decade-long drought.
The team behind Coral Mountain is betting big on attracting a new generation of vacationers. In recent years, California desert towns have increasingly catered to younger and hipper tourists from Los Angeles and San Diego who flock not just to the Coachella Valley Music and Arts Festival but also to smaller events, like Stagecoach and Desert Days. Sprinkle in an influx of trendy vintage stores, Instagram-worthy vacation rentals and smaller music venues and suddenly the desert is no longer the land of Bob Hope.
"We went to Palm Springs last Thanksgiving for five days, and by day two we were already bored," Hahn said of his family vacation. "There was nothing to do."
The $200 million Coral Mountain complex, which is in the permitting stage, would have a 150-room hotel and up to 600 homes in the $1 million to $5 million range, The Associated Press reported. Access to amenities would be exclusive to homeowners, hotel guests, members and their guests. Dining would be open to the public through reservations.
The centerpiece of Coral Mountain would be the wave basin, which would hold about 18 million gallons of water. A golf course, by contrast, uses 1 million gallons of water a day, Hahn said.
The Coral Mountain wave would have room for about 25 surfers at a time — about five on the main wave and 10 each on the smaller waves at each end of the basin. It would feature waves for all athletic levels, Hahn said.
He estimated that Coral Mountain could break ground by 2021.