A fired lecturer claims a former professor at Amherst College was using sex to sell students on taking Spanish classes.
Dimaris Barrios-Beltran claims in a civil lawsuit her boss Victoria Maillo "encouraged" lecturers like her and teaching assistants "to go out to parties or socials and sleep with students to encourage more people to take Spanish." She said at least one of the TA's complained to her that Maillo was treating her like a "prostitute."
Barrios-Beltran claims when she asked Maillo, who is named in the suit along with the college, whether she was expected to sleep with "a different guy every night like another TA was doing," her boss responded, "that is what I brought you here for."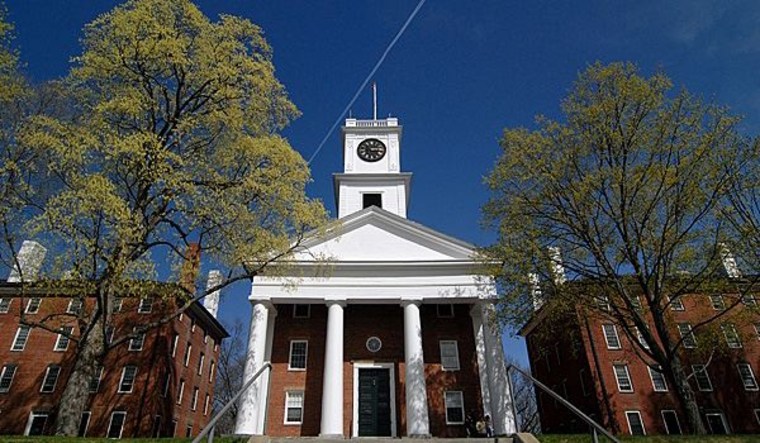 Miallo said that when she recruited prospective TA's she looked for "pretty faces," Barrios-Beltran charged in the complaint.
The ousted 33-year-old lecturer says that went to she went over Maillo's head to report what was allegedly going, her boss retaliated, trashing her Puerto Rican accented Spanish, dismissing her as "ghetto," according to the complaint.
Barrios-Beltran, who was hired in 2012, was let go this year and is now a Spanish lecturer at nearby Mount Holyoke College, where earlier this month she helped run a belly dancing workshop. Neither she nor her lawyers in Springfield, Massachusetts, could be reached for comment.
Maillo reportedly left the college earlier this year.
Amherst spokesman Pete Mackey confirmed for NBC News a statement he made earlier to The Washington Post that Barrios-Beltran's contract was not renewed in June because of "declining enrollments."
"This decision was made with no knowledge of the allegations Ms. Barrios-Beltran now raises, and which she brought forward only after she was told that her short-term contract would not be renewed," Mackey's statement read.
Amherst College, with its leafy postcard-perfect campus, is regarded as one of the top liberal arts schools in the country. It is also one of the most expensive, with an annual tuition of $50,562. But last year it was one of the 55 colleges named in a federal investigation over the handling of sexual abuse complaints.