BALTIMORE — A key alibi witness for Adnan Syed, the Maryland man whose 2000 murder conviction was the subject of the first season of the true-crime podcast, "Serial," testified on his behalf for the first time on Wednesday, telling a judge that she'd seen him at a public library on the day of the killing.
Asia Chapman, a high school classmate, appeared as a witness in Syed's post-conviction hearing in Baltimore City Circuit Court, where his lawyers argued that he deserved a new trial because his original defense team failed him.
Syed seemed "completely normal" when they ran into each other at the Woodlawn library branch on Jan. 13, 1999, Chapman said. She heard later that he'd been arrested for strangling his ex-girlfriend, Hae Min Lee, that same day in a fit of jealous rage after she began dating someone new. Chapman realized she may have worthwhile evidence. But it was never used.
On the stand, Chapman, 34, repeated the story she told in 2014's "Serial," when she went by her maiden name, McClain. She is now married with two children, and pregnant with a third, and lives in Washington. She laughed nervously as she testified.
While Chapman spoke, Syed, 34 and serving a life sentence, sat still in the courtroom in a blue-gray jumpsuit, chains around his ankles. His family sat behind him, on the right side of the courtroom.
Chapman's testimony came on the first day of a hearing to determine whether Syed will be given a new trial based on evidence that wasn't previously presented. Testimony is expected to continue through Friday.
Meanwhile, Lee's family released a statement Wednesday saying she remained "the true victim" and that the reopened case was forcing them to "relive a nightmare." They said they believed in Syed's guilt and "look forward to bringing this chapter to an end so we can celebrate the memory of Hae instead of celebrating the man who killed her."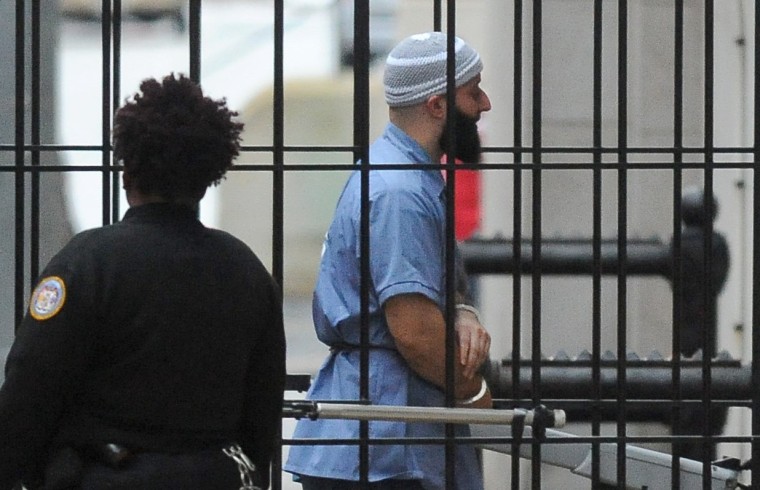 Chapman testified that after she realized her library encounter with Syed might be of value, she wrote him two letters offering to help and signed a notarized affidavit. But his defense lawyer never contacted her.
Not long after, she went to college, and lost track of Syed's case.
In 2010, Syed's new lawyer, Justin Brown, contacted Chapman, who in turn sought advice from prosecutor Kevin Urick. The prosecutor allegedly called Brown "BS" and dissuaded Chapman from returning his call. But Chapman took notes on the conversation, which were entered into evidence as she testified Wednesday.
In January 2014, "Serial" host Sarah Koenig contacted Chapman for an interview. Chapman agreed, but said Wednesday that she didn't know what a podcast was, and thought it was for a written article. Later, when the podcast went viral, she heard from friends on Facebook that her voice was in it. She was shocked.
"Serial" became a sensation in the fall of 2014, raising new questions about Syed's innocence.
Chapman said she listened to the show, and began to rethink her involvement in the case. She also grew angry about her conversation with Urick.
Before "Serial," Chapman said, "I didn't think I was very important at all." The podcast, she said, "placed a great weight on my heart." She then contacted Brown herself.
When Brown asked her why she wanted to testify, Chapman responded: "I felt it was the right thing to do. For justice to be served, all the information needs to be on the table."
Related: 'Serial' Star in Court for Hearing That Could Lead to Retrial
Earlier on Wednesday, Brown argued that his client's original defense attorney, Cristina Gutierrez, was too ill and stressed to adequately represent him during his 2000 trial.
Brown called on Phillip Dantes, a friend and colleague of Gutierrez, to highlight how sick she had become. Gutierrez died in 2004 after first suffering the effects of multiple sclerosis in 1999. Her condition was also complicated by diabetes. In 2001, the state disbarred her as an attorney following complaints from clients whom she represented; she agreed to be disbarred.
Dantes testified that he saw her change from a "zealous" star defender to a physically incapacitated lawyer who "looked like she had a high level of anxiety" around the time leading up to Syed's trial.
Brown, meanwhile, also pointed to Gutierrez's failure to contact Chapman, and also Gutierrez's inability to bring evidence showing that critical cellphone records may have been unreliable.
Maryland Deputy Attorney General Thiruvendran Vignarajah vigorously opposed Brown's assessment during his opening statement, saying that a jury convicted Syed on "overwhelming evidence."
"Mr. Syed was convicted because he did it," Vignarajah said.
It wasn't immediately clear if Brown plans to call on his client to testify.
The judge also ordered that several witnesses be sequestered during the post-conviction hearing, meaning they cannot watch the hearing proceedings until they are called to the stand. Chapman and Rabia Chaudry, Syed's most notable advocate, were among those sequestered.