The bodies of two children, ages 10 and 4, were found at the site of last week's partial collapse of a Miami Beach-area condo building, bringing the death toll to 18, officials said Wednesday.
Miami-Dade County Mayor Daniella Levine Cava made the announcement Wednesday, the seventh day of the search for survivors following Thursday's collapse in Surfside.
Any loss of life from the collapse is a tragedy, "but the loss of our children is too great to bear," Levine Cava said. "Our community, our nation and the world, we're all mourning with these families."
Earlier Wednesday, the mayor said that four bodies had been found by crews Tuesday night. The number of unaccounted for people stands at 145.
Meanwhile, Miami's top prosecutor said she will ask a grand jury to investigate the collapse.
"My office has a long tradition of presenting more than just criminal cases to the Grand Jury," Miami-Dade State Attorney Katherine Fernandez Rundle said Tuesday in a statement. "Our Grand Juries have also served as a cross-section of the community to evaluate matters of health and public safety," she said, adding that the grand jury issued a report in the aftermath of Hurricane Andrew in 1992.
"I plan to request that our Grand Jury look at what steps we can take to safeguard our residents without jeopardizing any scientific, public safety, or potential criminal investigations," she added.
It is not clear when Rundle plans to bring the matter before grand jurors.
She said she sent prosecutors, as well as victim specialists, to the site hours after nearly half of Champlain Towers South in the town of Surfside flattened last week.
President Joe Biden and first lady Jill Biden will visit Surfside on Thursday, the White House announced Tuesday.
More than 200 people are working on the mound of rubble in what authorities say is still a search and rescue operation.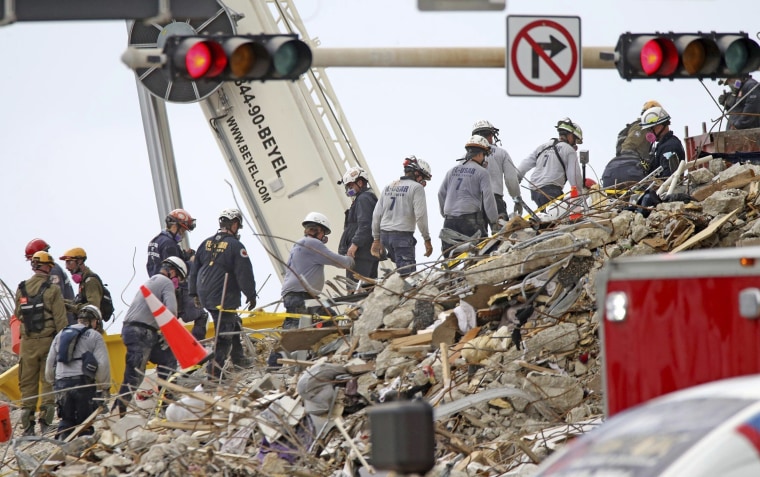 "I have been overwhelmed by the heroics of the first responders who have labored tirelessly to save lives," Rundle, who has also visited the site multiple times, said.
She said engineers from the National Institute of Standards and Technology, which investigated in the aftermath of the Sept. 11, 2001, terrorist attacks, have told her that their investigation into the cause of the collapse would "take a long time."
"It is painstaking and complicated work," Rundle said. "I will not do anything to jeopardize their investigative findings. However, this is a matter of extreme public importance, and as the state attorney elected to keep this community safe, I will not wait."
Levine Cava saidTuesday she is "very supportive of the grand jury investigation" and "will do everything possible to aid them."
Investigators have not officially speculated what caused 55 of the 136 units in the northeast corridor of the 12-floor building to crumble about 1:30 a.m. Thursday.
But a trove of emails and documents released by Surfside revealed that residents and contractors had been raising concerns about the integrity of the building for years.
A letter in April from Champlain Towers South Board President Jean Wodnicki to residents revealed the building's "concrete deterioration is accelerating."
The letter, which explained why a renovation that had originally been estimated to cost about $9 million had jumped to $16 million in about three years, confirmed engineering consultant Frank Morabito's 2018 prediction that already extensive damage to the building "would begin to multiply exponentially."
Morabito recommended that concrete slabs, which were "showing distress" by the entrance and pool deck, "be removed and replaced in their entirety." He said the concrete deterioration should "be repaired in a timely fashion."
A commercial pool contractor who was inspecting the pool last week told the Miami Herald that there "was standing water all over the parking garage," and the biggest puddle of water was by parking spot 78, located under the pool deck, where Morabito had reported there was "major structural damage."
But in 2018, residents were not told of Morabito's report, which was commissioned to get a start on a 40-year recertification process, as is required under the Miami-Dade County building code.
One resident told NBC News that a Surfside building official said at a meeting a month later "that the building was not in bad shape." Meeting minutes released by Surfside confirm the resident's account, saying Surfside building official Rosendo Prieto told those present at the meeting that he had received and reviewed the structural engineer's report "and it appears the building is in very good shape."
Prieto also disregarded a Champlain Towers South board member's 2019 concerns that nearby construction may cause damage to the building.
"We are concerned that the construction next to Surfside is too close," Mara Chouela wrote. "The terra project on Collins and 87 are digging too close to our property and we have concerns regarding the structure of our building."
Prieto responded, "There is nothing for me to check."
Prieto is on a leave of absence from his current job as a temporary building official for Doral, Florida, the city said. Prieto was an employee of C.A.P. Government, Inc. which was contracted by the city of Doral, according to a statement announcing his leave Monday.