Florida prosecutors are investigating the voter registration of Donald Trump's campaign chief, NBC News has learned.
Election officials in Miami-Dade County confirmed Tuesday that the local state attorney's office requested Stephen Bannon's voter records last week.
"I know that there is an investigation but I know very little about it," said Rosy Pastrana, executive assistant to the county's election supervisor. "They requested voter records for him, which is why I know there is an investigation going on."
Pastrana told NBC News there was nothing obvious in Bannon's voter record that suggested fraud to her, especially since he had not voted in Miami-Dade since registering there in April 2014.
"There is nothing here that I see that he did wrong," she said.
WATCH: Who Is Trump's New Campaign CEO?
Ed Griffith, a spokesman for the Miami-Dade state attorney, said he could not confirm or deny an investigation was under way but noted that his office could open a probe based on any question of possible violations, even inquiries from the media.
"As a prosecutorial agency, we investigate all potential crimes brought to our attention," Griffith said. "If it was brought to our attention we would certainly review any potential crime to see if it is indeed a crime or an administrative violation."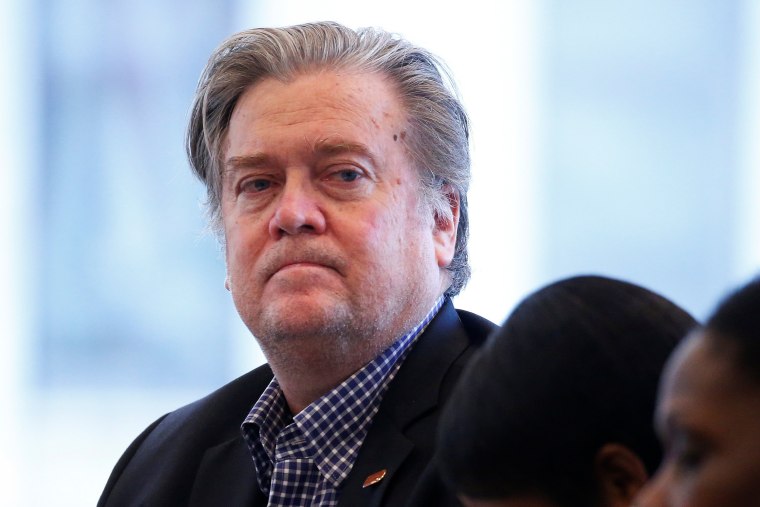 Bannon, who lived in California for many years and still owns property there, had no immediate comment. The Trump campaign, which has made an issue of voter fraud by suggesting November's election could be hijacked, also had no immediate comment.
To register to vote in Florida, a person must swear that they are a legal resident of the state and the county where they register to vote. The form notes that submitting false information is a felony punishable by up to five years in prison.
Registrants are asked to provide a Florida driver's license or ID number or the last four digits of their Social Security number. In Bannon's case, Pastrana said, he submitted his Social Security data. The state Department of Highway Safety and Motor Vehicles said Bannon does not have a Florida license or ID.
Bannon was named CEO of the Trump campaign during a shakeup in mid-August. His voter registration and residency drew scrutiny last week when the Guardian newspaper reported he was registered at a home in Miami that he rented for his ex-wife. Conservative writer and Trump supporter A.J. Delgado told NBC News she visited Bannon there, but an owner of the home told reporters it had been empty for months.
About a week before the Guardian report, Bannon sent in a change of registration form listing a new address in Sarasota County, but it was not fully processed until after the story appeared.
The new registration is for a home in Nokomis that public records show is owned by Andy Badolato, a writer for Breitbart News, the conservative website where Bannon is chairman. Badolato, who is also a producer of conservative documentaries, did not respond to requests for comment.
Kurt Bardella, a former Breitbart spokesman, told NBC News that Bannon "spent a lot of time in Florida" and often stayed in Washington, as well, at a property affiliated with the website.
Pastrana said voters are supposed to register at their primary residence but don't have to be there full-time. Election supervisors don't verify the addresses listed on the registration form, she said.
Bannon's appointment as chief executive of the Trump campaign has brought attention to his personal history, including a fractious second marriage.
As NBC News reported last week, Bannon was charged in a 1996 misdemeanor domestic violence case after his then-wife accused him of grabbing her during a fight.
The charges were dismissed after prosecutors couldn't locate the wife to testify, and she later said in divorce papers that Bannon and his lawyer had made her leave town — allegations that Bannon's lawyer denied.
In the same divorce case, the wife also claimed Bannon made anti-Semitic comments during an argument over which private school their daughters would attend. Bannon denied it.