Markeith Loyd's former prosecutor received racist letters, including an apparent threat, days after she announced she would not seek the death penalty for the accused cop-killer, according to an incident report obtained by NBC News.
State Attorney Aramis Ayala's office received a racist message on March 20 in a letter addressed to the prosecutor, the report said.
One week later, the office reportedly received another letter addressed to Ayala. Inside was a card with a hangman's noose made of green twine. According to the incident report, Ayala, Florida's first black state attorney, believes the noose was meant as a threat to her as a public official.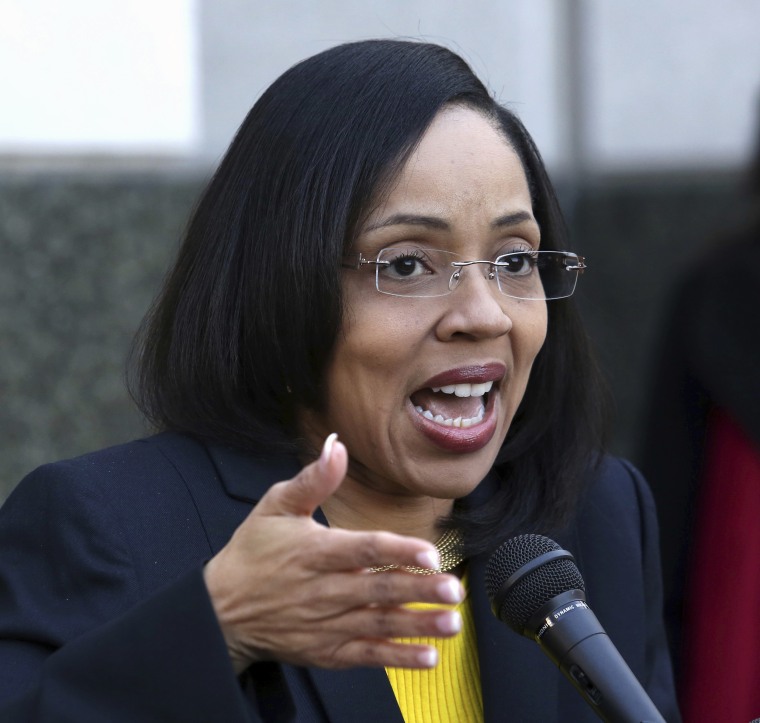 Threats against a public official are a third-degree felony in Florida, punishable by up to five years in prison and a $5,000 fine. The investigation into the messages is ongoing.
Authorities have not determined if both envelopes were sent by the same person.
When reached by NBC News, Eryka Washington, a spokeswoman for the 9th Judicial Circuit state attorney's office, declined to comment on the threats.
Florida Gov. Rick Scott removed Ayala from the Markeith Loyd case and 22 other homicide cases following her refusal to seek the death penalty for Loyd, 41.
Loyd was charged in the Jan. 9 shooting death of 42-year-old Orlando Police Lt. Debra Clayton. He faces two additional counts of first degree murder for the Dec. 13 shooting of his pregnant girlfriend and her unborn child.
Related: Florida Governor Replaces Markeith Loyd Prosecutor Over Death Penalty Protest
After her removal from the capital murder cases, Ayala filed suits in federal court and with the Florida Supreme Court.
The federal suit claims Scott violated the Florida constitution by removing a democratically elected state attorney for political reasons. It also claims Scott's actions violated the 14th Amendment by "diluting the weight of her vote for state attorney compared to voters in the 5th Judicial Circuit."
Scott assigned Brad King, state attorney for the 5th Judicial Circuit, to the homicide cases in mid-March.
Neither the Governor nor King, who is named as a defendant in Ayala's federal suit, has issued a response to the complaint.
One of Ayala's suits in Florida's highest court call for the justices to compel Scott to "show by what authority — not in violation of the Florida Constitution — he replaced state attorney Ayala on 23 homicide cases pending in her judicial circuit with" King.
The other calls on the court to issue a writ or order recognizing Ayala as the prosecutor in the cases she was removed from, or to stay the homicides until the high court decides if Scott's actions were constitutional.