Minnesota prosecutors have dropped rioting charges against the cousin of Philando Castile, who participated in protests after Castile was fatally shot by a suburban Minneapolis police officer last year.
Prosecutors have insufficient evidence to prove the case against Louis Hunter, the Carver County Attorney's Office said in a statement Wednesday, citing a lack of clear video footage and the difficulty in relying on eyewitness identification at trial.
Hunter, 38, was charged with two counts of second-degree felony riot. He was at a July 9, 2016, protest over the fatal July 6 shooting of Castile and was arrested the following day, prosecutors said. Castile was shot dead by St. Anthony police officer Jeronimo Yanez during a traffic stop just outside St. Paul.
The July 9 protests turned violent and objects were thrown at police from a section of Interstate 94 and from an overpass. Officers used "marking guns" that fired green dye projectiles to identify people in the chaos, the county attorney's office said.
Hunter was arrested by St. Paul police on July 10 and he had marking dye on his pants leg, according to the prosecutor's office.
Hunter admitted to being there but said when he arrived he was struck with the marking round for no reason, that other people were throwing things and that he left right away, the county attorney's office said.
Video gathered later showed Hunter at the protests but no footage showed him brandishing anything or throwing any objects, the prosecutor's office said, and police acknowledged that when firing marking rounds they sometimes missed their targets.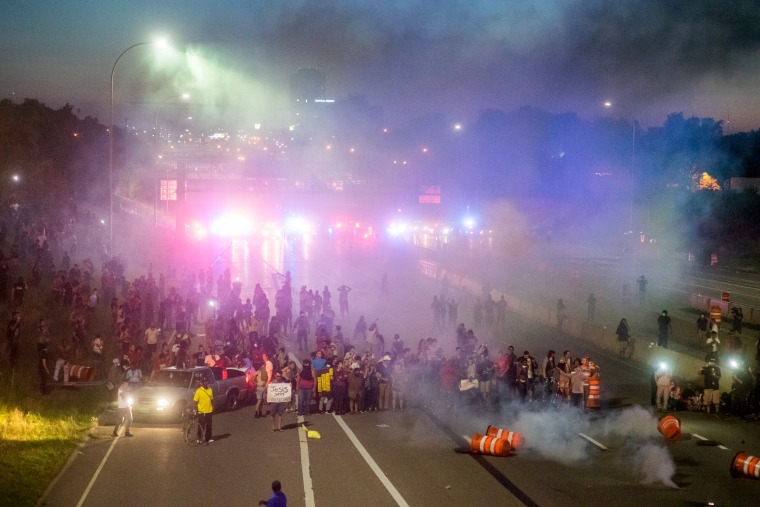 The Carver County Attorney's Office took over the case from the Ramsey County Attorney's Office due to a conflict of interest because that office was considering charges against Yanez.
Yanez was charged with manslaughter in Castile's shooting. A jury acquitted him in June.