Federal prosecutors asked a judge to sentence former Subway spokesman Jared Fogle to 12 years and seven months in prison next week because it would send a strong message to others who exploit children.
Fogle, 38, a father of two, pleaded guilty to traveling to engage in illicit sexual conduct with a minor and to distributing and receiving child pornography. He could have faced as long as 50 years, but prosecutors agreed to the shorter sentence in a plea agreement.
In a sentencing memorandum filed Thursday, prosecutors also asked Judge Tanya Walton Pratt to put Fogle on supervised probation for the rest of his life and order him to register as a sex offender in any state where he lives or works.
As part of the plea deal, Fogle agreed not to seek a term of less than five years in his own sentencing memorandum.
"These sentences matter," prosecutors said.
"In many ways, the results of these cases help to deter and teach by example," they said. "There is no avoiding the point that, whatever the result in this matter, it will be closely watched by current and potential offenders who have not yet been identified."
Related: Subway's Challenge: How to Erase Jared Fogle From Its Brand
According to the memorandum, Fogle committed some criminal acts of his own, but his biggest role was as a co-conspirator with Russell Taylor, former executive director of Fogle's Jared Foundation charity.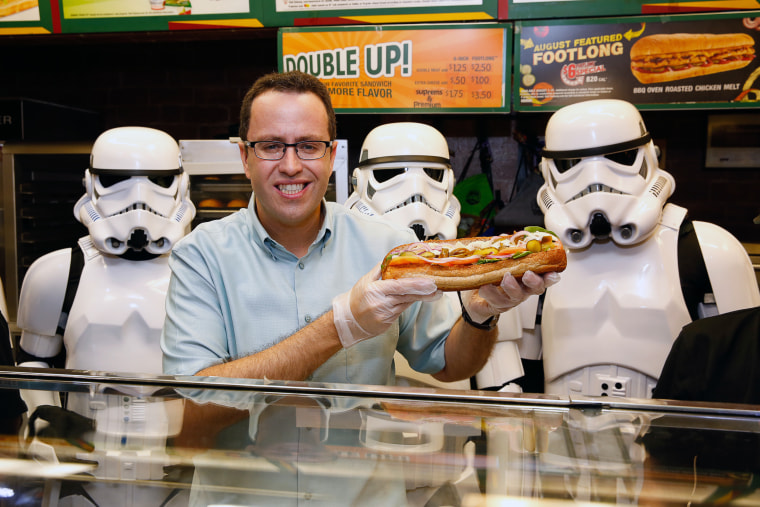 Prosecutors said about 5.6 terabytes of pornographic videos and images of children as young as age 9 — some of them depicting explicit sexual conduct — were secretly produced using multiple hidden cameras set up in Taylor's residences from March 2011 and April 2015. That's the equivalent of 56 100-gigabyte hard drives.
Fogle obtained and viewed child pornography given to him by Taylor "to fuel his sexual fantasies involving children," prosecutors said. They said they had identified 14 victims.
Documents filed in the case against Taylor show he could face up to 35 years in prison and a $250,000 fine after agreeing to plead guilty to 13 counts of sexual exploitation of a child, distribution and receipt of child pornography and a related conspiracy charge.
Many of Fogle's victims have already received $100,000 restitution checks, and the rest are scheduled to.
Fogle became a Subway spokesman more than 15 years ago after he shed more than 200 pounds as a college student, in part by eating the chain's sandwiches. Subway ended its relationship with Fogle after authorities raided his suburban Indianapolis home in July.