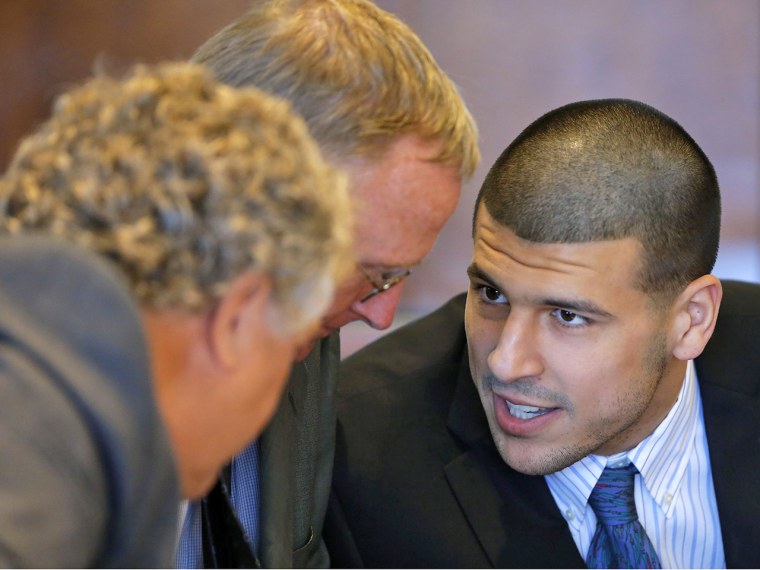 The Aaron Hernandez murder case has barely begun, but prosecutors are already trying to get the judge removed.
As the former New England Patriot appeared in court for the first time since his arraignment, the lead prosecutor said he plans to file a motion to rescue Bristol County Superior Court Judge Susan Garsh, with whom he has clashed in the past.
Garsh said she would schedule a separate hearing, shooting down assistant district attorney William McCauley's request for a confidential sidebar on the request.
After a 2010 murder trial, McCauley blasted Garsh in an interview, saying the judge showed "antagonism" toward the government throughout the case. Defense lawyers in that case defended Garsh as a fair jurist, and Hernandez's team said they would oppose the prosecution's motion.
Garsh was assigned the Hernandez case two weeks ago after he pleaded not guilty to an indictment charging him with first-degree murder in the death of pal Odin Lloyd and weapons possession.
New England School of Law professor David Siegel said a recusal request is a risky move if it's not granted, because there's no telling how the judge might react.
"Nobody like to be accused or suggested or being unfair or biased, so that can irritate a judge, who might react negatively," Siegel said.
"On the other hand, knowing that allegation is out there might make someone be double, super, extra-sure that they don't appear partial and that could maybe have the effect of making some rulings go your way."
During Wednesday's hearing, the athlete was briefly called to the stand so the judge could ask him about a potential conflict of interest – one of his defense lawyers works in the same firm as the wife of one of the prosecutors.
Hernandez said he was aware of the link and did not have a problem with it. The judge asked him a series of questions, including what kind of work he did.
"I played football – NFL," he told her in a quiet voice.
Hernandez, 23, is being held without bail. Four other people — including his fiancee — are facing charges stemming from the case.
Authorities say he killed Lloyd on June 17, 2013, because he was upset the 27-year-old semipro football player had been been talking to people he didn't like. Lloyd's body was found in an industrial park not far from Hernandez's home in North Attleborough, Mass.
Defense lawyers have noted the evidence presented so far is largely circumstantial and expressed confidence that the tight end will beat the rap at trial.
They complained during the hearing about leaks to the media attributed to unnamed law enforcement sources. The judge did not impose a gag order but reminded both sides about the rules against comments that could be prejudicial.
Previous coverage: