"Pharma Bro" is facing some serious time for his crimes.
Federal prosecutors filed papers Tuesday asking a federal court judge in Brooklyn to sentence fallen pharmaceutical honcho Martin Shkreli to 15 years behind bars for defrauding investors.
Shkreli, a snarky social media maven who got his nickname after he infamously tried to squeeze AIDS patients by jacking up the price of a life-saving drug, has not shown "genuine remorse," prosecutors said in their sentencing recommendation.
They described Shkreli as a corrupt liar and "a man who has constantly chosen to put profit and the cultivation of a public image before all else, and a man who believes the ends always justify the means."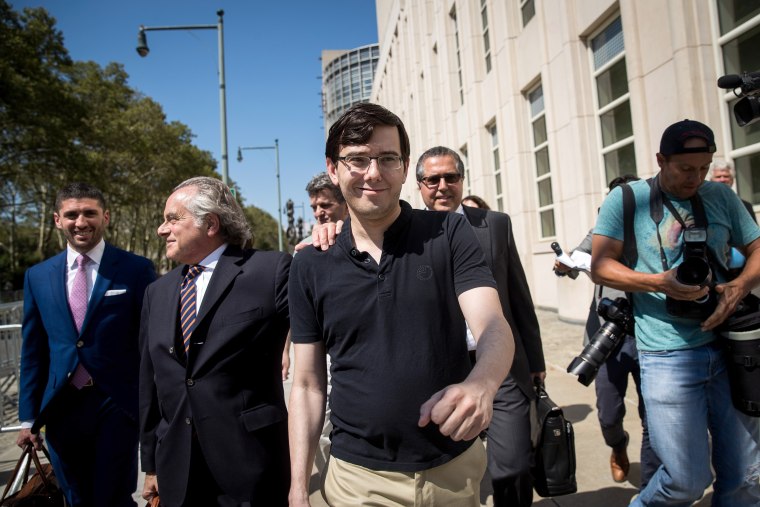 The 180-month sentence prosecutors are seeking is far more than the 12-18 months that Shkreli's lawyer Benjamin Brafman has called for when his 34-year-old client is sentenced on Friday.
Related: 'Pharma Bro' Martin Shkreli could forfeit $7.36 million in assets, Wu-Tang Clan album
Shkreli was convicted last summer of bilking backers of the hedge fund he ran and of fraud in connection with the manipulation of stock shares in Retrophin, which was one of his drug companies.
Brafman, who has already announced his intention to appeal the conviction, has argued that none of Shkreli's investors lost any money and never personally benefited from his actions.
Prosecutors contend Shkreli caused anywhere from $9 million to $20 million in losses — an estimate that Judge Kiyo Matsumoto seconded last week.
Matsumoto on Monday ordered the forfeiture of some $7.36 million in Shreli's assets, including the one-of-kind Wu-Tang Clan album "Once Upon a Time in Shaolin" that he bought at an auction for $2 million.
The former Turing Pharmaceuticals CEO has been behind bars since last September. Matsumoto ruled that he violated his bail by offering a bizarre $5,000 bounty to anyone who could snag him a hair from Hillary Clinton's head.
Shkreli's lawyers insisted he was engaging in political satire, but Matsumoto didn't buy it and said that the offer could be viewed as "a solicitation of an assault."