Over the first three days of Alex Murdaugh's trial, prosecutors worked to establish the essentials of the murder case by calling to the stand the law enforcement officers and forensic experts who responded to the murder scene.
The defense, in turn, focused on what it deemed was a thinly established motive and ways the crime scene might have been tainted by those who responded to the 911 call.
During cross-examination, defense attorney Dick Harpootlian raised concerns about the preservation of the crime scene. A bloody footprint was found that was not that of either of the victims and instead was created by one of the first responders, according to the defense, which the investigator confirmed.
"Should the police be walking through the scene?" Harpootlian asked Special Agent Melinda Worley of the State Law Enforcement Division.
"No," Worley said.
Harpootlian also questioned whether the forensic team failed to find a footwear match for a print found on Maggie Murdaugh's calf because it did not comply with agency procedures for documenting footprint impressions. Worley, in response, testified that there were some prints that she did not notice while she was on the scene.
"If I had realized that was footwear on scene, I would have documented it properly," Worley said.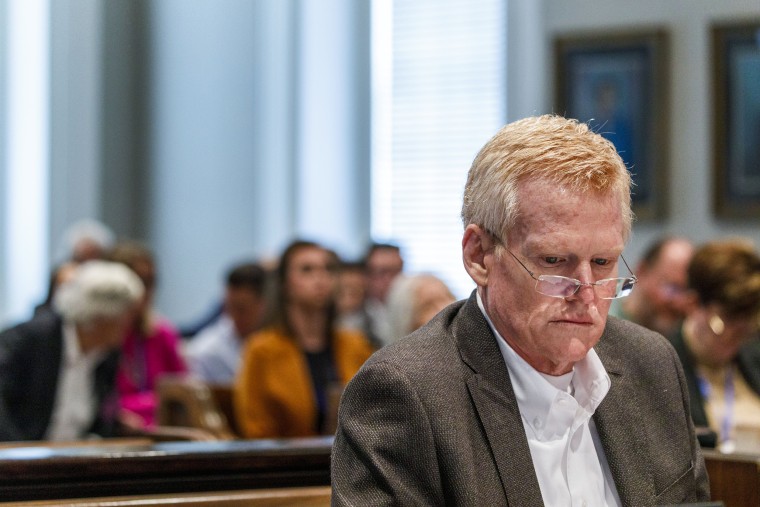 Murdaugh is accused of murdering his wife, Maggie Murdaugh, 52, and their son Paul Murdaugh, 22, on the property of their rural home in Moselle, about 65 miles west of Charleston. Police responded after Murdaugh called 911 late June 7, 2021.
Murdaugh, an attorney, is the scion of a powerful South Carolina legal family. He has maintained his innocence in the murders and a series of financial crimes in a separate case that prosecutors have alleged could be related.
As the key witnesses thus far have focused on the guns used and evidence gathered from the crime scene, the descriptions provided to the jury through the first three days have been particularly grisly. Paul and Maggie Murdaugh, witnesses noted, were shot multiple times before they were ultimately shot in their heads — Paul with a shotgun and Maggie with an AR-style rifle.
"His brain flew out," Harpootlian said in the courtroom Monday, recounting what happened to Paul Murdaugh's body. "There's hair and blood and pieces of skull in the ceiling around him."
Colleton County Sheriff's Sgt. Daniel Greene was the first law enforcement officer to arrive at the scene and the first witness called to the stand.
He said Thursday that he found Murdaugh upset and anxious but that he was not crying when he was interviewed. Murdaugh quickly shared his alibi and theories within seconds of having met the officer, body camera video showed. Murdaugh made it clear he had been visiting his mother and suggested Paul may have been killed over his involvement in a boat crash. Murdaugh also asked multiple times whether his wife and son were dead even though there was a large pool of blood and exposed brain matter.
"Any reasonable person who came across those bodies would come to the conclusion they were deceased," Greene said.
The sides appeared to square up around the issue of motive. The defense emphasized how close Murdaugh was with his wife and son, while prosecutors noted odd ways he responded to the deaths.
An Investigator testified Friday that Murdaugh's hands and clothes were clean of blood, even though he said he tried to turn Paul's body over to check for a pulse. 
The defense, however, portrayed Murdaugh's clean appearance as evidence of his innocence: "Did he look like someone who had just blown his son's head off?" Jim Griffin, his second defense attorney, asked Friday.
"Again, I can't say that for sure. A lot of things would come into play to affect that — distance is one of them," Detective Laura Rutland replied.
Murdaugh rocked back and forth in his chair or nodded vigorously while prosecutors played his 911 call and showed pictures and police bodycam video of the bloody crime scene. At different points, he also sobbed or wiped his eyes with a tissue.
Members of Murdaugh's family have been in the courtroom, including his siblings and his son Buster, 26, who he has been seen making eye contact with or giving him a thumbs up.
On the first day of the case, Alex Murdaugh mouthed "Are you OK?" at Buster, who nodded in response.