Proskauer Rose, the venerable New York law firm that has worked on several high-profile sexual harassment investigations for major corporations, including CBS, NBC and the Metropolitan Opera, has itself been accused of sexual harassment and discrimination in a $50 million lawsuit by one of its top female partners.
The suit was filed by Connie Bertram, the head of Proskauer's labor and employment practice in Washington, and of its whistleblowing and retaliation legal group. (Originally filed with an anonymous plaintiff in 2017, the suit was amended last month to reveal Bertram's name and position.)
In the suit, Bertram, who joined Proskauer in 2013, charges that the firm paid her millions of dollars less a year than male partners who are similarly or less productive than she is. Though she ranked sixth among the firm's more than 180 equity partners for billable hours from 2014 to 2016, she ranked 32nd in compensation at the end of 2016, the suit says.
Bertram said in her complaint that, as a single mother, she was berated when one of her children had an emergency and she had to step down as the lead lawyer in a trial. When she complained about her pay inequity, she was subjected to hostility by her superiors at the firm, which led to hypertension and anxiety.
And she said she was also subject to objectifying and lascivious comments. The chairman of Proskauer, Joseph Leccese, often described her as "elegant" and "glamorous," and a prominent securities litigator in the Washington office "made inappropriate comments regarding her appearance, body, clothing, or 'sexiness,'" she said in the suit.
When Bertram complained to the firm's general counsel about the comments the litigator made to her and to summer associate candidates, the firm took no action to stop the harassment, she charged in the suit.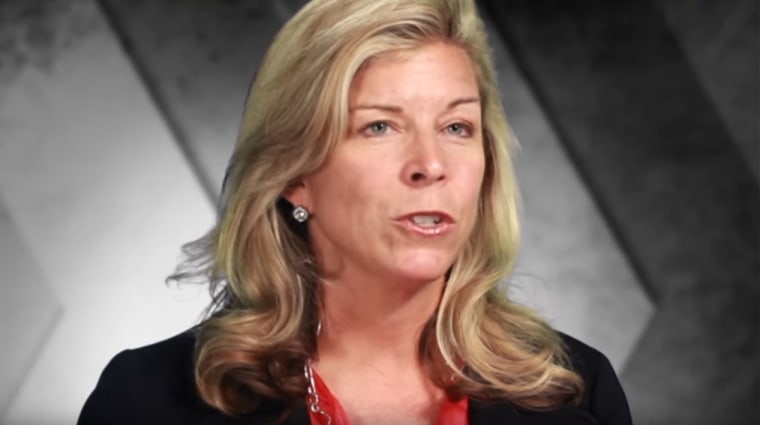 Bertram's attorney, David Sanford, of the firm Sanford Heisler Sharp, said his client decided to reveal her identity because she would not be allowed to remain a "Jane Doe" during a public trial, and because there have been rumors circulating about her identity. Bertram declined a request for an interview.
Proskauer says claims are "baseless"
The firm declined to make Leccese or other members of its leadership available for an interview, but a spokeswoman issued a statement saying that Bertram's lawsuit was a compensation dispute between business owners, and was not about gender.
"We are confident that it will become evident through discovery that her claims are baseless," the statement said. "We are proud of Proskauer's transparent and equitable compensation system that resulted in both the Plaintiff earning enormous sums for her contributions, and female partners earning about 94 percent of male partners before considering factors like specialty or experience."
In a motion to dismiss the "Jane Doe" lawsuit filed last June, Proskauer argued that Bertram does not have standing to bring a suit under federal employment discrimination laws, which generally protect employees but not business owners. The question is whether Bertram, as an equity partner who shares in the firm's profits, is an employee of the firm.
Additionally, the firm argued that Bertram received pay increases from 2013 to 2016 that were higher than the average for equity partners at the firm.
The firm also pointed to a number of awards it had won celebrating its achievements in diversity and inclusion, citing an honor in the "gender equity" category by the Yale Law Women's 2015 Top Ten Family Friendly Firms Survey.
Bertram's is not the first gender discrimination case brought against Proskauer. In 2011, Proskauer faced a lawsuit brought by the firm's former chief financial officer, Elly Rosenthal, who alleged that she was demoted and then fired after she returned to work following breast cancer treatment. Proskauer denied the allegations, and the two sides settled the case in 2013.
National attention for harassment probes
Proskauer, based in New York City, is a global law firm with 13 offices. In 2016, Proskauer earned more than $852 million in gross revenue, placing it at No. 38 in The American Lawyer's 2017 Am Law 200 ranking.
Among its many areas of practice, Proskauer has aggressively marketed its work investigating allegations of workplace sexual harassment and gender discrimination, and recommending best practices to large employers.
"We regularly counsel, defend and protect employers against lawsuits involving all types of workplace discrimination throughout the entire employment life cycle," the firm says on its website. In a National Public Radio podcast linked on the firm's website, Kathleen McKenna, a Proskauer partner, discussed the need for an ethical investigation of sexual harassment charges.
"Companies need to take an honest look [at their] corporate culture," she said on the podcast, in a quotation that the law firm featured. "Leadership has to lead in these difficult circumstances. They have to walk the talk of abiding by our law [and] by their policies, which prohibit discrimination on the basis of gender."
Proskauer has handled several sexual harassment and gender discrimination investigations that have garnered national attention.
CBS News recently hired Proskauer to investigate allegations by dozens of women who have accused its former anchor, Charlie Rose, of sexual misconduct. The company fired Rose in November and faces a lawsuit by three ex-staffers.
In March, the The Metropolitan Opera fired its music director emeritus, James Levine, after Proskauer conducted a three-month investigation and found what the Met called "credible evidence" that Levine had engaged in "sexually abusive and harassing conduct towards vulnerable artists in the early stages of their careers, over whom Mr. Levine had authority."
Proskauer conducted a peer review, along with another firm, of NBCUniversal's investigation into the Matt Lauer misconduct allegations, which was led by the company's general counsel, Kim Harris. Lauer was fired in November after a female colleague made a detailed complaint accusing him of inappropriate sexual behavior. The investigation found that managers were unaware of Lauer's conduct.
In 2016, the advertising firm WPP hired Proskauer to investigate allegations of racist and sexist behavior by the CEO of one of its subsidiaries; the case was eventually settled. Last month, the firm also concluded a five-month investigation into allegations of sexual harassment and misconduct at WNYC, the New York public radio station, finding no evidence of "systematic discrimination" that was "known and tolerated by senior management."
Connie Bertram is featured on Proskauer's website in the discrimination and harassment section. The site says she was named the "leading lawyer" in labor and employment law by Legal Times. "She is frequently tapped to conduct confidential internal investigations involving executive-level employees, including claims of trade secret, theft or misuse of company data, harassment and code of conduct violations," Proskauer's site says.
But Bertram's lawsuit paints a different picture of the law firm.
"Proskauer professes — to its attorneys, the legal community, and the public at large — that it has a deep commitment to 'equal opportunity and diversity in the practice of law,'" according to her formal complaint. "Behind the curtain, however, the reality is far less flattering. In fact, Proskauer faces a serious gender discrimination problem that it has repeatedly failed — and indeed refused — to fix."
Sanford, whose firm frequently represents harassment victims, said Proskauer's actions in regard to Bertram undermine the credibility of its work investigating harassment and discrimination.
"Are the people at Proskauer doing the [CBS] investigation the same people who are discriminating against my client?" he asked. "If the answer is yes, then I think there would be serious problems."
An issue for clients
Hilarie Bass, president of the American Bar Association, said that it's not necessarily an ethical conflict for firms accused of harassment and discrimination to investigate those same issues. But she said clients hiring those firms should question their capacity to conduct investigations and provide counseling.
"I think that it's an issue that a client, before they hire a law firm, should be thinking about: Is this a law firm that practices what it preaches?" Bass said in an interview.
When asked whether CBS was aware of the sex discrimination lawsuit against Proskauer, a CBS spokeswoman, Kelli Raftery, declined to comment. The Metropolitan Opera said, through a spokesman, that all of its conversations with Proskauer were private and privileged.
NBCUniversal, the parent company of NBC News, also declined to respond to that question. However, Lauren Skowronski, a company spokeswoman, emphasized that another outside law firm, in addition to Proskauer, reviewed the results of the Lauer investigation.
Proskauer is not alone in promoting its #MeToo expertise while having defended gender discrimination and harassment lawsuits. The Sanford Heisler firm also brought a $100 million class-action discrimination suit last month against Morrison & Foerster, a San Francisco firm. The case alleges that women who took maternity leave at the firm have been denied opportunities for advancement and higher pay.
In January, three lawyers from the firm wrote an article in the New York Law Journal entitled "The New Imperative To Investigate Workplace Misconduct."
"The important ongoing national conversation about sexual harassment should serve as a wake-up call to companies, board members, and C-suite executives about the need to be proactive when confronted with allegations of harassment or other workplace misconduct," the article warned.
Zachary Newman contributed reporting.