A peaceful protest in the streets of Albuquerque, N.M., descended into a scene of "mayhem" on Sunday as demonstrators threw rocks and police used tear gas and mounted units to try to disperse a crowd of hundreds.
The 10-hour protest was in response to what critics say is an unacceptable number of police shootings in the city – 23 fatal incidents since 2012, according to the Associated Press. The most recent of these deaths was James M. Boyd, a mentally ill man who was shot dead by Albuquerque police on March 16, the Albuquerque Journal reported.
Mayor Richard Berry said one police officer was injured after demonstrators threw rocks and later trapped a police vehicle and tried to break the windows, the AP said.
Berry described the scene on Sunday night as one of "mayhem."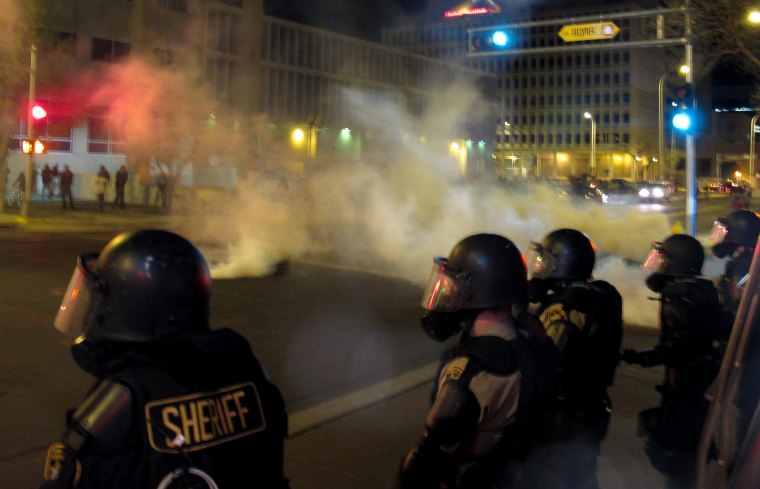 "We respected their rights to protest, obviously," Berry said at a news conference. "But what it appears we have at this time is individuals who weren't connected necessarily with the original protest. They've taken it far beyond a normal protest."
Sunday's protests came after a YouTube video purporting to be from the hacktivist group Anonymous issued a call to action following Boyd's killing, the Albuquerque Journal reported. The incident also prompted an FBI investigation and the Department of Justice has been investigating claims of excessive use of force against the Albuquerque Police Department for more than a year, the AP said.
The newspaper said protesters blocked traffic, took over the city's University of New Mexico and held signs bearing slogans such as "Hey hey! Ho ho! Killer cops have got to go!"
At one point a man parked a van in front of the Albuquerque Police Department building and produced what he said was an AK-47 rifle, although his fellow protesters convinced him to put it away, the newspaper said.
An AP reporter saw gas canisters being thrown outside police headquarters and personnel from the Albuquerque Police and Bernalillo County Sheriff's Department charging at the protesters.
The Associated Press contributed to this report.
- Alexander Smith