/ Source: NBC Los Angeles
Police arrested 20 people outside a Donald Trump rally in California Thursday night amid the worst violence since last month's cancelation of a campaign event in Chicago.
Hundreds of protesters blocked traffic in the streets surrounding the event in Costa Mesa, south of Los Angeles. A police car was smashed by a crowd.
Fights were seen breaking out and some chanted "Racists go home!" Others repeatedly yelled "Whose streets? Our streets!" as police moved to control the crowd. A car started doing donuts in the street amid the action.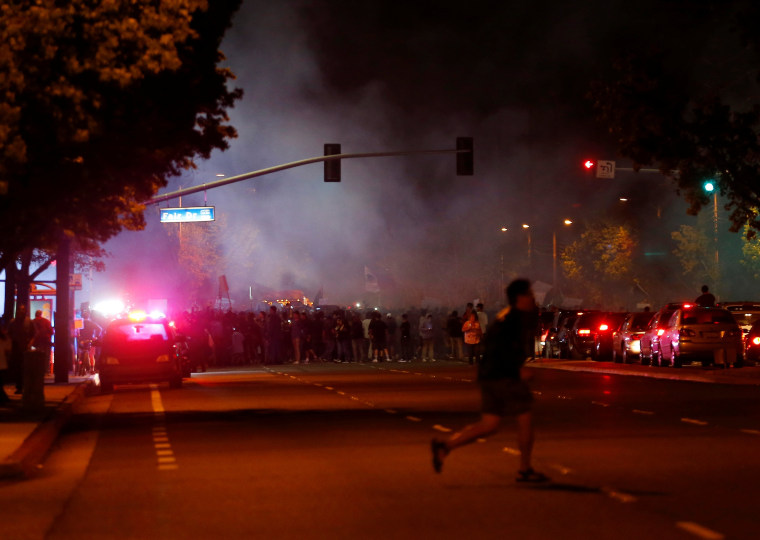 A police car was seen with smashed windows and a person was jumping up and down on top of the vehicle. Another person appeared to be writing on the cruiser, and others tried to flip the vehicle.
Police on horses and other officers and deputies in riot gear set up skirmish lines to push protesters out of the streets, NBC Los Angeles reported.
There were no major injuries, the Orange County Sheriff's Department said, adding that the crowd had dispersed by 11 p.m. local time (2 a.m. ET).
Protests at Trump rallies have occasionally ended in clashes. In March, a planned Trump rally in Chicago descended into chaos, with fistfights breaking out between supporters and opponents of the controversial candidate.
PHOTOS: Trump Protesters Clash With Police Outside Rally
The clashes took place as Trump addresses a crowd of thousands, taking a swipe at opponents including Ted Cruz who he criticized for choosing a running mate despite his campaign being "totally mathematically dead."
Jose Cruz, 21, told the Los Angeles Times that the protests reflected "the anger people have against Trump."
However, Colby Nicholson, 30, who described himself as a Trump supporter, told the newspaper: "These are all underage Mexican high-schoolers who have nothing to do."