The town of Burns, Oregon, was calm Sunday after dozens of people converged there Saturday night to protest the killing of a militant who had been part of the nearly month-long occupation of a federal wildlife refuge.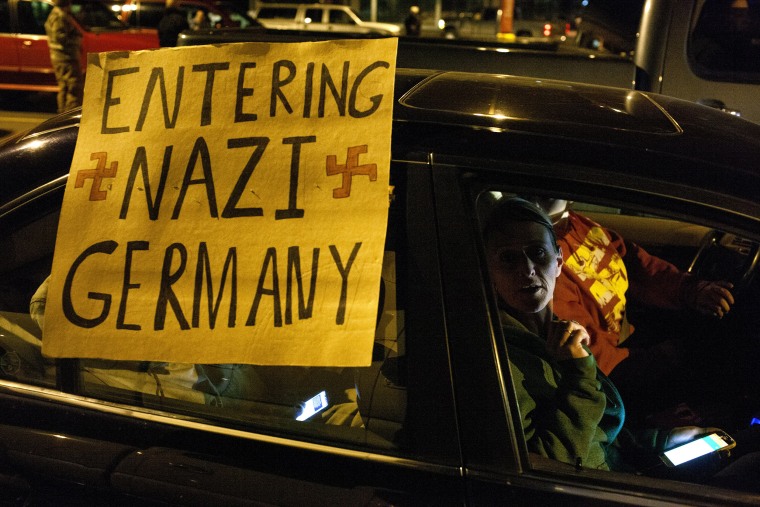 One came armed with a sign telling the FBI, which has led the response to the occupation, to "go home," NBC affiliate KTVZ of Bend reported. Another said: "Entering Nazi Germany."
Both U.S. and Confederate flags were seen attached to protesters' vehicles, the station reported.
The protest came after a "call to action" by the Pacific Patriots Network, a group that says it coordinates "community resources to protect life, liberty, property and the environment."
The network's partners include local chapters of the Oath Keepers and Three Percenters, which have been described by the Southern Poverty Law Center as advocates of "extreme anti-government doctrines."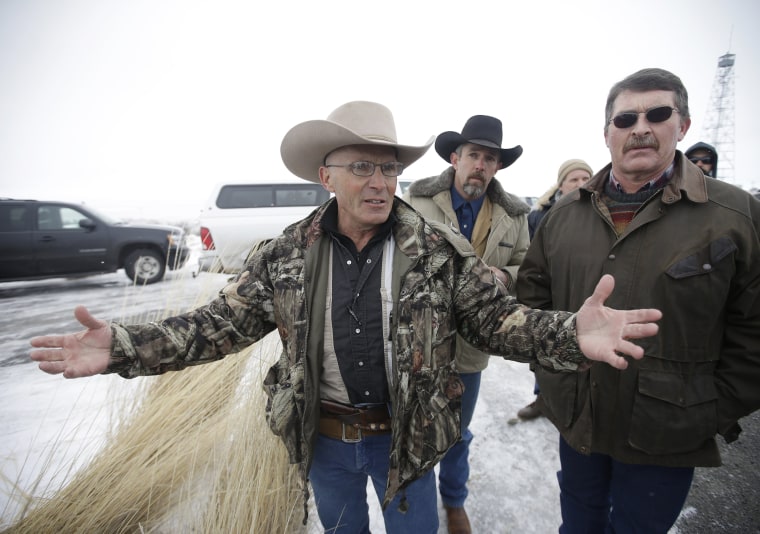 In a statement posted on its website Friday, the network condemned the arrest of one of the protesters who occupied the Malhuer National Wildlife Refuge occupation on Jan. 2, as well as the killing of Robert "LaVoy" Finicum, a rancher from Arizona and the occupiers' de-facto spokesman.
Finicum was in one of two vehicles traveling that were pulled over Tuesday about 45 miles from the refuge during what authorities described as a traffic stop. Protest leaders Ammon and Ryan Bundy were arrested along with several others; Finicum was shot to death.
Two days later, the FBI released aerial footage of the killing that the agency says shows that Finicum was reaching for a loaded pistol before he was shot. Some of Finicum's supporters have described his death as murder.
In a statement on its website, the network called on "any and all Americans to come to Burns, Oregon, to come to the aid of the American people standing against these violent, malicious and deceitful tactics. Come stand together with other Americans, and express our Constitutional right to PEACEFULLY assemble and air our grievances."
Four people remain at the refuge, even though Ammon Bundy has urged them to "stand down."
"This was never meant to be an armed standoff," Bundy said in a recorded phone call released by his lawyers.