GAINESVILLE, Fla. — For weeks, the University of Florida has been urging students to stay away from a Thursday speech by white nationalist Richard Spencer, hoping to avoid the deadly clashes that unfolded in Charlottesville, Virginia, in August.
But hundreds of them, along with many non-students, defied those requests, marching on the campus theater Spencer rented. His speech there is part of a tour of public universities that has triggered passionate debates about the boundaries of free speech and hate speech and fanned fears of continued violence.
The point, some protesters said, was to turn out in numbers that would make the number of Spencer supporters look tiny. "We don't want your Nazi hate," the protesters chanted, pounding drums and carrying signs championing diversity.
"I don't believe staying home is an option in the face of hate and evil," said Timothy Tia, a student organizer.
The widespread clashes some feared didn't happen, as Spencer's outnumbered fans seemed focused on attending the event at the Curtis M. Phillips Center for the Performing Arts rather than on confronting the crowds.
Related: Florida's State of Emergency Reflects Post-Charlottesville Fears
They framed the opposition as working to silence a man who advocates for an "ethno state" for white people.
"He's trying to make it, normalize the idea for white people to have an identity, to advocate for their own interests and to advocate for our own existence," said Will Fears, who traveled from Texas.
Hundreds of police officers showed up, creating an overwhelming security presence that included helicopters and officers stationed on rooftops and throughout the theater. Authorities announced one arrest, of a man they described as a security guard hired by the media, for carrying a firearm on campus.
The day's only apparent violence occurred when a white man with swastikas on his shirt waded into the crowd outside the theater, where he was confronted by protesters, one of whom spit on him, and another who shoved him. A black man asked the white man why he didn't like him, and when he got no response, the black man hugged him. Then someone in the crowd shoved the white man, and another hit him.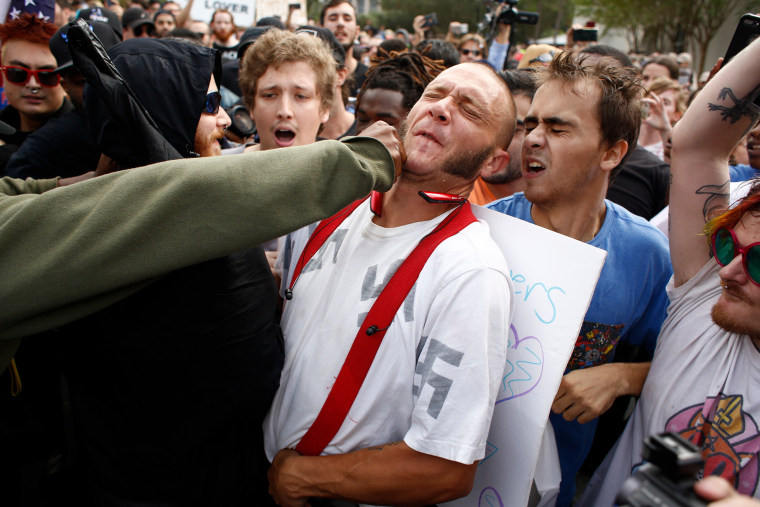 As the white man walked away, the crowd chanted, "Go home, Nazi scum."
The university was among a number of public schools that have refused to host Spencer, citing threats of violence similar to what took place in Charlottesville, where his torch-carrying followers, along with the Ku Klux Klan and neo-Nazis, participated in an Aug. 12 "Unite the Right" rally to protest the removal of a statue honoring Confederate Gen. Robert E. Lee. They clashed violently with counterprotesters, including members of the so-called antifa movement (short for anti-fascists). A participant plowed his car into a crowd of counterprotesters, killing a woman.
Related: University, Florida City Brace for Speech By White Nationalist Richard Spencer
The University of Florida later reversed its decision on Thursday's event, saying it was committed to upholding the First Amendment, even if that required security measures that would cost $500,000. President W. Kent Fuchs urged students not to come near the event, saying Spencer and his followers wanted to provoke a reaction. The school offered an online discussion at the time of the speech as an alternative.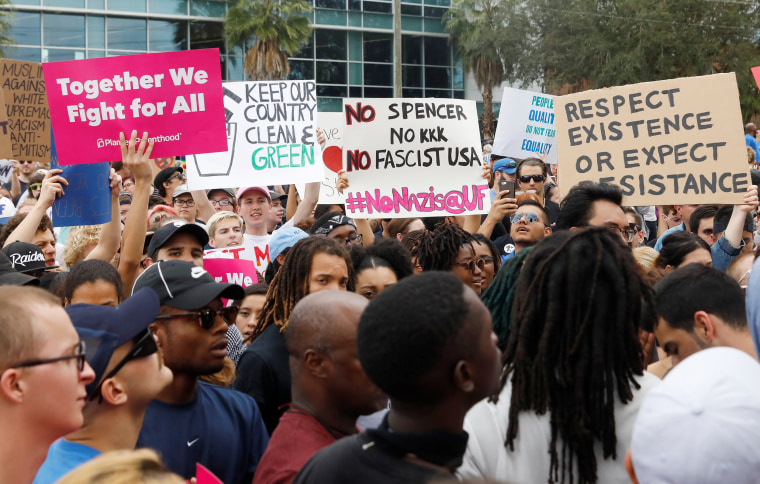 The event also drew concerns from the local sheriff, who asked Gov. Rick Scott for help. Scott issued a state of emergency to make it easier for authorities from outside Gainesville to help.
Spencer seemed to revel in the attention. He held a pre-speech news conference in which he denied being a white supremacist and compared his vision of an "ethno state" to the pursuit of Israel as a Jewish state. He also parried reporters' questions with condescending answers, calling them "dumb," "not smart enough," and compared them to preschoolers.
And he described his supporters as being oppressed by "politically correct" opponents.
He called Thursday's event as a victory, proof "that we are persevering."
When time came for the speech, Spencer ─ introduced as a "spokesman for white people everywhere" ─ was met with a chorus of boos and chants from protesters in the audience. He called them "a mob" and accused them of "attempting to turn your academic community into a stifling place."
He spent a good amount of time focused on his opponents, delaying any attempts to deliver a lecture. He ended up taking questions from the audience, including protesters, but his explanation of the "ethno state" was drowned out by opponents.
Matthew Vann and Kerry Sanders reported from Gainesville. Jon Schuppe reported from New York.