Competing protests in Phoenix near a mosque where a group planned a controversial "Muhammad cartoon contest" ended Friday after some yelling and arguing but no reports of violence.
There was a heavy police presence as the supporters from the two rallies converged near the mosque Friday evening. Some waved American flags and one man held a "Stop Islam" sign, while another held a sign reading "God is Love." Police were seen standing in between the two groups.
Police estimated that some 500 protesters showed up in total, according to The Associated Press.
Competition organizers said it was inspired by a similar one in Texas that ended with bloodshed when two gunmen tried to attack it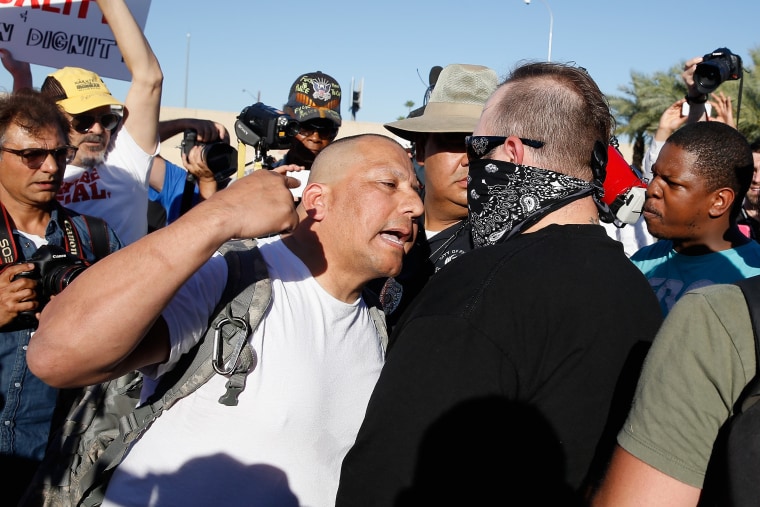 There were no reports of violence. The protest scheduled for 6:15 p.m. (8:15 p.m. ET) had broken up by 9:45 p.m., according to police.
The Facebook page for the event, called "Freedom of Speech Rally Round II," outside of the Islamic Community Center said the gathering is "in response to the recent attack in Texas where 2 armed terrorist (sic), with ties to ISIS, attempted Jihad."
Two gunmen were shot dead by SWAT officers after they opened fire at the May 3 Muhammad Art Exhibit and Contest Garland, Texas. Drawing the Islamic prophet is considered sacrilegious by many Muslims. ISIS claimed responsibility for the attack, but there was no proof that the two shooters had any ties to the terror group.
Related: Hundreds Expected at 'Draw Muhammad' Cartoon Contest in Phoenix
Jon Ritzheimer, the organizer of the event, said it is meant to be a peaceful protest, but on Facebook, he told people to come armed.
The Arizona chapter of the Council on American-Islamic Relations (CAIR) urged people in the area of the mosque not to engage with the protesters. The chapter's president, Imraan Siddiqi, warned Muslims to avoid the area entirely.
A statement from CAIR said council officials met with law enforcement to discuss protecting worshippers.