Democratic members of Oregon's congressional delegation said Friday they will demand a federal investigation into the deployment of federal officers in Portland, where local leaders say their presence outside federal buildings has inflamed tensions during nightly protests and led to violent confrontations and questionable arrests in recent weeks.
The lawmakers want the inspectors general of the departments of Homeland Security and Justice to review the "unrequested presence and violent actions" of "paramilitary forces with no identification indicating who they are or who they work for."
A spokesman for Gov. Kate Brown, a Democrat, said she remains concerned about allegations that federal officers under the direction of President Donald Trump may be arresting people in violation of their constitutional rights. Her office has asked the Department of Homeland Security to stand down its officers, spokesman Charles Boyle said, but "federal law enforcement agencies are not communicating with us about their activities."
"Governor Brown has called for Trump's federal officers to leave Portland and stay off our streets," the statement said.
The American Civil Liberties Union on Friday also filed a lawsuit in U.S. District Court in Portland that seeks to prevent federal agents from "arresting, threatening to arrest or using physical force directed against any person whom they know or reasonably should know is a Journalist or Legal Observer."
"Under the direction of the Trump administration, federal agents are terrorizing the community, risking lives, and brutally attacking protesters demonstrating against police brutality," Kelly Simon, interim legal director with the ACLU of Oregon, said in a statement.
Hundreds of protesters jammed the streets overnight Thursday and said federal officers deployed tear gas and impact munitions, which are less lethal than regular munitions, to keep people from federal facilities.
The chaotic night was the latest unrest to flare in Portland, where Acting Secretary of Homeland Security Chad Wolf had visited earlier Thursday, saying the city had been "under siege for 47 straight days by a violent mob" and criticizing local leaders for failing to stop "lawless anarchists" from destroying property.
On Fox News, Wolf said the DHS's law enforcement force was in Portland. "We have about a hundred or so federal officers there to make sure that we support that courthouse, defend that courthouse," he said. He tweeted Friday morning that two officers were injured after DHS officers were "assaulted" with lasers and frozen water bottles from "violent criminals attempting to tear down federal property."
Portland U.S. Attorney Billy J. Williams said in a statement Friday that federal buildings in Portland have been under siege by protesters. Federal agents, he said, have protected the taxpayers' property. "Night after night for the past 50 nights, they have protected the federal courthouse from incursion and fire," he said.
Videos on social media showed the frenzy across parts of the city, with federal officers in camouflage aiming their weapons and using smoke to press protesters back. In other videos, officers were seen rushing into crowds and striking people with batons. Crowds also dispersed from what appeared to be tear gas.
During Thursday night's protests, Portland police said, its officers did not use tear gas.
The Democratic congressional delegation, including Sen. Jeff Merkley, said they are concerned about videos from recent nights showing federal officers using unmarked vehicles to detain people off the street.
"Get your DHS lackey and uninvited paramilitary actions out of my state," Merkley, D-Ore., tweeted at President Donald Trump. "Our communities are not a stage for your twisted re-election campaign."
Protesters have hit the streets nightly in the two months since the police killing of George Floyd, a Black man whose death in Minneapolis triggered global demonstrations against police brutality and systemic racism.
The Portland Police Bureau said early Friday it made "several arrests" after responding to a group of several hundred people in southeast Portland Thursday night and then another large group downtown near the Justice Center, which includes the city's jail.
Police said that there were attempts to start fires and people ripped down fencing around a courthouse square to block traffic. Protesters hit officers with bottles and other objects, according to police, and they said they made "targeted arrests" before midnight. Police also said a vehicle "associated with the group" drove up behind officers and almost hit them, "causing an extremely dangerous situation. The vehicle was later stopped. After successfully making several arrests, officers disengaged the crowd."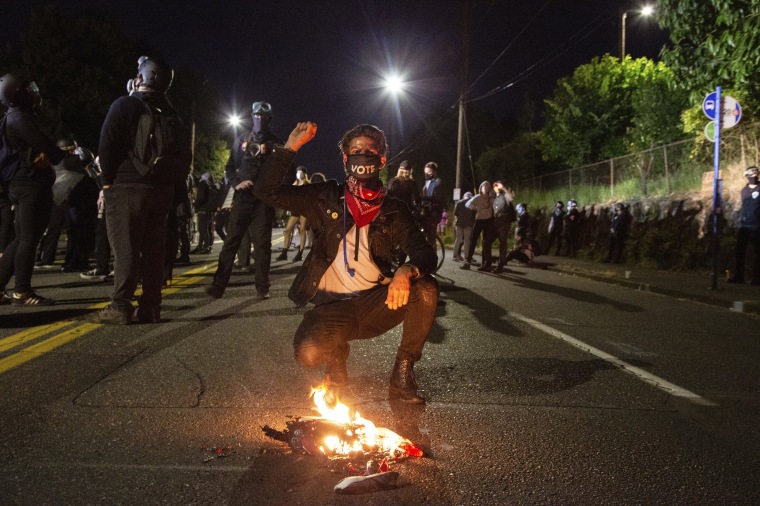 It's unclear which agencies the federal officers deployed Thursday night were from.
A U.S. Customs and Border Protection spokesperson told NBC News that Border Patrol agents, who fall under DHS, have been in Portland to protect federal facilities as part of Trump's recent executive order that punishes the vandalism of federal monuments and government property.
The agency, however, said it does not give out specific details on the individuals deployed because it could jeopardize operational security.
Mark A. Morgan, the CBP's acting commissioner, tweeted Friday afternoon that his agents were involved in the arrest of a man that was captured on video. It showed a person in dark clothing being swept into an unmarked van by law enforcers in camouflage.
After the incident was amplified on social media Thursday night, concern grew among some in Portland that federal agents in unmarked vehicles were seizing protesters, as Oregon Public Radio reported Thursday.
In a statement posted by Morgan, the agency said the man detained "was suspected of assaults against federal agents or destruction of federal property."
A "large and violent mob" approached during the detention, according to the CBP, and the agents "quickly moved the suspect to a safer location for further questioning," the agency said.
It said agents identified themselves and had on clothing that was clearly marked with CBP insignia, but that their names were indeed not displayed.
In a separate tweet, Morgan said, "You will not see names on their uniforms b/c these same violent criminals use this information to target them & their families, putting both at risk," he said. "As Acting Commissioner, I will not let that happen!"
U.S. Attorney Williams said two recent federal arrests of protesters were under investigation.
"Based on news accounts circulating that allege federal law enforcement detained two protestors without probable cause, I have requested the Department of Homeland Security Office of the Inspector General to open a separate investigation directed specifically at the actions of DHS personnel," he said.
Meanwhile, the U.S. Marshals Service has been involved in an investigation in the city after a member of the Marshals' service tactical unit reportedly shot a man in the head with a "non-lethal" round during a protest Saturday. He was critically wounded, according to The Oregonian.
While the agency was aware of the shooting of the man, the incident remains under investigation.
U.S. Marshals said they are performing security at the federal courthouse in the city, but when asked if they were involved in incidents off of federal property and captured on video, agency spokesman Drew Wade said in a statement Friday that the officers are not deputy U.S. Marshals.
The ACLU of Oregon said videos showing officers in green camouflage grabbing people off the street into unmarked cars amounted to a "kidnapping."
"The actions of the militarized federal officers are flat-out unconstitutional and will not go unanswered," said Jann Carson, the group's interim executive director.
A law enforcement source in Oregon pushed back at some of the videos from recent nights, telling NBC News that individuals were identified from within the crowd as committing violent acts and were taken into custody either at the location or a short distance away.
The DHS has listed nearly 100 criminal incidents, including ones of vandalism, graffiti, fires and assaults on officers, since late May.
The intervention of the federal government and its use of officers on Portland's streets has touched off a debate between federal officials and state and local leaders about who has authority.
Portland Mayor Ted Wheeler said at a news conference Friday that the presence of federal law enforcement has escalated tensions in the city.
"We were seeing things calm down but the intervention of federal officers reignited tensions," he said. "Do us a favor keep your troops in their own buildings, or have them leave our city."
But Homeland Security acting Deputy Secretary Ken Cuccinelli said Friday on Fox News that the federal government has the right to step in and protect its facilities.
"What we've seen around the country is where responsible policing is advanced, violence recedes," Cuccinelli said. "And Portland hasn't gotten that memo. Nor have a lot of other cities."