Protesters chanted and waved signs at the Supreme Court on Tuesday while the justices convened to hear a closely watched case — whether Obamacare violates the religious freedom of employers by requiring them to provide insurance for contraceptives.
A crowd of perhaps 500 people gathered in the snow outside the court. Most appeared to be on the side of the government, which is arguing that freedom of religion applies only to company owners as individuals, not to the companies themselves.
"This is the war against women, and this is the front lines," said Beth Mann, a retired English teacher who lives in Washington.
"Women are under such assault that it is inconceivable to me that after all the fighting I did in the feminist movement in the '70s and the '80s that we're back again," she added. We have daughters who don't deserve this."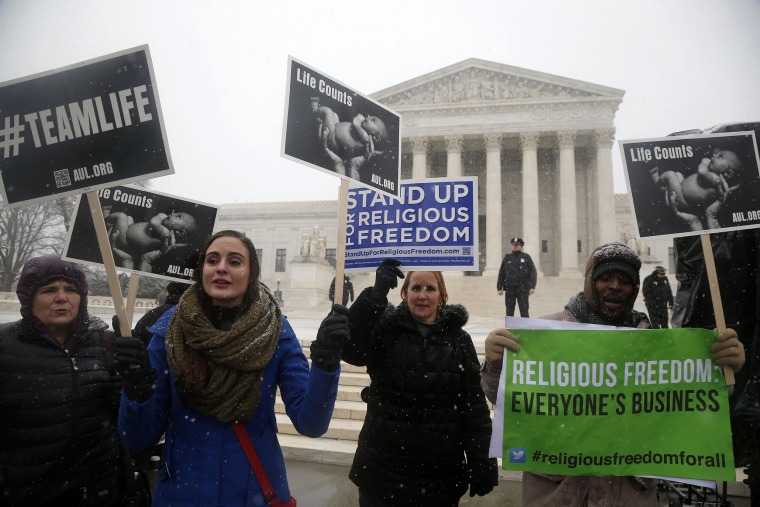 On the other side was Kerri Kupec, legal communications director for a group called Alliance Defending Freedom that supports three companies challenging the Obamacare provision.
She sat in a folding chair with a sign reading: "Paying for Someone Else's Abortion Pills is 100% Not Health Care."
"We don't see how the government getting involved and forcing an employer to pay for pills that can induce abortion — how that is health care," Kupec said. "That's interfering in their religious beliefs and their faith, and it's not something that our Constitution stands behind."
Among the chants were "The women, united, will never be defeated!" and "My faith, my freedom, my choice!"
The case turns on a provision of the law requiring companies with more than 50 employees to cover preventive care services, including contraceptives such as the morning-after pill, diaphragms and intrauterine devices.
The Supreme Court planned to hear 90 minutes of argument on the case Tuesday. A decision is expected by late June.
— Tom Curry