Marchers gathered for a sixth straight day across the country to protest the police killings of Philando Castile and Alton Sterling.
Few arrests had been reported late Monday night in demonstrations that mainly appeared to jam rush-hour traffic. It was a sharp contrast to demonstrations in which hundreds of people were arrested over the weekend.
In Chicago, protesters gathered for a sit-in and march at Millennium Park ahead of a rally in Federal Plaza at 4:30 p.m. CT, NBC Chicago reported.
Dozens of marchers blocked traffic on their way to the plaza before joining hundreds of other demonstrators. Several major streets had to be closed temporarily as the growing group headed toward the main demonstration at State Street and Wacker Drive.
A handful of people were arrested Monday night in Atlanta, where hundreds of protesters marched along Peachtree Road and blocked the entrance to ritzy Lenox Square Mall in the upscale Buckhead neighborhood.
They then proceeded to the Governor's Mansion, where they chanted "hands up; don't shoot" and demanded to meet with Mayor Kasim Reed. Gov. Nathan Deal is out of the country.
NBC station WXIA reported that police said they were expecting demonstrations to remain peaceful but were ready to begin enforcing park ordinances aggressively.
In Memphis, Tenn., Mayor Jim Strickland and Interim Police Director Mike Rallings convened an open community meeting where they heard the anguish of residents, NBC station WMC reported.
"Our children are at stake and our babies are dying," said Devante Rushawn Hill, minister of Destiny House Ministries. "Their basketball goals are falling apart. Their swimming pools are rusted. And their playgrounds are no more.
"There are more vacant buildings in this city than playgrounds, so let's take some of those buildings and do something with it," Hill said.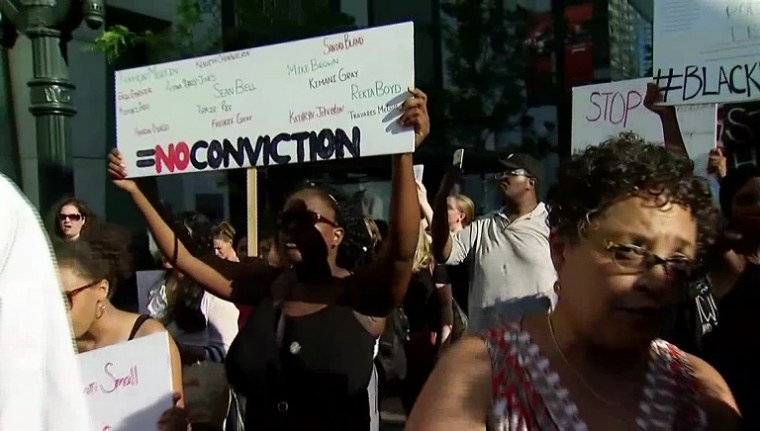 Several dozen demonstrators — many of them white — marched down King Street on Monday afternoon in the central business district of Wilmington, Del.
Organizers handed out application forms for jobs with the Wilmington police — something the Rev. Donald Morton, executive director of the Complexities of Color Coalition, said was intended as a first step toward changing the culture of the police department.
"Unless we change the structure, the system that continues to protect police officers and eradicate and get rid of this blue shield that exists between good-acting cops and bad-acting cops — where they're able to call out those individuals — we're going to continue to see this problem," Morton told NBC Philadelphia.
Meanwhile, there were no major marches in the cities directly affected by the shootings and their aftermath last week — Baton Rouge, La., where Sterling was killed last Tuesday; metropolitan Minneapolis-St. Paul, where Castile was killed in the suburb of Falcon Heights the following day; and Dallas, where five police officers were killed and seven others were killed by a sniper following a protest march on Thursday.
In Dallas, where President Barack Obama will speak Tuesday at an interfaith ceremony, hundreds of people congregated outside City Hall for a candlelight vigil Monday night.