While protests against President Donald Trump's administration have drawn thousands of people to major cities across the country, not to be overlooked are rallies in smaller cities, many taking place in states that supported Trump in the election.
Hundreds in Kalamazoo, Michigan, chanted "Say it loud and say it clear, refugees are welcome here!" during a protest supporting refugee and immigrant rights on Sunday.
Michigan voted for Trump by a little more than 10,000 votes. Kalamazoo County was one of eight counties that favored Democratic nominee Hilary Clinton.
"I was disappointed when Michigan voted for Trump," said Kari Parthasarathy, who marched in the Kalamazoo protest with her 3-year old daughter. "But sometimes it's not the majority vote on how people get elected, and my guess is that some of these people that voted red don't agree with what's happening now."
Parthasarathy, who said she found solidarity with neighbors and friends at the demonstration, said she believed demonstrations in smaller cities make a big impact.
"It's not all happening in big cities, which can be intimidating for a lot of people to go to. Sometimes, it's much more relatable and powerful when it's happening in your own back yard," she said. "A little ripple can have big effect, so it's worth trying."
In Mason City, Iowa, which voted for Trump by 51 percent, members of the Iowa Green Party chapter organized a demonstration Sunday "in response to recent unconstitutional and mean spirited executive orders against both legal and illegal immigrants," according to a statement on the group's Facebook page.
Related: Global Demonstrations Over Trump's Policies Heat Up Amid Anger Over Travel Ban
Protesters gathered in bone-chilling temperatures in the city's central park in protest of Trump's executive order restricting travel from several predominantly Muslim countries and plans to build a wall across the U.S.-Mexican border.
Similar protests took place in Cedar Falls, Iowa, including one outside U.S. Rep. Rod Blum's office. Blum has welcomed many of Trump's executive orders, including one restricting immigration and beginning funding to build a border wall.
"This is just the beginning," local organizer Chris Schwartz, with the Americans for Democratic Action, said at the protest. "We're going to keep marching and keep rallying."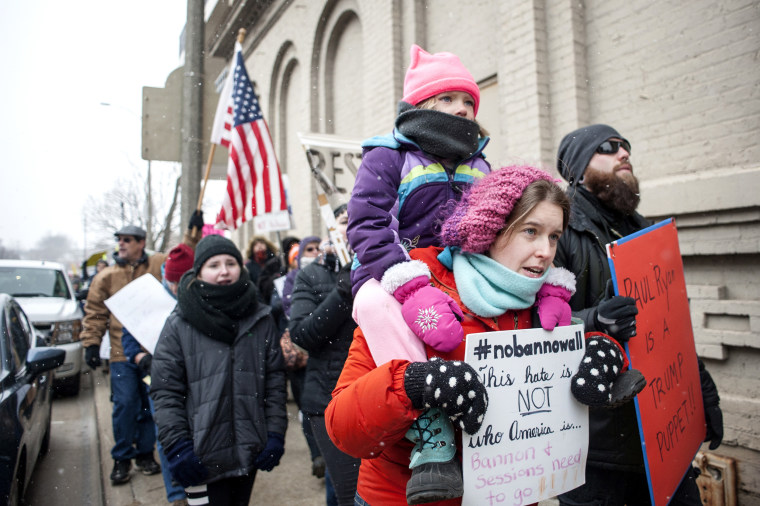 A counter-protest supporting Trump, organized by Cedar Valley Patriots for Christ, took place side by side with Schwartz's rally. The group said in a post on Facebook that it held its rally to "show that there are concerned citizens in our community who want to uphold the law and our nations constitution, and to show that we will not allow lawlessness to continue to run amock in our state and country."
Demonstrations in small cities have been gaining momentum across the country.
During the Women's March in Washington, D.C., which brought out almost a half-million people, sister marches took place simultaneously in all 50 states, as well as in 300 other cities.
In Janesville, Wisconsin, population 60,000, hundreds of people congregated Saturday at the courthouse to protest anti-immigrant policies among many other Trump actions, only a few block from House Speaker Paul Ryan's house.
Related: U.S. Army Corps Gives Eviction Notice to Dakota Access Protest Camp
"I want the speaker to know that we will hold him accountable for his silence and acceptance of what is happening to our country," demonstrator Ally Winer said.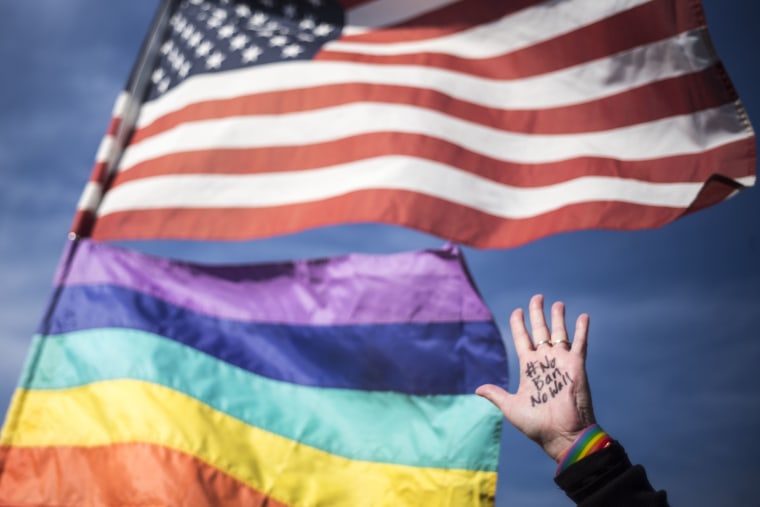 In California, Republican Rep. Tom McClintock's town hall meeting in Roseville was interrupted with a mass walk on Saturday morning.
"We wanted to ask him about immigration, about the wall, about LGBT, about what his purpose is and what he's planning on doing and how he supports the current administration," protester Holly Hisel told NBC station KCRA of Sacramento.
Another protester, Jennifer Reece, told KCRA that she wants accountability, saying: "Our representative needs to represent all of our voices. Not just their personal agenda."
Larger demonstrations continued in some major cities over the weekend, including one in which hundreds of anti-Trump protesters gathered in Houston ahead of Super Bowl LI on Sunday.
And at least 1,500 protesters gathered Sunday in Los Angeles against the Dakota and Keystone XL pipeline project, according to NBC Los Angeles.
A pro-Trump rally also took place in New York City on Sunday.