Hundreds of protesters demonstrated in Charlotte, N.C., overnight after police confirmed they had shot and killed a man while they were seeking a different person.
Police fired tear gas late Tuesday and an emergency unit was dispatched to safely remove officers, authorities said.
Around 1:35 a.m. ET on Wednesday, dozens of protesters blocked both lanes of the I-85.
Seven police officers and a civilian were taken to hospitals, officials said at 4 a.m. ET.
Earlier, a crowd of more than 200 protesters gathered in a neighborhood near the University of North Carolina at Charlotte after an officer shot and killed Keith Lamont Scott, 43, on Tuesday afternoon.
Police said in a statement that Scott got out of his car holding a firearm and posing an "imminent deadly threat."
PHOTOS: Overnight Protests Disrupt Charlotte After Fatal Police Shooting
In news video of the scene, demonstrators carrying signs reading "Black Lives Matter" chanted "Hands up, don't shoot." The crowd verbally taunted about 50 to 75 officers in riot gear Tuesday night, according to an NBC News producer on the scene.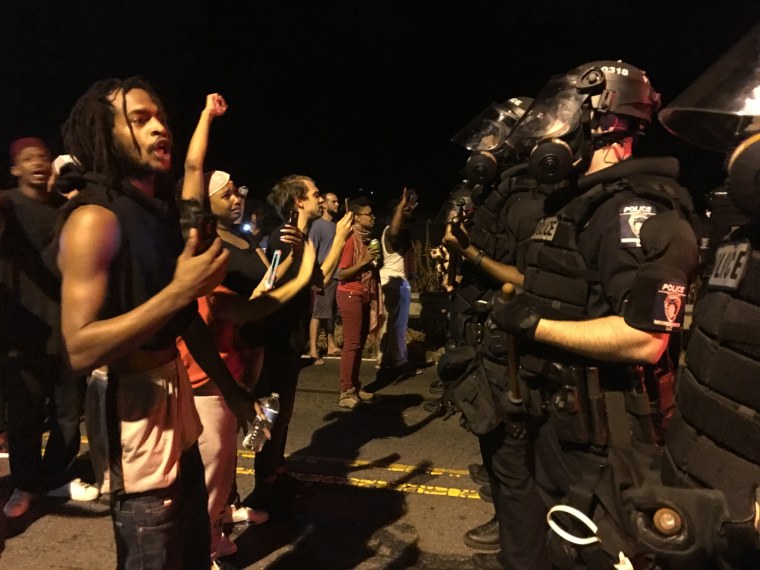 The Charlotte-Mecklenburg County Police Department said earlier Tuesday night that at least one officer sustained non-life-threatening injuries "in an attempt to deescalate agitators" during the demonstration. They later said approximately 12 officers were hurt, including one who was struck in the face by a rock.
The department also said demonstrators were attacking marked police cruisers.
"Demonstrators surrounded our officers who were attempting to leave scene" and the Civil Emergency Unit was dispatched "to safely remove our officers," the department said on Twitter.
NBC affiliate WCNC said a window in its news van was smashed during the protest.
The protesters gathered in response to unconfirmed social media posts alleging that police had killed an unarmed and disabled black man, WCNC reported.
"Cops shot him for nothing," a man who said he was a witness told WCNC.
Promotions were posted Tuesday night in the name of a campus student organization for a "blackout" protesting "police brutality and institutional racism affecting our community" for noon in front of the UNC-Charlotte Student Union.
Police said that Scott was armed and that his weapon had been recovered. They didn't address the contention that he was disabled.
The officer who shot Scott was identified Tuesday night as Brentley Vinson, a two-year veteran of the department. He was placed on administrative leave pending an investigation.
WCNC and The Charlotte Observer reported that Vinson is African-American.
Police said in a statement that officers searching for a suspect with an outstanding warrant about 4 p.m. ET when they saw a man exit his vehicle "armed with a firearm." Police Chief Kerr Putney said the weapon was a handgun.
When the man got back into the car and officers approached, "the man got back out of the vehicle armed with a firearm and posed an imminent deadly threat to the officers who subsequently fired their weapon striking the subject," according to the statement.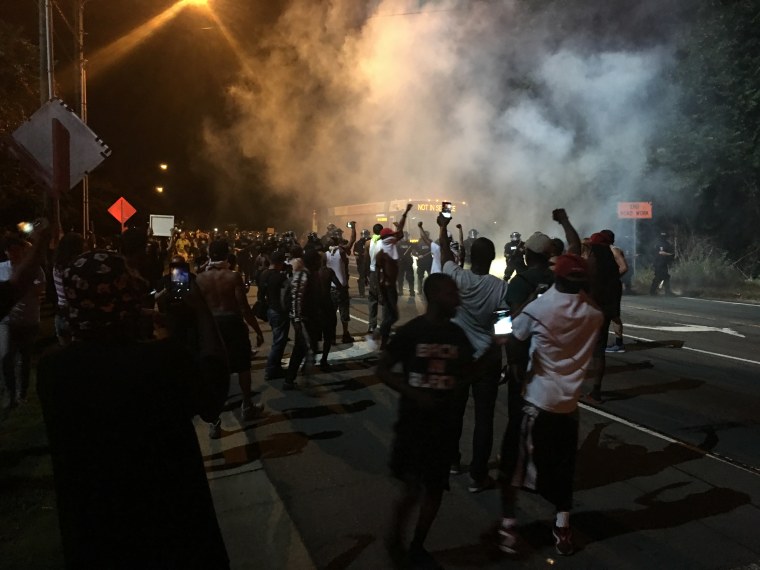 The man, later identified as Scott, was pronounced dead at Carolinas Medical Center.
Putney, the police chief, told reporters that Scott wasn't believed to be the person police were seeking on the outstanding warrant, "but we do not know if he was connected."
"At this point, all we know [is] they're in the apartment complex parking lot, and this subject gets out with a weapon," Putney said. "They engage him, and one of the officers felt a lethal threat and fired his weapon because of that."
Charlotte Mayor Jennifer Roberts Tuesday night appealed for calm, and said the city and police would be reaching out to community leaders. "The community deserves answers and full investigation will ensue," she said in a statement on Twitter.