A company that the Labor Department says used more than 100 children to clean slaughterhouses hired the same child twice under different names, an internal company document shows.
A June 2021 disciplinary report reviewed by NBC News shows that Packers Sanitation Services Inc. disciplined an employee who hired the same "known minor" twice in six months under two different identities.
The employee who did the hiring was demoted and suspended for three days and required to undergo a "hiring policy review," according to the document. 
The employee did not respond to a request for comment. PSSI spokesperson Gina Swenson said the employee "has been on a leave for personal reasons and is not currently actively working for the company."
Wisconsin-based PSSI, which is owned by the investment management company Blackstone, was cited by the U.S. Labor Department on Friday for "systemic" child labor violations that indicated "a corporate-wide failure" stretching across 13 locations in eight states.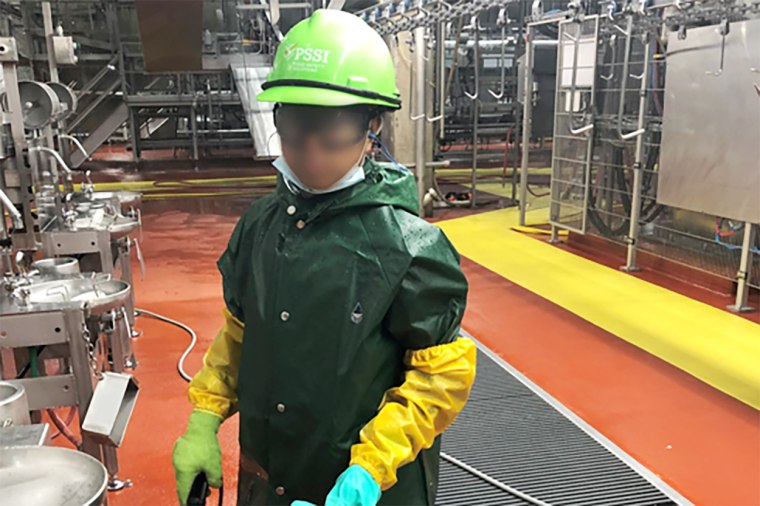 The Department of Homeland Security's Homeland Security Investigations division continues to investigate whether the children, largely undocumented migrants, were part of a human trafficking scheme, DHS officials said. PSSI is not a target of that investigation and has not been accused of wrongdoing by DHS. 
A former manager for PSSI, who asked that NBC News not disclose their identity, said seeing children working for the company made them "sick." They said that they were not surprised by the Labor Department's findings — they were surprised only that it took the Labor Department so long to discover the underage workers. 
"There are things happening in the plant that adults aren't comfortable seeing," they said. "You can't walk through [the plant] without getting animal parts on you or blood all over you." 
Shannon Rebolledo, a 17-year veteran of the Labor Department who led the investigation into PSSI's use of child labor, said that she had "never seen child labor violations to this extent" and that the employees in a Grand Island, Nebraska, plant tried to hide evidence by deleting digital messages during the investigation. 
"Just the sheer number of kids that were working … I've never had an employer or their representative impede my investigation like this just so brazenly," Rebolledo said. 
In a statement, PSSI said the company cooperated with the Labor Department investigation.
"PSSI cooperated with the DOL's inquiry — contrary to any false assertions to the contrary — including facilitating multiple site visits, employee interviews, and producing more than 100 million pages of documents — and fully shares DOL's objective of ensuring no one under 18 works for PSSI," said Swenson, the PSSI spokesperson. "We also terminated two local managers cited in DOL's filing as allegedly impeding their investigation — further illustrating that commitment."
In a statement, Blackstone said, "We are pleased that PSSI has resolved this matter with the Department of Labor. PSSI has an absolute zero-tolerance policy against employing anyone under the age of 18 and is fully committed to ensuring it is enforced at all local plants. PSSI has continued to enhance its already extensive procedures to prevent identity theft — including recent steps to conduct multiple additional audits and trainings, and hire further third-party compliance experts."
False identities
Michael Lazzeri, the Labor Department's wage and hour regional administrator, said, "Our investigation found Packers Sanitation Services' systems flagged some young workers as minors but the company ignored the flags." 
After the Labor Department announced it had found 50 children working for PSSI in December, the company signed a consent decree saying it would abide by child labor laws.
Swenson said in an email: "Our company has a strong corporate commitment to our zero-tolerance policy against employing anyone under the age of 18, and fully shares the DOL's objective of ensuring full compliance at all locations. As parents and citizens, we don't want a single person under 18 working for PSSI, period — and take extensive steps to prevent individuals at the local level from circumventing our wide-ranging procedures."
The former manager said the company did not undertake enough scrutiny of identifying documentation when staff members were hired, and that the company hired many undocumented immigrants who used false identities to pass the E-Verify government compliance system.
"In this industry you have a lot of people who are undocumented workers. A lot of times it's because they're not going to pay well enough to hire people in America who want to do it," the former manager said. 
The former manager said that while some employees presenting false documents were turned away, it was common for workers who presented obviously false IDs to get hired as long as the documents stated they were legal and of age. "You can look at the ID and tell the person on the ID is not even close to the person standing in front of you."
Swenson told NBC News in response: "This is categorically false — period. We have been crystal clear that we do not want a single person under the age of 18 working for the company. We have trained and retrained our hiring employees on how to actively spot identity theft — as part of our extensive efforts to enforce this absolute prohibition against employing anyone under the age of 18."
Swenson said the company uses the government E-Verify system for new hires, as well as "multiple audits and biometrics" to verify identities. Swenson maintained that if an underage employee is able to circumvent E-Verify, it is "through deliberate identity theft and/or fraud for a hire at a local plant."
'Common knowledge'
Allegations of child labor by PSSI at a slaughterhouse in Grand Island date to 2016, according to a local police report obtained by NBC News. The report said an officer was called to the local middle school because a 14-year-old girl had "injuries to her hands." The document shows that the allegations were investigated as "child abuse."
A Grand Island police spokesperson said the injuries were from the child's work at PSSI. Police determined they were from the girl's work through a conversation with the child and her guardian. The matter was referred to the local prosecutor, and the child's guardian was investigated but not charged, according to a local police official.
Local school officials told Labor Department investigators that it was "common knowledge" that children worked overnight shifts at the local meatpacking plant and that they would often fall asleep in class, according to court documents.
Audrey Lutz, a former executive director of a local Nebraska nonprofit group that has been helping the child workers in Grand Island, said the Guatemalan child workers she met were clearly children: "They are young. They are naive. They are short in stature. They are looking for a better life. And you can see that in their eyes."
Lutz said the children were too afraid to speak to NBC News and unaware that they were forbidden from doing the work. "These children are coming from countries where it's very common for youth as young as 12 or even younger to support their families," Lutz said. "But in this country, we reserve dangerous work like cleaning meatpacking plants for people who are adults who can make choices for themselves about the dangers and risks involved."
The company paid a fine of $1.5 million to the Labor Department — $15,138 for each child who was illegally employed. Labor Department officials say that is the maximum penalty according to federal law.
Lutz said she thinks more accountability is warranted beyond the fine. "The federal government needs to hold the people with the purse strings accountable. Who made money off the backs of children cleaning a meatpacking plant?"
She added that she wants to see a criminal investigation. "I think the Department of Justice should come in and do a full investigation and figure out who is responsible for employing this many children, not only in Grand Island, Nebraska, but across the country."
Labor Department officials say what department investigators found at PSSI is part of a growing national concern. They point to agency data that shows a 69% increase across the country in minors employed in violation of child labor laws from 2018 to 2022.