Donald Trump's controversial remarks about veterans and post-traumatic stress disorder have put a spotlight on the potentially debilitating condition that currently affects hundreds of thousands of veterans.
In fact, according to the Department of Veteran Affairs, a total of 813,277 veterans have received disability compensation from the World War II era through 2015 because of PTSD.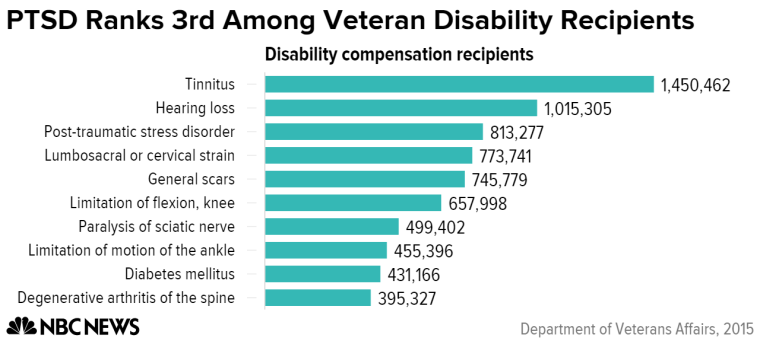 And the prevalence rate of those who served in the military and have PTSD is significant:
Approximately 11 percent to 20 percent of those who served in Operations Iraqi Freedom and Enduring Freedom have PTSD in a given year, according to government statistics.
Approximately 12 percent of those who served in the Gulf War have PTSD.
When it comes to the Vietnam War, the rates are even higher. About 30 percent of Vietnam vets have had PTSD in their lifetime.
In the general population, 7 percent to 8 percent will have PTSD during some point of their lives, according to the Department of Veteran Affairs. In addition, 8 million adults have PTSD in a given year, with more women affected than men. Approximately 10 percent of women develop PTSD in their lifetime compared to 4 percent of men.
Trump made the initial remarks on Monday.
"When you talk about the mental health problems -- when people come back from war and combat, and they see things that maybe a lot of the folks in this room have seen many times over, and you're strong and you can handle it. But a lot of people can't handle it," the Republican presidential nominee said at an event in Virginia that was organized by the Retired American Warriors PAC.
"And they see horror stories. They see events that you couldn't see in a movie, nobody would believe it."
Many interpreted the comments as the Republican presidential candidate suggesting veterans suffering from mental health issues aren't as strong as those who don't. Team Trump has pushed back, insisting the Republican's comments were taken out of context. Still, some people took to social media to criticize Trump.
Vice President Joe Biden also went after Trump over his latest remarks on PTSD. "How can he be so out of touch?" Biden said Tuesday on CNN. Trump is "not a bad man" but "his ignorance is profound, so profound," Biden added.