The mayor of Puerto Rico's capital city San Juan issued a plea for urgent help as she expressed frustration with the speed at which rescuers were being set to work on the hurricane-ravaged U.S. territory.
"This is a big S.O.S for anybody out there," Carmen Yulin Cruz told MSNBC's Rachel Maddow on Tuesday night, "a plea for this help, which is right here, to get moving."
Cruz said many rescuers on the ground had been left without marching orders and said she was aware of instances where medics had waited for two days before being briefed.
"The red tape needs to be ripped off as if it were a band aid," she said, "there are boots on the ground…but those boots need to start walking."
Cruz's comments come as the Trump administration pledged new aid and a presidential visit amid criticism of its response to the crisis.
Department of Homeland Security Acting Secretary Elaine Duke said Wednesday that search and rescue efforts were complete, and that the focus is now on distributing supplies, including food, water and gasoline.
DHS has asked the Defense Logistics Agency to help the National Guard troops on the ground there. AT&T is on island to work on restoring cell service, she said.
The electrical grid is more of a challenge, Duke said, adding that it's "virtually gone."
Meanwhile Puerto Ricans rushed to get basic necessities to the island's most vulnerable populations, in what Cruz called a "terrifying humanitarian crisis."
In San Juan, the capital, a group of about 50 volunteers has been mobilizing in residences for the elderly, finding people in buildings that lacked food, running water, access to their medicines and were dealing with no electricity in stifling heat.
"Some of these folks were bedridden, some were dehydrated because they have not been able to get any water or food for a number of days," Armando Valdés Prieto, a lawyer and volunteer, told NBC News by phone of one building he visited. "Some of them didn't even remember when they'd last eaten."
In buildings with no power, diabetic patients were unable to refrigerate their insulin.
Elevators were also no longer working in some of the residences, leaving many with limited mobility unable to leave their apartments, he added.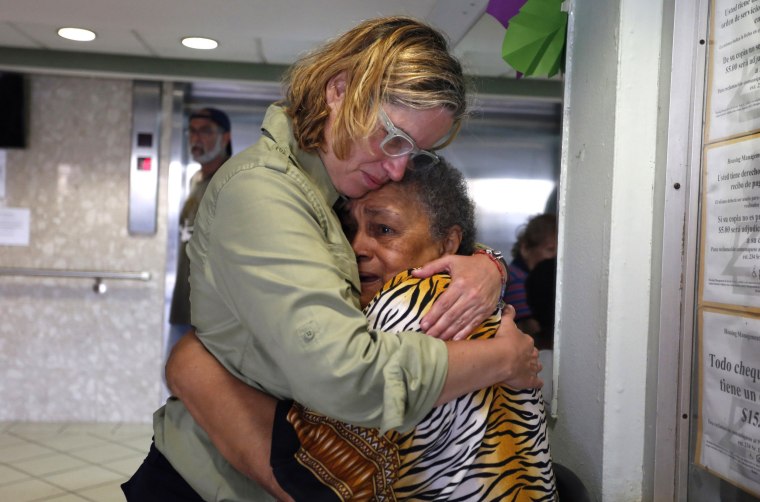 "An elderly gentleman asked me to take him to a shelter days after the storm because he felt he would be better tended to at a shelter than in an eighth floor apartment where he could not get up and down to," he said.
Hurricane Maria, which made landfall last Wednesday as a Category 4 hurricane, has been blamed for 18 deaths in Puerto Rico.
Puerto Rico Rep. Luis Vega Ramos, who was also helping the volunteer efforts, said they've had to take about a dozen people to hospitals in the last few days.
Related: Puerto Ricans Plead for More Federal Aid to Devastated Island
He described visiting a senior center run by nuns in a remote part of San Juan that housed about 90 bedridden people.
The center needed "a constant supply of water" to care for its residents and needed more diesel, he said by phone while visiting different sites.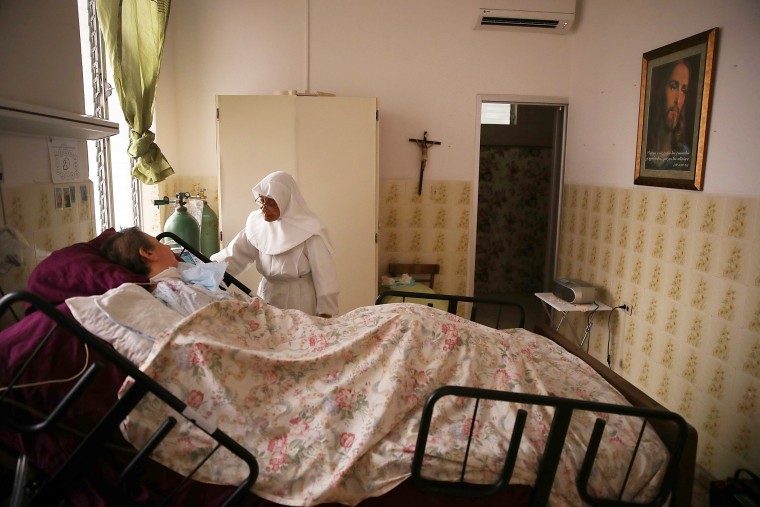 "That remains the fear — that they may run out of supplies, they may run out of diesel," he said. "Everybody is struggling, but they're facing the struggle with a lot of strength."
Photos: Powerless Puerto Rico Struggles to Recover Post Maria
Cruz said she had visited retirement homes where residents were shouting for help. "They have been left alone, they cannot walk, the elevator is not working," she explained.
The mayor said Puerto Rico desperately needed diesel, gas, water and food. "It's really a life or death situation," she told NBC News on Tuesday afternoon.
Related: Here's How to Help Victims of Hurricane Maria
President Donald Trump announced that he will visit Puerto Rico next Tuesday amid desperate pleas from officials and residents for more aid.
Trump also said Tuesday that the federal government was waiving regulations requiring Puerto Rico to match FEMA disaster relief funds.
But Rep. Nydia Veláquez, D-NY, said that wasn't enough, since the waiver only applies for the next few months. She also called on Trump to waive the Jones Act for at least a year. The 1920 statute requires that any transportation of goods to Puerto Rico be done by U.S. ships, which significantly drives up costs.
Brock Long, the head of the Federal Emergency Management Agency, said Tuesday that "Puerto Rico is being treated just like any other state."
Photos: Satellite Photos Show Puerto Rico Left in the Dark
"We need you to know that we are working our butts off to help the people of Puerto Rico and we are going to continue to push forward as much as we can," he told MSNBC.
U.S. defense officials said Tuesday afternoon the hospital ship USS Comfort is making preparations to head to Puerto Rico and the ship should arrive in about 9-10 days.
Meanwhile, Oscar "Can" Santiago, the mayor of the town of Vega Alta, described a desperate situation where seemingly simple tasks were virtually impossible to accomplish, putting his town's residents at risk.
A local hospital was going to have to shut down due to a lack of diesel fuel, not because it wasn't available — there's a gas station nearby, he said — but because the town did not have a way to store and transport the fuel to the hospital. His own office of emergency management also ran out of diesel.
Santiago said he had asked members of the National Guard and corps of engineers for a truck on Saturday, but he was still waiting.
"I have not received any kind of help," said the mayor of the coastal northern town, who had to travel to San Juan to make requests at the central office of emergency management because he was unable to make phone calls from his town.
"I had to take a generator from our office of emergency management and give it to a family with a baby that needed oxygen," said Santiago.