SAN JUAN, Puerto Rico — After deadly Hurricane Maria devastated homes in Puerto Rico this week and plunged the entire Caribbean island into darkness, a desperate call for international assistance came quickly from officials.
Among the first relief missions to reach the ravaged U.S. territory was the charity Samaritan's Purse, whose members landed in the capital of San Juan bearing emergency supplies and much-needed generators.
"As Americans, we don't know the depth of suffering that other people are experiencing," said Laurie Letts, one of the coordinators for the evangelical Christian group's relief mission. "It's such a deep calling from God."
The North Carolina-based nonprofit, which is led by Franklin Graham, the son of televangelist Billy Graham, sends volunteer missions to places around the world affected by natural disasters, war and poverty.
Related: How You Can Help Storm Victims
It was Maria's Category 4 winds and rains, which led to at least seven deaths in Puerto Rico, a dam in the northwest to potentially fail and gut-wrenching scenes of damage, that prompted members of Samaritan's Purse to react. Government officials said across the island — home to 3.4 million people — more than 15,000 people remain in shelters.
In the north coastal town of Manati, fuel and fresh water were nowhere to be found, Mayor Jose Sanchez Gonzalez told The Associated Press — a familiar story throughout the island.
"Hysteria is starting to spread. The hospital is about to collapse. It's at capacity," he said, crying. "We need someone to help us immediately."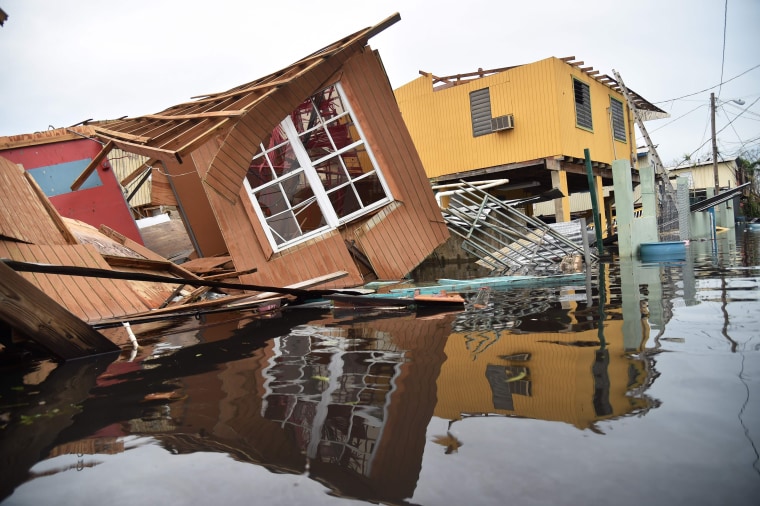 NBC News was granted a look at a first relief flight in which Samaritan's Purse staff members assembled 50,000 pounds of supplies, including hygiene kits, toiletries, plastic tarps, generators and tools.
The organization said it is sending out another aircraft by the end of the weekend through its disaster assistance response team and will carry another 50,000 pounds of supplies.
Scott Cottrell, a retired U.S. Army sergeant, was among the dozen staff members on board the first aircraft, a DC-8, to go out this week. He said his desire to do his part is not unique.
"I love serving people out there," he said. "A lot of guys do what I do — get out and serve people, uninterested in money or prestige."
Morgan Radford reported from Puerto Rico, and Yelena Dzhanova reported from New York.