YABUCOA, Puerto Rico — Almost 10 months after Hurricane Maria ravaged this island, residents were preparing Sunday for the remnants of Beryl — a tiny system that could still drench Puerto Rico and its fragile infrastructure.
Forecasters said that Beryl would slog south — a huge relief to an island still recovering from Maria, the Category 4 hurricane that hit the U.S. territory in September and caused an estimated $100 billion in damage.
Tropical Storm Beryl was downgraded on Sunday, and the National Hurricane Center indicated reconnaissance aircraft couldn't find a central circulation, meaning the storm is a remnant system.
Puerto Rico is predicted to get several inches of rain on Monday from Beryl's remnants, which could trigger flash floods and mudslides in some areas, officials said. Because of that, Gov. Ricardo Rossello has declared a state of emergency, even though no major wind damage is expected.
"It's hard to predict what will happen," Rossello said at a news conference Sunday. "If it were a Category 1 storm or more, we'd be expecting more destruction, but it's not."
Still, authorities warn that the entire island could see strong wind gusts and heavy rain.
"All of Puerto Rico will be affected," said Ernesto Morales, a meteorologist with the National Weather Service in San Juan.
The National Hurricane Center said the remnants could drench the Leeward Islands, the Virgin Islands, and Puerto Rico with 2 to 3 inches of rain through Tuesday, with up to 5 inches possible in some areas.
According to PREPA, the Puerto Rico Electric Power Authority, 99 percent of the island has had electricity restored since Maria, which struck on Sept. 20. But local officials in some far-flung municipalities dispute that figure, and say that some mountain communities are still struggling with an unreliable grid.
An international nonprofit called OHorizons is traveling to remote areas of Yabucoa — one of the places hardest hit by Maria — to bring small solar panels to residents desperate for electricity.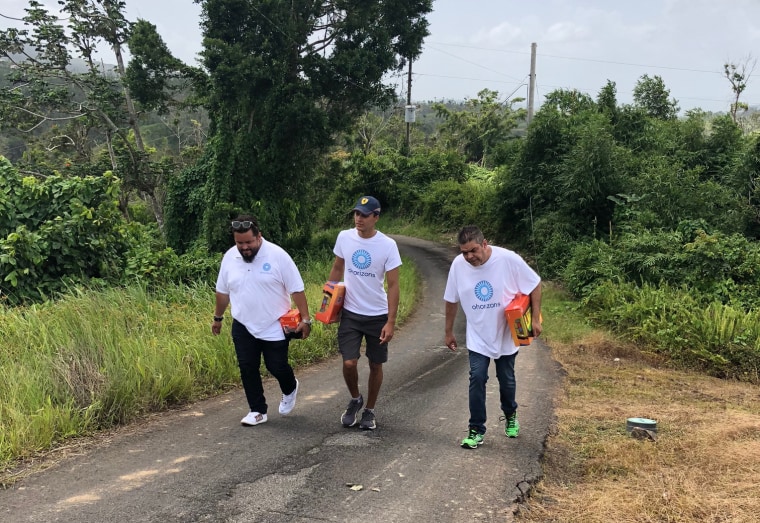 NBC News joined the group on a recent mission to Yabucoa.
"We call this the last mile district. We come where no one else wants to come because it's too far," said Hugo Perez with OHorizons.
"It's heartbreaking. Most people don't realize that without light when nighttime comes you can't do homework. You can't cook. You can't do any work from home. So, having those kind of resources is so important and having all these people here that are trying to have a normal life and not have that available to them is devastating," he said.
Perez and other volunteers distribute the technology to people like Vanessa Lebron. Maria destroyed her home and she's moved in with her mother. She says the hardest part of all of this has been taking care of her baby. She gave birth four months after the storm. Her son has never known a life with electricity.
Lebron said she's grateful for the volunteers' help. "The hardest part has been taking care of my baby," she said.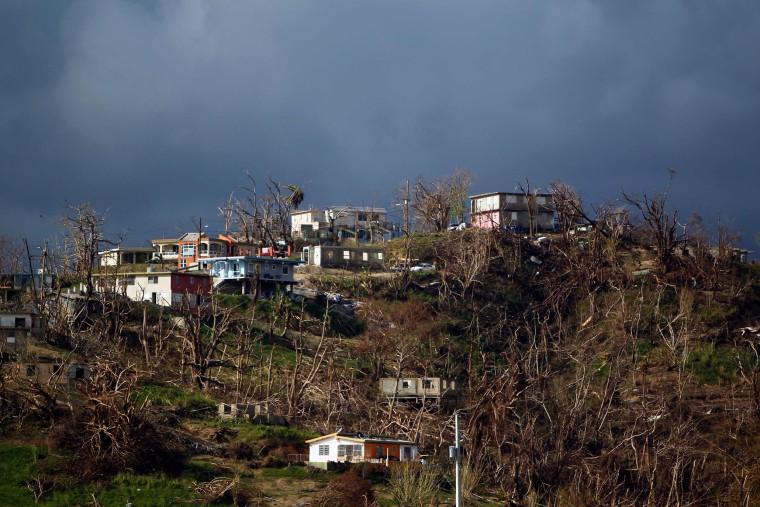 "Not only is it solar powered and has three levels, but it has adapters so you can plug in your cell phone," Perez said. "So, now you have a self-contained lighting unit and a cell phone charger, which are the two essentials that we find that a lot of people have a lot of need for at night."
Some of the most remote neighborhoods wonder if they'll ever get power back.
They also worry what the next hurricane will bring.