A Puerto Rico dam damaged by Hurricane Maria's heavy rains remained in danger of failing early Monday, amid fears it might trigger a potentially life-threatening deluge.
The National Weather Service said a flash flooding warning in western Quebradillas and eastern Isabela municipalities, where the Guajataca Dam is located, would continue until 2 p.m. ET on Monday.
"Stay away or be swept away," the agency warned. "River banks and culverts can become unstable and unsafe. Stay away from evacuated areas until told by emergency officials it is safe to return."
On Saturday, Puerto Rico Gov. Ricardo Rossello said 70,000 people could be in danger on the U.S. territory if the dam failed. He urged area residents to evacuate.
However, local officials later said the number who were evacuated was much smaller. In Isabela, the mayor's office said a little more than 200 people were in shelters.
One woman in the southern fringe of Isabela told NBC News she had frantically fled when police told her she needed to leave immediately. She was told she'd need to spend at least 72 hours in a local shelter.
David Castro's family has been listening to a spotty AM radio station, their only way to hear news outside of their neighborhood.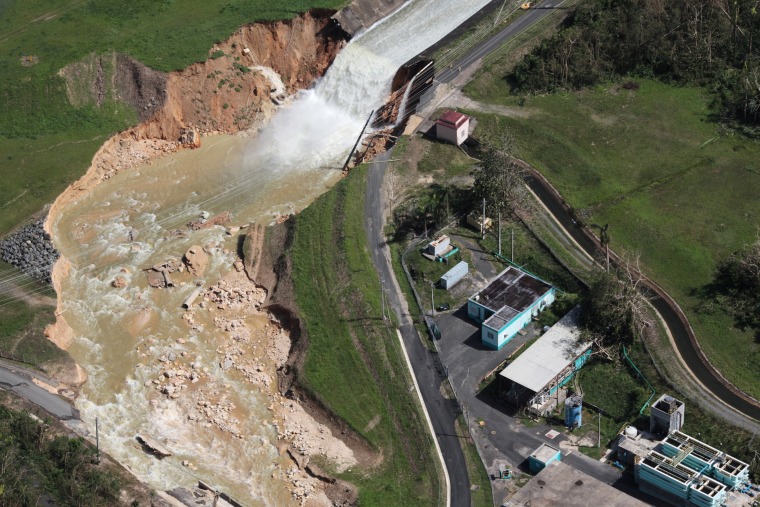 On Friday, they heard from their neighbors that the dam might collapse and that everyone needed to evacuate.
"We hear a lot of commotion and everybody's running," Castro said. "But there's no communication. We didn't know where to go."
At least 10 people have died so far in Puerto Rico as the result of Hurricane Maria, the strongest storm to hit the island since 1928.
The storm also left hospitals flooded, strewn with rubble and dependent on diesel generators to keep the neediest patients alive. For some, the only option is to evacuate to the U.S. for treatment.
Food is in short supply. The island's electrical grid is down and may remain so for months.
Motorists and pedestrians lined up for blocks trying to secure scarce fuel to power vehicles and generators. Cellular service and internet are also hard to come by, and the island's main airport is still crippled.
White House Press Secretary Sarah Huckabee Sanders said Monday that Trump had dispatched Homeland Security Adviser Tom Bossert and FEMA Administrator Brock Long to Puerto Rico to "assess the damage" and rejected criticism of the federal response to the island.
"The federal response has been anything but slow," Sanders said. "We're applying federal assistance as quickly as possible," she added.
Meanwhile, Maria remained designated as a hurricane early Monday.
The National Hurricane Center said its core was expected to move well east of the southeast coast of the U.S. during the next day or so. A tropical storm warning has also been issued for portions of the North Carolina coast.
"The Category 1 hurricane weakened considerably over the weekend," NBC News meteorologist Bill Karins said. "This will be a minor hurricane for the Outer Banks with a storm surge of 2-4 feet and high waves being the main concern."