A Purdue University student was arrested on a murder charge Wednesday and accused of killing his roommate overnight in a residence hall on the campus in West Lafayette, Indiana, the school's police chief said.
Purdue University Police Chief Lesley Wiete and the Tippecanoe County coroner's office identified the slain student as Varun Manish Chheda, 20, a senior from Indianapolis, who was studying data science.
Ji Min "Jimmy" Sha, a junior cybersecurity major and international student from South Korea, called 911 around 12:45 a.m. Wednesday to alert police about the death, Wiete said at a news conference Wednesday morning.
Details of the call weren't disclosed. Authorities said the incident happened in a room on the first floor of McCutcheon Hall.
Sha was in the Tippecanoe County Jail on Wednesday afternoon on a murder charge, according to jail records. No bond was set, records said.
Chheda died of "multiple sharp force traumatic injuries," and the manner of death was a homicide, according to preliminary autopsy results.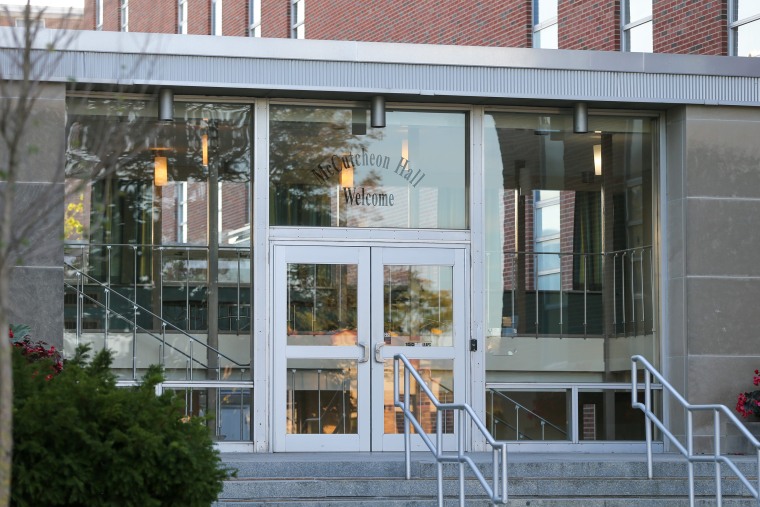 The final autopsy findings are pending toxicology, the coroner's office said. 
Arunabh Sinha, a childhood friend of the slain student, told NBC News that Chheda had been gaming and talking with friends online through Discord on Tuesday night when they suddenly heard screaming on the call.
Sinha wasn't playing with his friends that night, but they told him they heard the attack and didn't know what happened. They woke up Wednesday morning to news of his death.
Wiete said Sha, 22, was taken into custody minutes after the 911 call and brought to the police station for further investigation.
Video posted Wednesday shows university police escorting Sha out of a patrol vehicle in handcuffs as reporters wait for him. As he is taken inside a building, a reporter asks Sha, "Can you tell us why you did it?"
Sha pauses a few seconds and then seems to say, "I love my family." He then repeats the comment.
Wiete didn't discuss a motive or details about weapons in the killing. She said the 911 call came from the room, in which only Chheda and Sha were at the time.
"I believe this was unprovoked and senseless," she said, noting that neither roommate was asleep when the incident happened.
After Chheda's death, school officials said there was no threat to the community.
School in mourning
Chheda's death is Purdue's first on-campus homicide in more than eight years, police said.
Andrew F. Boldt, 21, of West Bend, Wisconsin, was fatally shot Jan. 21, 2014, in the basement area of the electrical engineering building, the school said in a statement after the incident.
On Wednesday evening, hundreds gathered for a vigil on Purdue's campus at the Unfinished Block P sculpture, which honors students who don't get to finish their Purdue experience. 
"I think people are just in shock. My sister was in class today and she said the girl next to here just wouldn't stop crying," student Claire Schnefke told NBC affiliate WTHR of Indianapolis. 
"Everyone is just grieving and just mourning and so they're just trying to fully understand and just get the realization of what has happened because it's affected everyone on campus," Kamanda Mosongo told the station.
University President Mitch Daniels said Chheda's death was "as tragic an event as we can imagine happening on our campus," adding that "our hearts and thoughts go out to all of those affected by this terrible event."
About 50,000 undergraduate and graduate students are enrolled for the fall semester, according to the Purdue website.
Staff members at residence halls and clinicians with the school's counseling and psychological services are providing support to students, he said in a statement Wednesday morning.
Daniels reassured everyone that the campus is a safe. "Compared with cities of Purdue's population (approximately 60,000 in all), we experience a tiny fraction of violent and property crime that occurs elsewhere," he said.
"Such statistics are of no consolation on a day like this," he added. "A death on our campus and among our Purdue family affects each of us deeply."
Remembering Chheda
Arunabh Sinha went to school with Chheda for 12 years and said their families were also friends. He said Chheda was in his third year of college and was graduating early.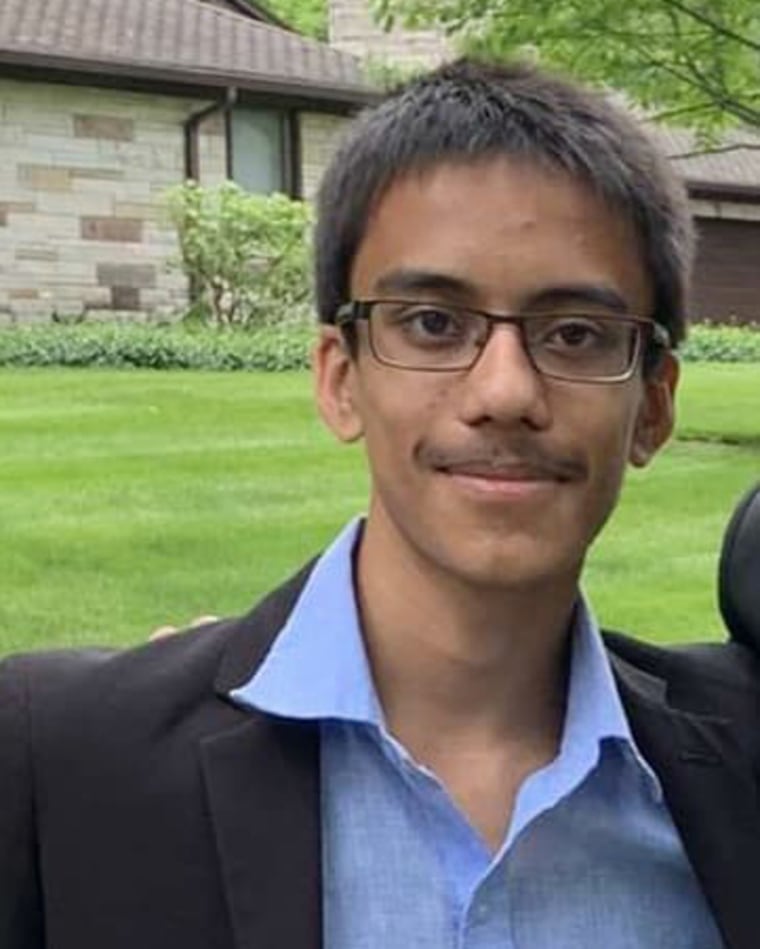 He remembered Chheda as "a really smart guy, always top of his class, top of the chess club, science bowl team. He was really humble about it." Not only was he a bright student, but he also "always did things the right way, he refused to take short cuts," Sinha said.
Chheda won first place at a state Spanish competition in 2015 and 2016, and he scored top honors at the State Science Olympiad Competition at Indiana University in 2015 for a presentation in the environmental chemistry division, according to Sycamore School, which he attended from kindergarten to eighth grade, NBC affiliate WTHR of Indianapolis reported.
In 2015, his team at Sycamore won eighth place at the National Science Bowl Competition in Washington, D.C., the school said, according to WTHR. The following year, the team placed second, Sycamore said.
After the 2015 loss, Chheda spent the summer reading a college-level biology book, Sinha said.
Not only was he dedicated to his studies, but he was also dedicated to his mother, his father and his younger sister, Sinha said.
"He was a tremendous family person. He had a lot of respect for his parents and their contributions to his life. Further, he loved his sister and served as a role model for his sister better than anyone I know."
The news of his friend's death was hard for Sinha to comprehend.
"I was just in utter disbelief that something could happen to someone so pure, someone so intelligent, someone so innocent, someone who certainly did not deserve such an outcome. Everyone that I've talked to has said, 'Of all the people, why him?'
"He's been such a positive influence. And he was really smart enough to where he would make a massive impact, just with his brain, in the future," Sinha said.
Andrew Wu went to middle school and high school with Chheda, and they hung out playing video games.
"We played games together all the time, video games, card games, you name it. Even hundreds of miles away, for the past four years in college, we still kept in touch. We'd hang out six to seven times a week just to play games together," he said.
Wu said Chheda's death was "totally out of the blue."
"He doesn't talk about his roommate ever. His roommate never comes up when we're playing games. This morning, it was just a total shock," Wu said. Chheda "would not ever try to cause a conflict with anyone."'
He said Chheda was so intelligent, "he could have done anything" after college.
"All the doors were open. He actually just knew so many different things," Wu said.
He said what Chheda taught him most was compassion.
"I haven't met someone who's so kind like he is. He always notices when someone's uncomfortable. He's always willing to compromise. He'll always sacrifice himself to help other people," Wu said.
Sumeeth Guda, a senior studying mathematics and statistics at Purdue University, said he worked with Chheda on a final group project during the spring semester.
He remembered Chheda as "a serious student," saying he "definitely had an eye for detail and was determined to produce the best deliverable."
"Aside from that, he was a good guy, friendly, and open to helping the rest of us teammates," Guda said.
'I have made many friends. ... I will cherish them'
Chheda graduated from Park Tudor School, a private school in Indianapolis, Dennis Bisgaard, the school's interim head, confirmed. 
"The entire Park Tudor community is incredibly saddened by the tragic loss of Varun Chheda, Park Tudor class of 2020. Our thoughts and prayers are with his family at this difficult time," he said. 
A school alumni Facebook page posted a tribute to Chheda on Wednesday, noting that he attended Sycamore School from kindergarten through eighth grade.
"We will miss him. Varun was a brilliant student, funny, and well liked by his classmates. He possessed admirable character traits that stemmed from a strong family," Sycamore School head Diane Borgmann said.
The post also referred to Chheda's graduation speech in May 2016.
"I have made many friends. Relationships have been built on mutual respect and admiration and I will cherish them," Chheda told his classmates. "It is more than a school; it is a positive, healthy environment, where students, like young birds, grow and take flight."