A Colorado sheriff's office has drawn outrage after it awarded a Purple Heart to a deputy involved in a fatal shooting of a man at a middle school while students were being discharged.
Deputy Charles McWhorter received the commendation from the Pueblo County Sheriff's Office four days before a federal wrongful death lawsuit was filed against him, other deputies and the county.
The award was given during an annual banquet Feb. 17, according to a post about the ceremony on the sheriff's Facebook page.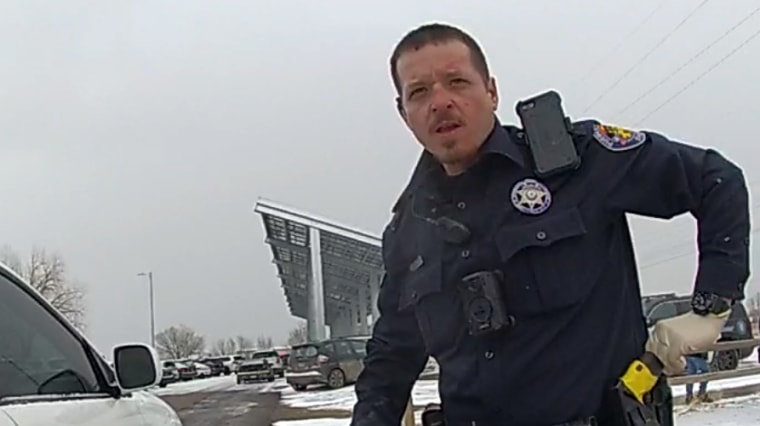 A spokesperson with the sheriff's office confirmed to NBC News over email on Monday that "Deputy McWhorter received the Purple Heart for injuries he sustained in the Feb. 22, 2022, incident."
The spokesperson said neither McWhorter nor anyone with the office would provide additional comment because of the pending lawsuit, which was filed in U.S. District Court for Colorado. Attempts to reach McWhorter outside of the sheriff's office were unsuccessful Monday.
According to the suit, McWhorter fatally shot Richard Ward, 32, last February when he was with his mother and her boyfriend to pick up his younger brother from Liberty Point International Middle School.
Pueblo County sheriff's deputies approached Ward after they received a report that he had been opening doors of nearby vehicles in the pickup waiting area, officials have said.
Ward stepped out of his mother's SUV for a "brief walk," mistook another white SUV for hers and got in the wrong vehicle, the lawsuit says. He apologized to the woman who was driving after he realized his mistake and returned to his mother's vehicle, the suit says.
Minutes later, according to the suit, McWhorter confronted Ward, who was shot three times during a physical struggle. Ward was pronounced dead at the scene, the lawsuit says.
Attorney Darold Killmer, who represents the Ward family in the lawsuit, said Monday the Purple Heart being given to McWhorter is an "outrage" and was a calculated decision.
"They knew they were about to be sued, so they decided they need to turn this guy into a hero," Killmer said. "They gave him a Purple Heart because he hurt himself when he was killing Richard."
He added: "They had to defend an unjustifiable killing. So they wanted to have a hero at the head of the lineup for them."
The lawsuit alleges Ward's rights were violated under both the federal and the state constitutions through excessive use of force. Ward's family is demanding a jury trial.
Comments under the sheriff's office's Facebook page post about the awards' banquet were critical of McWhorter's award.
"Please tell us that you didn't honor an officer who ... pulled trigger on an innocent citizen with the Purple Heart. We are now on national news and it is embarrassing for this community," one person wrote.
"Awarding an officer for murdering someone… Sounds about right for law enforcement these days… You should be ashamed to call yourselves protectors of your community… And the people congratulating this murderer should be ashamed too," another said.
An investigation by the Pueblo County Sheriff's Office found that the deputies' actions "comported with and were pursuant to Pueblo County Sheriff's Office training, policies, customs and practices," the lawsuit says.
The 10th Judicial District Attorney Jeff Chostner investigated the shooting and ruled it justified in an Oct. 14, 2022, report
The deputies had reasonable grounds to believe they were in imminent danger of being killed, he said in the report.
Cassandra Gonzales, one of the two deputies who yanked Ward out of his mother's vehicle before he was fatally shot, told the Pueblo Police Department on the day of the shooting that Ward opened his coat and reached inside with his right hand.
She told officers she wasn't sure if Ward was armed, and that he was resisting arrest and grabbing at McWhorter's duty belt, according to the report.
Meanwhile, McWhorter said, Ward put something in his mouth, turned and then opened his jacket and reached inside as if he was carrying a weapon.
Neither deputy offered first-aid assistance to Ward. Both deputies told the police department they were going to provide aid but felt they could be vulnerable with Ward's mother and her boyfriend in the vehicle.
"There's no evidence of him reaching for a gun," Killmer said, noting no weapon was found on Ward.
Shortly after the shooting, Ward's mother, Kristy Ward Stamp, was arrested and interrogated at the sheriff's office, Killerman said. Authorities also kept her car, cell phone, identification and purse for months as part of their investigation.
"They were treating her like a criminal, like she had done something wrong. They sat and watched as they executed her son," Killerman said. 
Ward's relatives said the death has shattered the family. 
"Why didn't they ask him to step out of the vehicle? Why didn't they talk to my mom or her boyfriend? How come you couldn't use non-lethal force?" said Eddy Stamp, 27, Ward's brother who lives in Sacramento, California. "You hear about this stuff, and you just don't think it can happen to you. They completely escalated the situation."
The Pueblo County District Attorney's Office said in an October letter that McWhorter and a second deputy had reasonable ground to believe their safety was in danger, NBC affiliate KUSA reported.
That same letter listed McWhorter's injuries that included an injury to his face, at the bridge of his nose, his right forefinger, his lower back, his right knee and a re-aggravated injury to the middle of his neck.