A yearslong slog to undo pieces of the federal government's machinery of mass incarceration has turned into a sprint.
After President Donald Trump announced this month that the White House would push for a landmark ─ and bipartisan ─ proposal to revamp the U.S. prison system, reform advocates last week began aggressively lobbying Congress to act. But they don't have much time: Similar efforts have previously died in the mire of election-year politics, and the Nov. 6 midterms are approaching.
"The push starts now," said Holly Harris, a longtime Republican strategist who leads the U.S. Justice Action Network, which recruits lawmakers on the left and right to overhaul the criminal justice system.
The trick is deciding how far to push.
The Republican-controlled House has already passed a bill that offers federal inmates more opportunities to prepare for freedom and rewards them with more "good-time credit" for behaving and participating in education and training programs. The measure, called the First Step Act, would provide a faster path to release for almost all federal inmates, many of whom would see months shaved off their release dates immediately, thanks to changes that would apply retroactively.
But the Senate is a tougher sell. A pair of senators ─ Chuck Grassley of Iowa, a Republican, and Dick Durbin of Illinois, a Democrat ─ have been fighting for years for a more sweeping set of changes that, rather than focusing on people already in prison, would target the source of mass incarceration by reducing sentences for nonviolent offenders. A third of the Senate's membership have signed on as co-sponsors. Adding sentencing reform to the First Step Act would be an "important BIPARTISAN win," Grassley tweeted Thursday.
Some Republicans, though, strongly oppose the more expansive bill. Sen. Tom Cotton of Arkansas described the Grassley-Durbin bill as "a jailbreak that would endanger communities" in an Aug. 16 Wall Street Journal op-ed. Attorney General Jeff Sessions has warned the White House that the First Step Act would make America less safe, undermine law enforcement and cripple the U.S. Bureau of Prisons. That has raised fears of an intraparty squabble as the GOP seeks to maintain its majority control.
With a potential battle looming, Trump's support is seen as key, said Mark Holden, senior vice president of Koch Industries and chairman of the Koch-backed Freedom Partners, which makes conservative arguments for criminal justice reform.
"He's sending a message to the Republican Party to get this done," Holden said.
Following the lead of the states
The proposals before Congress are part of a broadening effort to dismantle America's overwhelming reliance on prison sentences.
That toughened approach, a product of the war on drugs and now three decades old, contributed to a drastic drop in crime rates, but at a steep cost. It deepened racial disparities in the justice system, fueled anti-police grievances and prevented millions of former offenders from holding steady jobs, maintaining stable housing and providing for their families, according to researchers. It also consumed massive portions of government budgets: State and local spending on corrections jumped from $17 billion to $71 billion from 1980 to 2013, according to a federal analysis, and federal spending during that period rose from $970 million to $6.7 billion, according to a Pew study.
As America awakened to those consequences, reformers pushed to undo the laws that caused them. Those efforts have caught on in the states, both blue and red. Over the past decade, many have reduced their prison populations while also curbing crime, touting those results as a path toward wider change.
But that hasn't happened at the federal level, where Congress has only passed two significant measures: one in 2007 that provided grants to state and local government to help ex-prisoners return to society, and the other in 2010 that lowered sentences for the sale and possession of crack cocaine. Those laws and other modest adjustments have helped reduce the federal prison population, but the Bureau of Prisons is still struggling with overcrowding.
Attempts to pass more sweeping changes in Congress have failed, most notably during the 2016 presidential race, when criminal justice became a divisive issue. Trump campaigned on a "law and order" platform, and when he won, reformers all but gave up on changes and turned their attention back to the states. But with Trump now embracing prison reform — in large part due to lobbying by his son-in-law and adviser Jared Kushner — focus has returned to Washington.
"The real game changer will be the president," said Molly Gill, vice president of policy for Families Against Mandatory Minimums, a nonprofit that opposes mandatory sentences. "If the president comes forward as he already has and shows leadership on this and is bold in pushing for passage of this and reaches out to senators and says to them, 'I want a deal,' I think you could see a vote."
Twice this month Trump has held meetings to discuss prison reform, first with a group of pastors and then with governors. "We've passed the First Step Act through the House, and we're working very hard in the Senate to refine it and pass it into law," Trump said in that second meeting, on Aug. 9. "We think we'll be successful in that regard."
The White House did not immediately respond to a request for comment on Trump's plans to try to get the bill passed in the Senate.
A starting point
The First Step Act passed the House on May 22 with broad support, 360-59, largely because it stuck to relatively uncontroversial changes: funding programs to ensure that federal prisoners who will one day return to society get the education and training they need to find work and stay out of trouble.
The bill would allocate $250 million over five years for the Bureau of Prisons to develop risk assessment tools to figure out what inmates need, and to create programs tailored to those needs. The new system would run on incentives, offering inmates extra credits against their release dates if they participate in the programs and behave well. The bill would also increase the maximum amount of credits an inmate could earn per year behind bars, from 47 days to 54 days, and applies that change retroactively, meaning some prisoners would be eligible for early release immediately.
The bill exempts several categories of prisoners from earning more credits, including convicted murderers, terrorists and spies, as well as immigrants who crossed into the U.S. illegally.
Some reform advocates say the House measure doesn't go far enough.
"If this bill becomes law, it's still a drop in the bucket of the types of reforms we desperately need at the federal level," said Sakira Cook, director of the criminal justice program at the Leadership Conference on Civil and Human Rights, a coalition of civil rights groups.
But others argue that ─ like its name ─ the First Step Act is a worthwhile starting point.
"There are good things in the bill that help real people the minute it is passed, and that's why we support it," Gill said.
The federal prison system, with 183,000 inmates, represents a small fraction of America's incarcerated population of 1.5 million; state systems make up the vast majority. But advocates say that passing the First Step Act would send an important message.
"More reforms will hopefully come after that," Holden said.
Lessons from Louisiana
For clues of what the First Step Act might look like in practice, Congress can look to Louisiana.
For many years, Louisiana had the country's highest incarceration rate. Then, in 2017, the state enacted a sweeping set of laws that lowered mandatory minimum sentences for certain crimes, expanded alternatives to prison and made it easier for nonviolent offenders to earn credit for good behavior. Some of those provisions were applied retroactively, making many prisoners eligible for immediate release.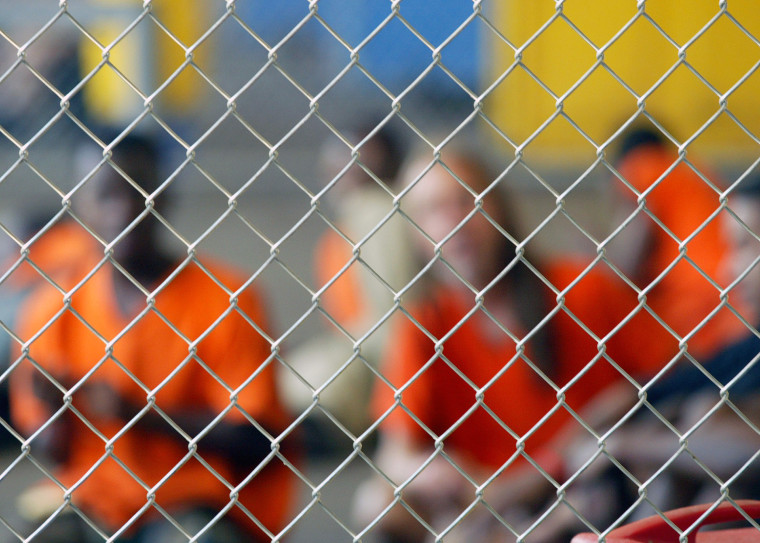 Last Nov. 1, nearly 2,000 state inmates were sent home, and dozens more have since won early release. In June, researchers announced that Louisiana's incarceration rate had dropped from its No. 1 ranking. Last month, officials said the state had saved $12 million, twice the amount they'd expected, a portion of which would be used to fund re-entry programs.
It is too early to say whether newly released prisoners will stay out of trouble. Meaningful studies of recidivism ─ and the impact of reforms on crime rates ─ can take years to compile.
Louisiana Gov. John Bel Edwards, a Democrat, reported this month that 12 percent of the 1,952 inmates released in November had been arrested again. Those arrests have become fodder for opponents of reform, including U.S. Sen. John Kennedy, a Republican, who is considering a run against Edwards for governor next year and has claimed the rearrest rate is much higher.
A common mistake among states that overhaul their prison systems is not doing enough to make sure offenders get the help they need once they're released, said Dennis Schrantz, who runs the Center for Justice Innovation, which has helped implement re-entry programs in several states, including Louisiana.
"When you change things, you got to be ready," he said.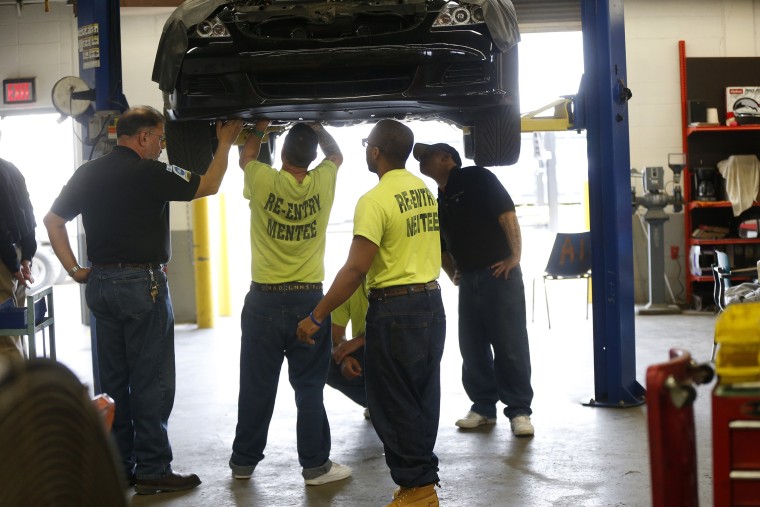 Kelly Orians, an attorney for The First 72+, which helps prisoners returning to New Orleans, said success hinges on details, including arranging for jobs ahead of inmates' release. "There needs to be hand-in-hand attention to what's going to happen when they get out," she said.
No quick fix
Even if Congress passes the House version of the First Step Act, the federal government will have a lot of work to do.
The Bureau of Prisons has a spotty record when it comes to preparing inmates for release; about half of federal offenders are rearrested within eight years of release, with a quarter sent back to prison, according to the U.S. Sentencing Commission. By many accounts, the prisons bureau doesn't have the necessary tools to match inmates with appropriate programs or determine who deserves early freedom.
The First Step Act aims to correct that.
The bill's emphasis on using scientific models to assess inmates' risk of reoffending and on "evidence-based" re-entry programs "sounds good, but doing it, and doing it well, is another matter," said Daniel Mears, a Florida State University criminology professor and author of "Prisoner Re-entry in the Era of Mass Incarceration."
Too often, Mears said, politicians pass complicated reform laws and fail to make sure they are implemented as intended — and then stop pushing for more changes.
The First Step Act "makes sense," Mears said, "but the devil is in what will actually happen."