A Minneapolis woman was shot four times — and kept driving until she could get help — in what angry cops on Wednesday called a road-rage incident unlike any they've ever seen.
"Stop the violence. Put the guns down," Minneapolis Police Inspector Todd Loining said at a briefing for reporters a day after the incident.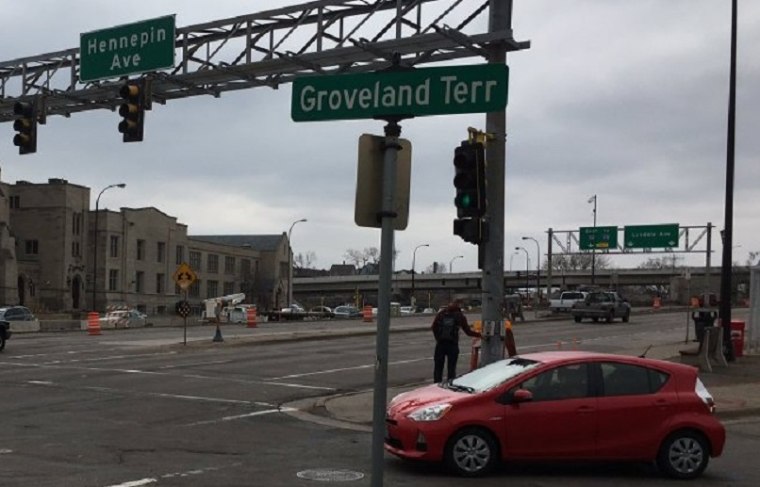 Police said the victim, a 39-year-old woman, had honked at a Jeep when it cut in front of her at about 5 p.m. Tuesday, at the height of the evening rush hour.
The passenger in the Jeep pulled out a black handgun and fired four rounds into the woman's car.
All four rounds struck the woman, who wasn't identified, police said.
But she survived and managed to navigate her car, its windshield smashed to bits, to a safe location where someone called 911.
Police said the woman was being treated Wednesday for four non-life-threatening gunshot wounds — three in her arm and one in her abdomen.
Officers were seeking two black men in their 20s who were likely in a tan Jeep Cherokee. The suspected gunman — the passenger — has shoulder-length dreadlocks, police said. NBC station KARE reported that the intersection is in a heavily traveled construction zone, where multiple drivers were likely to have witnessed the encounter.
"It's one thing to honk. It's another thing to have displeasure with another driver's behavior. But we never want to take it into the level where we're shooting a handgun at somebody," a grim Loining told reporters Wednesday.
"My message would be: Stop the violence," he added. "Put the guns down. Put the knives down, and let's find a way to communicate to resolve our differences."