The man who became known as the "QAnon Shaman" pleaded guilty to a federal charge on Friday in connection with his role in the Jan. 6 riot at the U.S. Capitol.
Jacob Anthony Chansley, 34, admitted to a single charge of felony obstruction of an official proceeding.
U.S. District Court Judge Royce C. Lamberth set Chansley's sentencing for Nov. 17. The Phoenix resident has been jailed for nearly eight months since his arrest.
Chansley was one of the most high-profile people who stormed the Capitol. Images of him wearing face paint and a furry horned and feathered hat while baring his tattooed chest were widely circulated.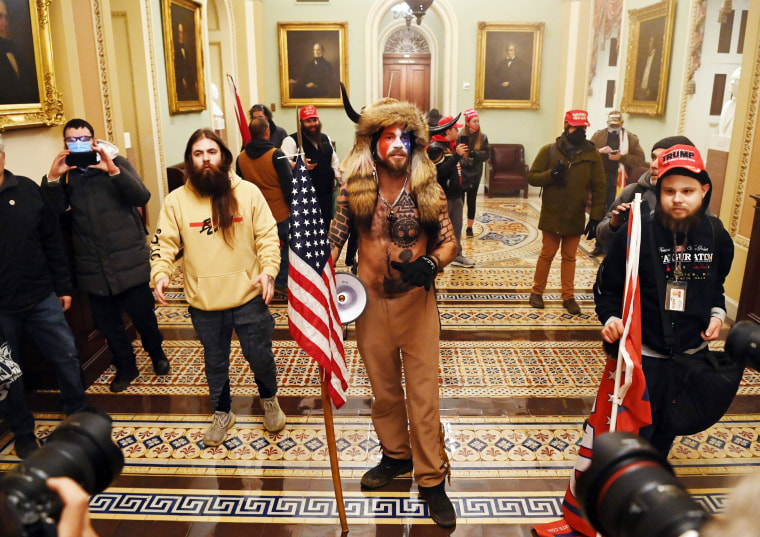 After entering the Senate floor, he scaled the chamber's dais and took the seat that then-Vice President Mike Pence had occupied an hour earlier, prosecutors said.
"He proceeded to take pictures of himself on the dais and refused to vacate the seat when asked to do so by law enforcement," the government said.
"Instead, Chansley stated that 'Mike Pence is a f------- traitor' and wrote a note on available paper on the dais, stating 'It's Only A Matter of Time. Justice Is Coming!' He further called other rioters up to the dais and led them in an incantation over his bullhorn."
He no longer wants to be known as the "QAnon Shaman," defense lawyer Albert Watkins has said.
"Mr. Chansley, a long avowed and practicing Shaman, has repudiated the 'Q' previously assigned to him and requests future references to him be devoid of use of the letter 'Q,'" Watkins said.
Chansley had argued previously that he entered the Capitol only at the invitation of then-President Donald Trump.
QAnon is a far-right conspiracy theory, whose followers back Trump and believe Democrats and other rivals of the former president promote child sex trafficking.
"The fact that we had a bunch of our traitors in office hunker down, put on their gas masks and retreat into their underground bunker, I consider that a win," he said in an interview with NBC News the day after the riot.