SAYREVILLE, N.J. —The rumor uncoiled slowly but now it's snaking through the minds of many black residents in this historically white factory town.
On October 10 police arrested seven varsity football players on hazing and sexual abuse allegations. Prosecutors accused three of the players of more serious crimes, including an act of sexual penetration, and the school district cancelled the rest of the football season.
But even as the case became a national sensation, officials largely refused to comment, prompting residents to come up with their own explanation for how seven seemingly good kids got in so much bad trouble.
One of the leading theories, spread by social media and weekends still warm enough for neighbors to gather, is almost as unsettling as the charges themselves: the seven kids are black, their victims are white, and Sayreville is a borough veined by racism.
People are wondering, would seven white teenagers have been so swiftly arrested and charged with assault and sexual abuse? Would the superintendent have taken the extraordinary step—unheard of in New Jersey history—of canceling the season before there's even a verdict?
"I can 100 percent say that none of this would have happened if white kids were involved," said Isaiah Roberts, a black Sayreville grad who played on last year's team with the seven accused players. "They stick together, the white kids, and the white teachers. We're outnumbered."
In a statement to NBC News, Middlesex County prosecutor Andrew Carey said that race did not play a role in "the commencement of the investigation" or "the decision to bring charges." His office and the school district would not comment on whether the rumor about the ethnicity of the accused minors and their alleged victims is true, although it was confirmed by several sources close to the football team.
Alarm about racism is by no means a universal sentiment in this community of 45,000, a faded manufacturing hub about an hour south of New York City. Several recent white players told NBC News that racial animosities had nothing to do with these new charges, and local officials have sought to squash the rumors, reassuring residents that Sayreville has a color-blind justice system.
"We don't have those problems in our community," Sayreville native and New Jersey state assemblyman John Wisniewski told SportsNet New York. "I don't want to believe that that is what motivated this."
True or not, the racism rumor is spreading, kicking up the not-so-hidden muck of a town with more than its share of black and white tension. Roberts is one of more than a dozen past and present residents who, in interviews with NBC News, portrayed Sayreville as a place rubbed raw by the kind of demographic change that has washed over America, reshaping it wholesale.
Looking back through the last three decades, they report seeing nooses drawn on bathroom walls, confederate flags draped inside vehicles, and the n-word scrawled on the lockers, cars, and notebooks of black students. For some young black men, recent life in Sayreville has included passing cars of white teens calling out racial slurs and weekend parties where they knew they would not be welcome.
"I can 100 percent say that none of this would have happened if white kids were involved."
For Michael Mauro Jr., a white man whose family ran a bar in Sayreville for 58 years, the town's submerged racism bubbled to the surface when he launched a "hip hop" night in 2009. A detective from the Sayreville Police Department called him at the bar, Mauro said, and asked him to come down to the station. There, Mauro recalled, the message could not have been clearer.
"Cut out the n----r music, Mick," the detective said, according to Mauro. "We don't want that in our town."
The Sayreville Police station did not respond to a request for an interview, but eight months after that meeting, Mauro said, "hip hop" night was raided and Mauro was arrested. His conviction on two counts of assaulting a police officer was overturned by an appeals court in August (because a trial judge did not tell the jury to consider Mauro's self-defense claims). Isaiah Roberts is also conducting a court fight. In April he accused a teacher of a racially-tinged public rant, which he said the school district failed to punish. The teacher has denied the charges.
The arrest of seven reportedly black students would be sensitive for any school district, but Sayreville has an unusually monochrome history. Three decades ago, it was 98.5 percent white, according to state census data. By 2012, the most recent year anyone counted, the white majority had fallen to less than 70 percent.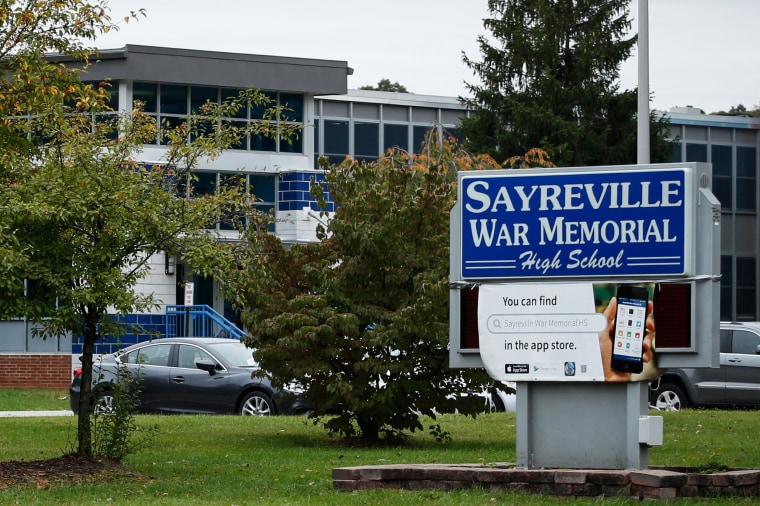 It's still a worker's town, and a soldier's town, a proud place where American flags tut-tut in the October wind. But as housing projects have closed in nearby East Brunswick, and black families have fled Newark, it has also become a multiethnic town. The black population alone has grown 73-fold since 1980, from 65 to 4,800 people. A third of that increase has come in the last decade, and many in the black community report a less than welcoming vibe.
That's why they feel that race was, consciously or not, a driving factor in the official pursuit of this hazing case.
"I think the community would like to pin the tail on the black donkey," Rachel Hawkins, a 2012 Sayreville graduate wrote in an email. "They're so freaking racist, I'm not even kidding," added Akua Kwakwa, a black 2013 Sayreville grad, referring to the school administration.
Last year, Kwakwa got in a fight with a white girl at school, a scuffle over a pair of scissors in class. As a punishment, she was excluded from a class trip to Disney World and denied the chance to go to prom. Oh well, she thought, rules are rules. But Kwakwa, now a first-year psychology student at Middlesex College, was outraged when she learned that the white girl she fought was never punished, she said.
The hazing case strikes her as just another example of the school and the school district coming down harder on black students. "If you got us all together," she said, referring to her black peers, "we'd all say the same things. It would sound like a choir."
School administrators, the school board, and district officials declined to discuss the alleged racism on the record, much as they have declined to discuss the hazing allegations. Such silence is in part legally required because the accused are minors, but the lack of information has sent suspicion worming through people's minds.
It's been unchecked by facts and fed by apparent weaknesses in the public version of events, including questions about whether freshman and seniors would have even overlapped in the locker room on the 4 days when assaults are alleged to have occurred.
"I think the community would like to pin the tail on the black donkey."
Race seemed far from people's minds in the early days of the scandal. The allegations seemed air-tight and totally heinous, according to local newspaper accounts. On Wednesday October 1st a parent went to the Sayreville police department with a story of extreme hazing, and by Monday the 6th Superintendent Richard Labbe announced that the Bombers would forfeit their remaining five games.
He told reporters there was "credible and substantial evidence" of pervasive, possibly criminal levels of bullying within the team, and the school board unanimously backed his decision. The investigation itself was sealed, but sordid details emerged in the media, attributed to anonymous parents.
"A freshman football player would be pinned to the locker room floor, his arms and feet held down by multiple upperclassmen," according to an account one player's father provided to NJ Advance Media. "Then, the victim would be lifted to his feet while a finger was forced into his rectum. Sometimes, the same finger was then shoved into the freshman player's mouth."
The day before the seven kids were arrested, no one, in more than a dozen other conversations with NBC News, mentioned race, and most believed that something bad had indeed gone on inside the Sayreville locker room. But in the weeks since, this publicly available story has appeared to soften, shift, and fracture.
The parent quoted in the NJ Advance Media story called the hazing an "everyday" occurrence, a fact echoed by the superintendent. But when the seven kids were taken into custody, they were charged in only four incidents in a 10-day period.
The parent quoted in the NJ Advance Media story also presented the hazing as a kind of public sodomy, but in interviews with the New York Times two of the alleged victims laughed off the assaults as normal locker room stuff. The initial victim told The Times that no one penetrated him from behind.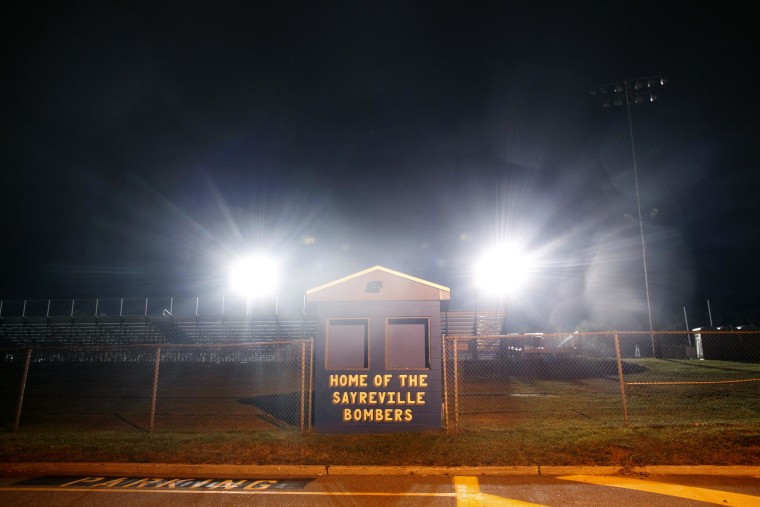 "The police looked at me and said, 'You're lying. We know the story, and you're lying,' " the teenager recounted. Witnesses to a third alleged assault also said the victim was wearing football pants and bounced up laughing.
"We took it as a joke," one witness, a freshman, told NBC News. "The cops didn't want to hear anything but what they wanted to hear.
There are unknowns about the nature of all four alleged assaults, and doubts about whether, in the cruel culture of high school, any denial can be taken as the untainted truth. But accounts like these are crackling through the school, and the result is a gathering cloud of doubt. Skeptics wonder how a single tip from a parent could, in less than a week, topple the team and knock seven black lives off course, perhaps irrevocably.
Many people close to the Sayreville football team have denied that anything happened at all. Others, when asked about hazing, answer with a little smile and a far off look in their eyes. Yeah, they admit, there's some hazing in Sayreville but it's no different from any other high school football program.
Isaiah Roberts, who played last year with the seven accused, recalled kids getting dragged into the shower one day, fully clothed. Anthony Carey, a black 2007 grad, recalled getting tied up in the locker room for a couple hours. "Maybe some kids got their hair dyed blonde," added another 2013 grad who played with the seven accused. "I don't think these seniors did anything."
People clapped when the mother of current tri-captain Dylan Thillet, who is reportedly one of the seven players charged, expressed her own bewilderment at a recent school board meeting.
"I was at the police station with him when they were questioning him," said Madeline Thillet. "They were talking about a butt being grabbed. That's about it. No one was hurt. No one died. I don't understand why they're being punished."
"This truly is a travesty."
Race isn't the only possible answer, some say. Many passionate backers of coach George Najjar—who along with his staff has been suspended and put on reduced pay—allege all kinds of conflicts and bias on the school board. But it's race that speeds this case through the system, they said, helping people believe the charges and disregard the black lives being crushed.
"Out of a predominantly 90 percent white football team, how is it that all seven kids arrested are black," said one black resident of Sayreville, the relative of a current varsity player. "This is a racial attack," she continued, and some of the white families agree.
"This truly is a travesty," said one white resident, the relative of a current player and mother to a rising player. "It appears the Board of Education is smearing a good man at the expense of young innocent black men."
Mike Clark, a black 1993 Sayreville graduate, said the problem isn't only with the school board. It's with the superintendent, Richard Labbe, a man who coached Clark on the freshman football team and, in Clark's memory, looked the other way while Clark was being bullied because of his skin color.
"I'd be wearing the same shoulder pads as everyone else on Sunday, and then on Monday I'd be chased home, getting called 'gorilla' this and n-word that and all kinds of names," he said, speaking by phone from his home in Orlando. "I feel like dropping in and telling them, really, you going to look at me and talk about hazing?"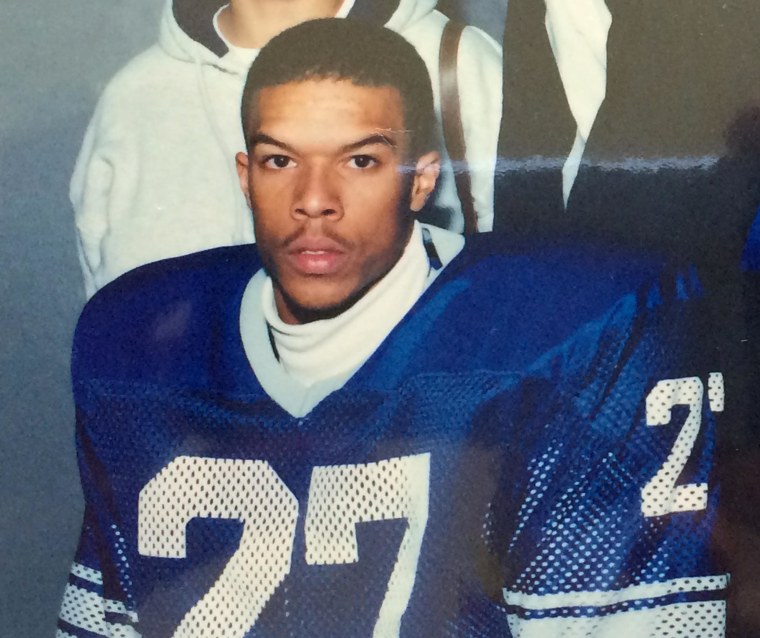 Clark's sister, Chantelle, also recalled a school district marred by racism, including KKK signs behind the high school and racial slurs that echoed as often as the morning bell. In one case, she said, a "riot" broke out between the school's small cell of black kids and a wider pack of white thugs. "Every day I would go to school," she said, "and everyday somebody would call me a n----r."
Jaamal Bowman, one of Clark's friends on the football team and a 1994 Sayreville alum, remembered that the first time he walked into the bathroom his senior year, he saw a noose drawn on the wall. He was one of the best athletes in the state, and now he's a principal in the New York City Public School System. But back then he was just a "n----r" to some Sayreville kids, and they wrote it on his notebook, he said.
It was hard to watch, said Mike Clark's mother, Cheryl.
She had moved the family to Sayreville in hopes of finding a tranquility the family lacked in Columbus, Ohio, a much larger city where Clark was born. But instead of a separate peace, she said, the borough was a place of inescapable tumult and change. There were a lot of nice families but others wouldn't let Clark mow their lawn let alone date their daughter or pal around with their son.
Labbe, reached through a crisis communications team, declined to be interviewed on the record. But Sal Mistretta, Sayreville's head football coach when Clark played, spoke up for his former colleague.
"It was difficult for the black kids in Sayreville in those days," Mistretta admitted, but he never saw the kind of overt racism alleged by Clark and others, not in the school, and certainly not on the football team, he said. "I don't know what Michael is talking about."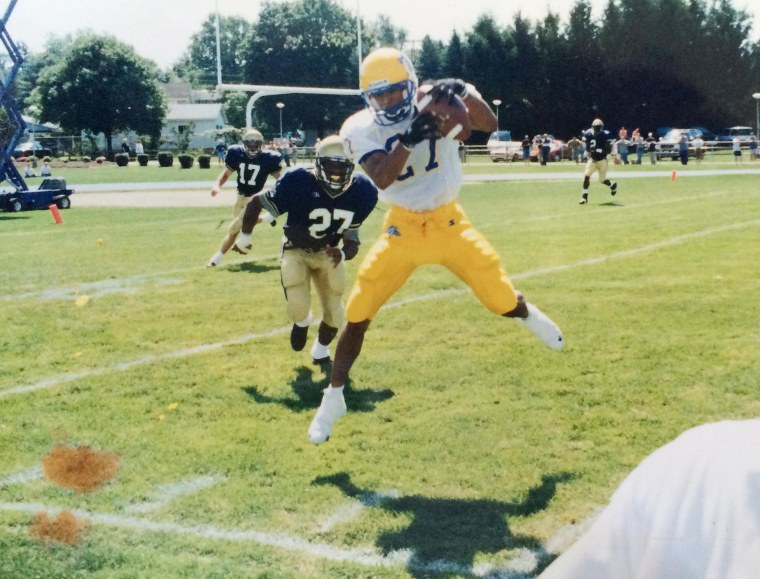 Clark has moved on from his high school days. He played college football at the University of New Haven, joined the Army after 9/11, and now works for Veterans Affairs in Orlando, where he's the father to two boys. He'd love to move back to Sayreville, he said, but he just doesn't trust that it's changed much, if at all, based on the current case.
"I know that there's no way in the world that those seven black kids were the first people to do some kid shit in the locker room," he continued. "You may call it something else, but I call it racism."