Louisiana's top state police official told NBC News on Sunday that it is still unclear why two city marshals chased an SUV last week and opened fire on it, allegedly killing a 6-year-old autistic boy and seriously wounding his father.
Jeremy Mardis, who was buckled in to the SUV's front seat, was pronounced dead after being struck by five bullets Tuesday night in Marksville, Louisiana; he is scheduled to be buried Monday in the city cemetery in Beaumont, Mississippi. Mardis' father, Chris Few, remains hospitalized and in serious condition.
"We've got to find out what caused those officers to effect that pursuit, to effect that traffic stop, and what caused them to fire their weapons," Col. Michael Edmonson, the state police superintendent, told NBC News.
The marshals — Derrick Stafford, 32, and Norris Greenhouse Jr., 23 — were charged Friday with second-degree murder and attempted second-degree murder. Stafford is a lieutenant with the Marksville police; Greenhouse is a full-time marshal in the nearby city of Alexandria. Both are being held without bail.
A source close to Few told NBC News that before the encounter with authorities, Few had an argument outside a local pool hall, TJ's Lounge, with his girlfriend. After leaving, Few picked up his son from a babysitter's house.
Shortly after, the chase began, although it remains unclear why the marshals, who are tasked with serving warrants, pursued Few. State police said that there are no warrants for his arrest.
Initial reports said Few backed into a marshal's vehicle, although only minor damage on that car is visible. No weapons were found in Few's SUV, and no shots were reported before the marshals opened fire.
Edmonson has described body camera footage that captured the encounter as "one of the most disturbing things I've witnessed."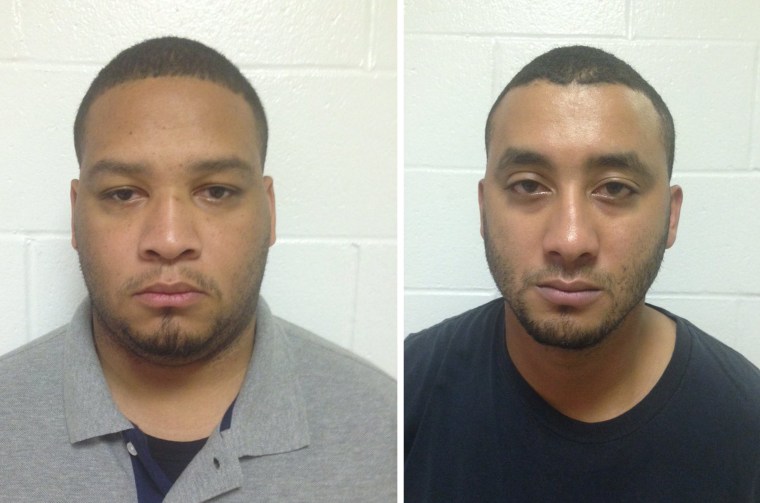 Earlier this year, Stafford and Greenhouse — along with several other Marksville officers — were accused in a civil lawsuit filed in federal district court of using excessive force during a Libertarian event July 4, 2014, in downtown Marksville.
Ian Fridge, who filed the lawsuit, said that after he arrived at the event with a firearm, which he believed he was allowed to publicly display, the officers Tasered him and charged him with resisting arrest, battery on an officer and other crimes — despite his being "completely compliant," the lawsuit says.
In an affidavit included in the lawsuit, Stafford says that Fridge was not allowed to carry a firearm in areas where alcohol was sold and that officers "were in fear" that he would "draw" his gun.
At one point, according to the affidavit, Stafford asked Fridge "why did he put the small children and public at risk the way he did, and the subject just laughed."