Bruce Franks Jr. wanted a quiet protest.
So the 33-year-old rapper and state representative sent out a few messages on Twitter and Facebook late Sunday and early Monday: Meet him first thing at 16th and Market streets in downtown St. Louis. From there, they'd begin their roughly half-mile silent march to City Hall.
"What better way to show force?" Franks said.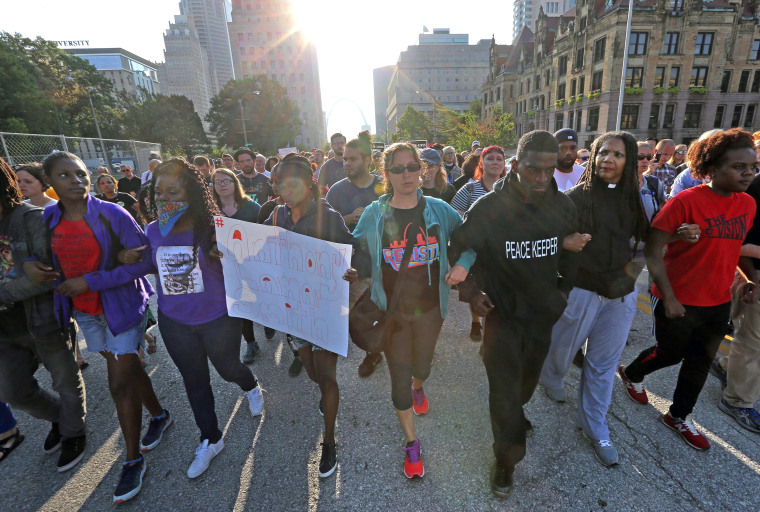 The arrest-free event — which earned an "attaboy" from the city's police department — was not unlike another demonstration on Sunday afternoon just outside the department's front doors. But it was in vivid contrast to the violent bursts that have wracked St. Louis every night since Friday, when a judge acquitted a white police officer, Jason Stockley, of the 2011 murder of a black man, Anthony Lamar Smith.
Smith, 24, was apparently involved in a drug deal when Stockley, 36, and another officer pursued him in a high-speed chase. Before shooting Smith five times, prosecutors said, an internal camera recorded Stockley saying he planned to "kill this [expletive]." Prosecutors also alleged that Stockley planted a gun on Smith.
But Circuit Court Judge Timothy Wilson rejected those claims, saying that Stockley's comments were ambiguous and that there was no evidence to support the gun-planting allegation.
On Sunday night, an "unruly mob" composed of "agitators" outnumbered the peaceful protesters, St. Louis police said in a statement Monday, injuring an officer and damaging seven businesses. In all, 123 people were arrested, the department said. In an eight-page document briefly describing the charges, "failure to disperse" was listed 118 times.
In a tweet Sunday night, the department also alluded to an ominous threat — the use of "unknown chemicals" against police — although it was unclear Monday what those liquids were. A department spokesman said they were still being tested.
The mood was notably different during Franks' early morning march. He wore a black sweatshirt with the name of a local group, Peacekeepers, that emerged after the police killing of an unarmed black teenager, Michael Brown, three years ago in nearby Ferguson. When a sirens-blaring fire engine approached the march, the group parted and let it pass.
"It was beautiful," Franks said. "We instantly split, like the Red Sea."
The march was just one of several around St. Louis on Monday. In the suburb of Kirkwood, about 100 high school students walked out of their first-hour classes, and in nearby Webster Groves, about 250 high school students protested Monday morning, The Associated Press reported.
As people prepared for another evening of protests Monday night, Missouri Gov. Eric Greitens offered a blunt warning.
"We've been clear," he said in a statement. "Don't throw bricks at police. Don't throw rocks through windows. If you're with criminals and vandals and the police ask you to leave repeatedly, then do so. Pretty simple. Some people still refuse to listen."
Franks was among those headed back to the streets. His plan, he said, was "the same plan as every night — show up, be effective, make some folks uncomfortable."
"We've got to make them understand," he added. "Black bodies are being killed at the hands of law enforcement. We aren't getting any accountability. We'll be here until that happens."