R. Kelly's crisis manager stepped down hours after an interview aired in which he said he would not leave his daughter alone with an accused pedophile.
Steven Greenberg, a lawyer for R. Kelly, announced Darrell Johnson's resignation on Twitter on Monday night, saying Johnson decided to take time off "for personal reasons."
"The defense wants to thank Mr. Johnson for his tireless assistance and looks forward to his return," Greenberg said. "He shares our confidence that this is an unprecedented assault against R Kelly by others, for their own personal gain, and in the innocence of R Kelly."
Earlier Monday, a "CBS This Morning" interview aired in which Johnson told co-host Gayle King that he would not leave his 21-year-old daughter with "anyone who's accused of pedophilia."
"You have a 20-something-year-old daughter. Would you allow her to be alone with R. Kelly?" King asked.
"Absolutely not," Johnson quickly responded, cutting King off before she said the singer's name.
Johnson, however, told NBC News on Tuesday that the interview did not air in its entirety and he would have no problem leaving his daughter with Kelly because he believes the singer is innocent.
"I got to know Mr. Kelly in a personal way," he said. "I believe Kelly 1,000 percent."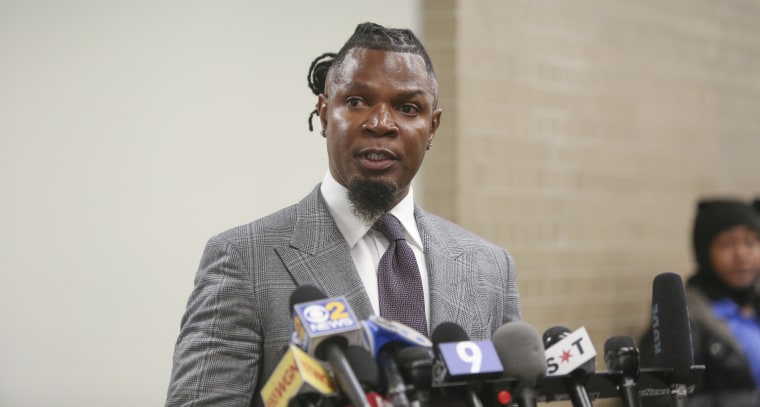 R. Kelly, whose real name is Robert Kelly, was arrested in Chicago earlier this month on 18 federal sex assault charges in two cities, a 13-count indictment in Chicago and a five-count indictment in New York.
According to the indictments, the 52-year-old singer allegedly took underage girls across state lines for sex. An indictment in the Eastern District of New York alleged that once Kelly had convinced victims to be with him, they were not allowed to leave their room "without receiving permission from Kelly."
The victims were also told to keep their heads down and to avoid making eye contact with other men, according to court papers. Authorities said two of the victims in the New York case were 16 and another one was under the age of 18. The allegations go back as far as the late 1990s.
Among the charges in Chicago are the possession of child pornography and the sexual exploitation of children. Authorities in the state said he engaged in sex acts with five minors whom he met between 1996 and 1999, according to an indictment.
Kelly, who is already facing state sexual abuse charges in Illinois, pleaded not guilty last week to the federal charges in Chicago. He has not yet faced a judge on the New York charges.
An Illinois judge ordered Kelly to be held without bond. Greenberg said that Kelly is being kept in solitary confinement "because that's the safest place for them to house him."
While speaking with King on "CBS This Morning" Johnson said he was concerned for Kelly's mental health and believes he may be on suicide watch.
"Mr. Kelly's a mess. No one wants to be locked down 24 hours, no TV. He can't read and write, so he can't read a book," he said, adding that he's concerned Kelly may harm himself while he's in prison.