Soon after New York City recorded its first coronavirus case early last month, Bellevue Hospital went into overdrive.
In a matter of days, the patients in the intensive care unit on the hospital's 10th floor were moved to different wings. Then the engineers and carpenters got to work, retrofitting all 54 rooms with high-efficiency filters and exhaust fans to turn them into negative pressure spaces–the environment most conducive to treating coronavirus patients.
"As each room got opened up, literally a COVID-19 patient filled that space behind them," said Dr. Nate Link, Bellevue Hospital's chief medical officer. "It was almost a race to the finish line until just a couple days ago they finished the 54th room. And we filled it with a patient."
That level of preparation, Link said, helped set Bellevue on a path to cope with an influx of coronavirus patients in the city that has become the epicenter of the crisis.
In an exclusive interview with NBC News, Link described in great detail how the hospital has girded itself for the pandemic and how it's preparing for the peak of the outbreak.
"Three weeks ago, we were a normal hospital. Three weeks ago, we had our usual patients," Link said. "We were full and busy with all our usual work. Then the first patient hit the hospital. And it feels like ever since then we have been sprinting to stay ahead of the wave."
Major public health crises are nothing new for Bellevue, the oldest hospital in New York City. The medical center founded in 1736 has treated outbreaks of everything from yellow fever and smallpox to typhus and tuberculosis as well as the AIDS crisis in the 1980s.
During the influenza pandemic of 1918, Bellevue packed three children to a bed. During the Ebola outbreak, the hospital treated the city's lone patient.
"We have always taken care of the patients that nobody else wanted really," Link said.
"And I think it's actually part of our legacy to take care of infectious diseases and pandemics," he added. "It's really what Bellevue's been about."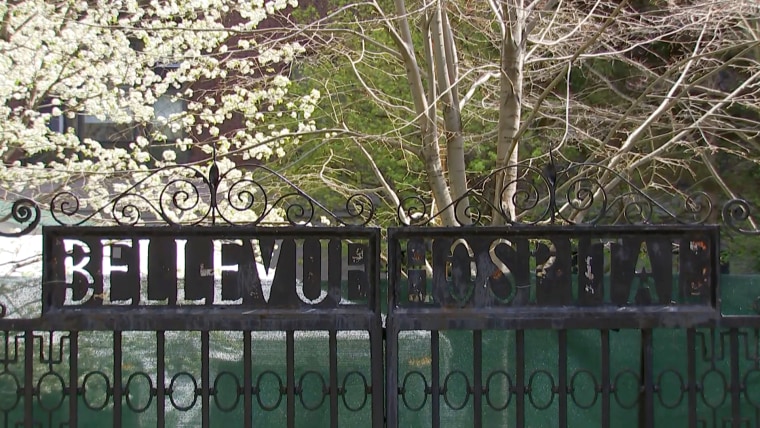 Link began his tenure at Bellevue as an intern during the AIDS crisis and now leads the 800-bed hospital's 1,200 physicians in establishing its quality of medical care.
Bellevue is one of ten facilities in the country designated a special pathogens hospital, a distinction given to medical centers that are especially equipped to deal with communicable diseases.
COVID-19, a novel virus that's highly infectious and more dangerous than the flu, has spread quickly through the most densely-populated metropolis in the country.
Of the more than 92,000 cases in New York state, more than half are in New York City. Some 51,809 patients have tested positive for COVID-19 in the city and 10,590 have been hospitalized. As of Thursday evening, the city's death had reached 1,562.
In a grim sign of the crisis, the city's medical examiner set up a makeshift morgue outside Bellevue Hospital days ago.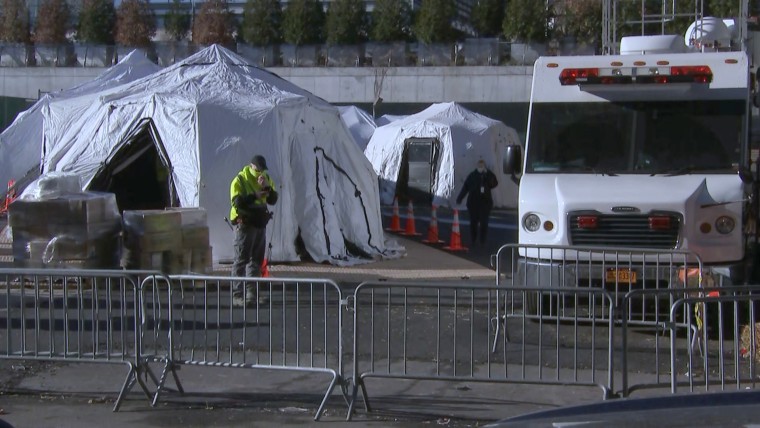 Anticipating a surge in patients, Link said the hospital is moving to further transform itself to accommodate a crush of new arrivals with severe respiratory problems.
The gastrointestinal unit, usually reserved for colonoscopies, is being refashioned into an intensive care unit. Then the hospital plans to outfit each operating room with three to four ventilators. Link said that if more beds are needed, he plans to put a second person in each ICU cubicle.
"That will take us up to 200" beds for COVID-19 patients, Link said. "And honestly, we're beginning to look beyond that. I think eventually we might have cots in the cafeteria or a big circus tent outside."
Link said the hospital has an adequate stock of personal protective equipment for its staffers, the masks, gowns and other gear that healthcare workers have been complaining are in short supply at other facilities.
An untold number of U.S. healthcare workers have come down with the virus, and Link acknowledged that his staffers are apprehensive about the days ahead.
"That's natural and logical," Link said. "We go to great lengths to prepare them...But no matter what you say to people, it just feels like almost like the air is dangerous."
Bellevue's nursing staff has come up with its own "ingenious" workarounds to enhance their safety, Link said. One example: they rigged the IV lines and medication pumps in such a way that they don't always have to enter a patient's room to adjust medications.
"We're going to keep this up as long as we have to," Link said.
He implored Americans to heed the orders to stay home and limit their social interactions. Link also pushed back strongly against the idea of letting the virus "run its course" rather than shutting down normal American life.
"If 200 million people in this country were infected, we would have six million deaths," Link said. That's a Holocaust-magnitude number. That would be completely unthinkable."
"The only real solution right now is the crackdown that we are trying to achieve across the country," he added. "And I would say every city, every American needs to do this right now. It's our best chance of taking the edge off the growth so that we can get it under control and begin to take next steps."
CORRECTION (April 14, 2020, 11:05 a.m. ET): An earlier version of this article included a quotation from an ER resident at Bellevue Hospital, originally published in the Sarasota Herald-Tribune, that she said misidentified the hospital where there were shortages of equipment. The doctor said she was referring to shortages at another hospital where she was working, not Bellevue. The quotation has been removed.