WASHINGTON — Reaction came fast and furious Friday after the Supreme Court overturned the landmark Roe v. Wade ruling guaranteeing a constitutional right to an abortion.
Anger and dismay erupted first outside the Supreme Court moments after the decision was announced.
Quickly, it spread westward as devastated abortion rights protesters across the country railed against the conservative justices who wiped away a half-century of precedent and made access to abortions all but impossible in many states.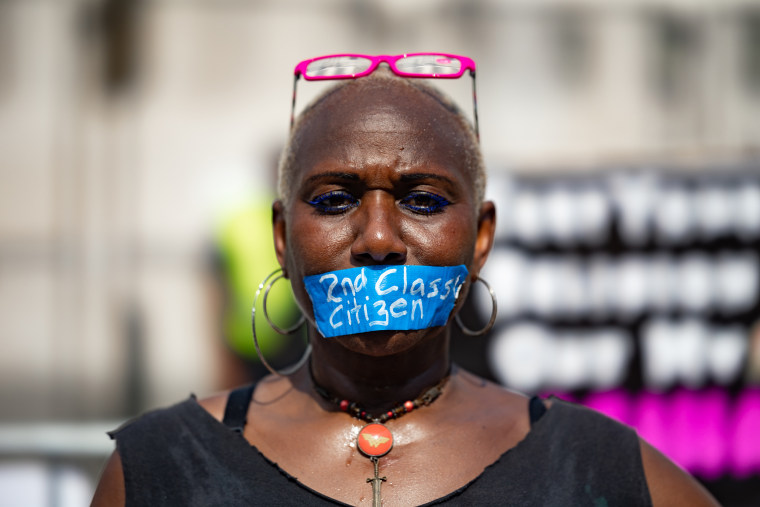 Massive crowds gathered in front of the federal building in downtown Chicago and then marched through the Loop to Grant Park chanting, "My body! My choice!" Protesters also staged noisy demonstrations outside the Georgia Capitol in Atlanta, and across from the Wisconsin Capitol in Madison. And in Flint, Michigan, hundreds blocked the sidewalks in front of the Genesee County Prosecutor's Office.
Demonstrations continued into the evening. Crowds marched in downtown Seattle, and in Los Angeles, protesters marched on the northbound 110 Freeway downtown, blocking the traffic.
In Phoenix on Friday night, state troopers used tear gas after protesters banged on the doors of the Arizona Senate building, and after part of a door was broken, state Department of Public Safety spokesman Bart Graves said.
The gas was deployed from the roof of the House of Representatives, he said. There were no arrests. The Senate, which was in session, was interrupted but later resumed.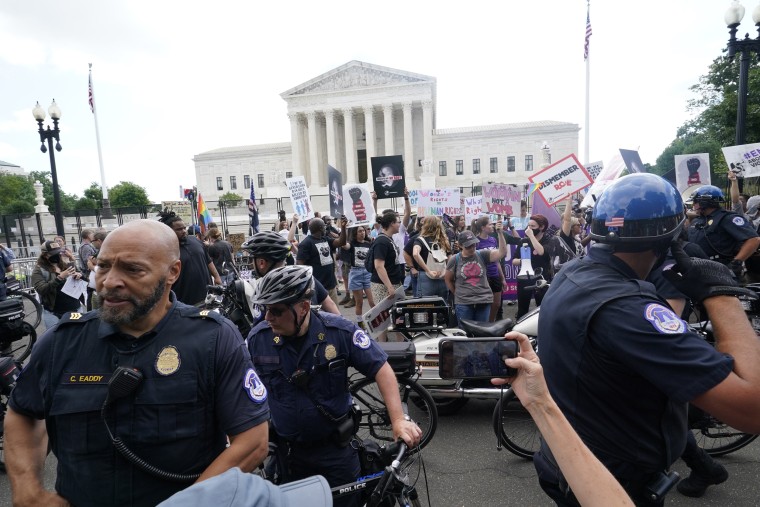 Big demonstrations were reported in Richmond, Virginia; Jacksonville, Florida; Columbia, South Carolina; Raleigh, North Carolina and Topeka, Kansas.
There were also demonstrations outside the U.S. embassies in London and Ottawa, Canada.
In New York City, thousands gathered in Union Square and began marching downtown.
"Abortion is health care, health care is a right," the crowd chanted.
One of the protesters was 16-year-old Anura Bracey, who was carrying a sign that read "Overturn Roe? Hell No."
"I'm enraged," she said. "I'm terrified for what this means for birthing people in the country."
Bracey said she feels lucky to live in a state where the right to an abortion is still protected but said she fears the Supreme Court could take aim at other rights including marriage equality.
"So I'm just here to get my rage out," she said. "I want someone to listen to us. I don't know how much this is really going to do, but I just feel very desperate."
Zonmund Heok, 51, of Ohio, was in New York City on vacation, but joined the demonstrators.
Heok had pre-eclampsia and delivered her now 15-year-old son at just 28 weeks pregnant, and her doctor advised an abortion when she became pregnant shortly afterward.
"To think that if the same thing happened to me next week in Ohio, I would either have to travel out of state or risk my life, and my son would not have a mother, it infuriates me to no end," she said.
Friday night, hundreds of demonstrators were in Union Square when Democratic U.S. Rep. Alexandria Ocasio-Cortez arrived.
The lawmaker, whose district encompasses the Bronx and Queens, earlier called for people to hit the streets in protest, and urged voters to cast ballots in primaries to help change the Democratic Party.
In Washington on Friday, a woman who asked to be only identified as Skye wept openly after the decision was announced.
"It feels like a betrayal," she said. "It feels like my country doesn't love me and appreciate my body as a woman. I can't even chant because I can't say anything. It hurts."
Amanda Herring, who is 32 and nine months pregnant, showed up with her 1-year-old son, Abraham, and the words "Not Yet a Human" written in ink across her swollen belly.
Herring, a Jewish educator who said her due date is Saturday, considers the Supreme Court ruling an infringement on her religion.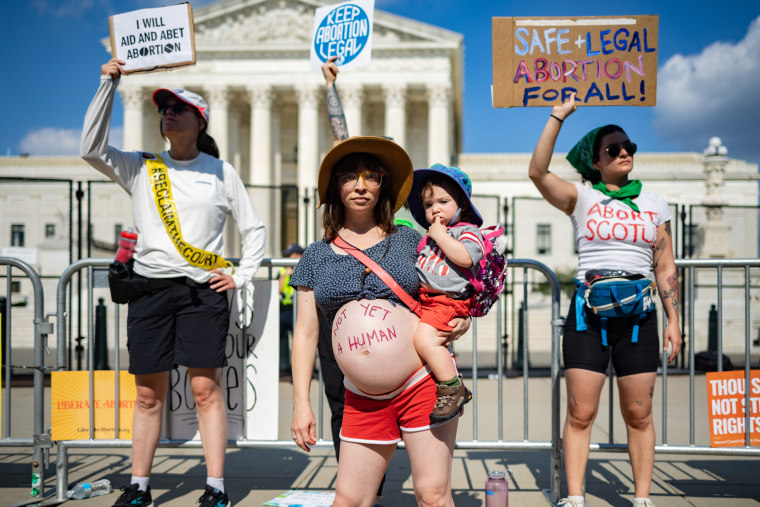 "I feel like it's important for me to be out here and let everyone know my religion says that that life begins with the first breath," she said. "It's in the Torah, and it's in the Old Testament."
Hanna Fredeen, who was in high school in 1973 when Roe became law, said she remembers how a classmate had to travel to another country for an abortion. She said poor women in states where the procedure is now banned will be forced to get back-alley abortions or resort to doing it themselves.
Nearby, Lauren Handy of the Progressive Anti-Abortion Uprising was part of a smaller crowd that was celebrating the Supreme Court decision that capped the decadeslong struggle by conservatives to overturn the constitutional right to an abortion.
"It's a roller-coaster of emotion," she said. "Complete and utter joy it was finally overturned."
Handy then added, "The battle is not over."
"The abortion industrial complex is strong in blue states, and we gotta go after them as well," she said.
In St. Louis, demonstrators on both sides of the decision gathered at the same site — a Planned Parenthood clinic. Mark and Patricia McCloskey, a couple known for waving guns at social justice demonstrators in 2020, celebrated the end of Roe, according to NBC affiliate KSDK. Mark McCloskey is running for U.S. Senate in Missouri as a Republican.
U.S. Rep. Cori Bush, a Democrat, discussed the abortion she had after she was raped at age 17. "They can strike down Roe v. Wade, but they can't strike down our voices," she told the crowd outside the clinic.
Shock about the decision and what it means was not confined to the United States.
British Prime Minister Boris Johnson called it "a big step backwards." World Health Organization Director-General Tedros Adhanom Ghebreyesus said he was disappointed, and Canadian Prime Minister Justin Trudeau tweeted that "the news coming out of the United States is horrific."
Now that Roe v. Wade is no longer the law of the land, abortion is protected in less than half of the states and in none of the U.S. territories, according to the Center for Reproductive Rights.
Before the Supreme Court ruling was announced, Republican legislators across the South and the Midwest passed "trigger laws" that would make abortion illegal the minute Roe was overturned.
"Make no mistake, the decision goes beyond abortion," said Elizabeth Meyer, founder of Women's March in New Jersey. "We may be protected in New Jersey, you know, but we're certain that is not going to be the case elsewhere."
Maura Barrett and Doha Madani reported from Washington, Elliot Lewis from New Haven, Conn., Daniella Silva and Corky Siemaszko from New York City.