DENVER — Several wildfires raged unchecked across drought-parched Colorado on Thursday, one threatening oil and gas wells close to the Utah border and another about 300 miles to the southeast chased a group of Boy Scouts from their camp near New Mexico.
A separate wind-whipped fire roaring through chaparral and pine forests in central Arizona forced the evacuation of about 460 homes near the town of Prescott, about 100 miles north of Phoenix.
Scorching temperatures, low humidity and gusting winds have much of Colorado under red-flag warnings for extreme fire danger, the National Weather Service said in a bulletin.
In northwestern Colorado near the Utah state line, an 850-acre, wind-driven wildfire prompted the evacuation of 40 oil and gas well sites on Wednesday in Rio Blanco County, according to the U.S. Bureau of Land Management. Firefighters were working on Thursday to prevent flames from moving into the complex.
"Hampering firefighting efforts is limited access, rugged terrain, thick smoke and high winds," the bureau said in a statement, noting that firefighters observed wind-blown embers igniting new spot fires up to a half mile away.
At the southern end of Colorado, a separate wind-driven blaze near the Spanish Peaks in Huerfano County grew to 1,000 acres after forcing about 200 scouts and staff members to flee their camp on Wednesday.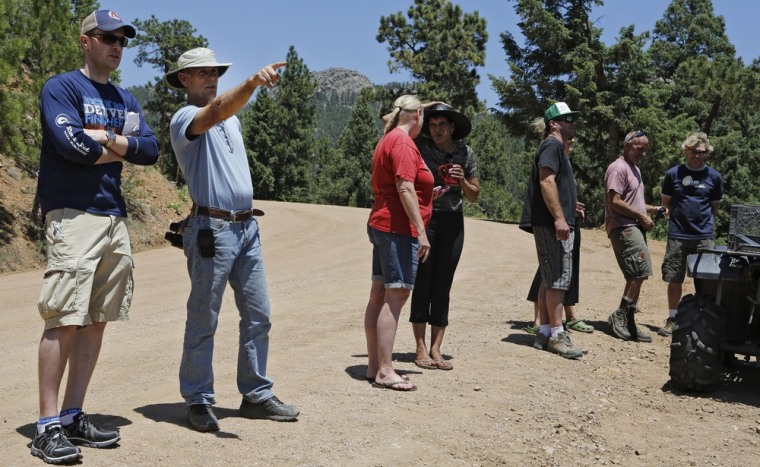 Michael Stewart, executive director of the Santa Fe Council of the Boy Scouts of America, said scout leaders first noticed smoke over a ridgeline, then spotted flames moving toward their camp and notified authorities.
Everyone at the camp was safely evacuated with "whatever they had in their pockets," Stewart, who was at the camp, told Reuters on Thursday.
Authorities also issued evacuation and pre-evacuation notices for residents south and west of the fire for 30 miles to the New Mexico border.
In the foothills west of Denver, a smoldering lightning-sparked wildfire blew up to 500 acres, triggering the evacuation of some 100 residents, the Jefferson County Sheriff's Office said.
In southwestern Colorado, a smoke plume billowed 30,000 feet into the air from two fires burning in the Weminuche Wilderness Area, the Colorado Office of Emergency Management said in a statement.
One of the fires burned within a quarter-mile of some 40 buildings at the Wolf Creek ski resort. The two fires have consumed more than 12,700 acres and "flame lengths of over 100 feet high were observed," the statement said.
Meanwhile, firefighters battling the so-called Black Forest blaze near Colorado Springs, the most destructive on record in the state, neared full containment of the flames on Thursday. That fire, which authorities believe was human-caused, has charred some 21 square miles of wooded hillsides for more than a week, destroying 509 homes and killing two people.
In neighboring Arizona, Governor Jan Brewer signed a declaration of emergency in Yavapai County on Thursday freeing up $100,000 and authorizing the National Guard to help tackle the fire raging out of control near Prescott.
The Doce Fire that has charred some 7,500 acres, though no buildings have burned.
Additional reporting by Tim Gaynor in Phoenix; Editing by Steve Gorman and Stacey Joyce