The public transit systems in three major U.S. cities are seeking answers from the company manufacturing their new train cars after an NBC News investigation found it uses materials containing minerals mined by children in Africa.
The yearlong NBC News investigation revealed that mica mined in Madagascar by children as young as 4 winds up in millions of American products, including train cars produced by the Chinese rail manufacturer CRRC.
The Chinese-government-owned company has signed deals to provide rail cars to Los Angeles, Philadelphia and Chicago. Following the report, the transit systems in all three cities reached out to CRRC requesting details on the sources and suppliers of the materials used in the manufacturing of its train cars, officials said.
The Los Angeles County Metropolitan Transportation Authority, which selected CRRC to build 64 subway cars in a deal worth $647 million, is also conducting its own review of the Chinese manufacturers' supply chain, a spokesman said.
"The Los Angeles County Metropolitan Transportation Authority found the report by NBC News to be deeply troubling," said authority spokesman Dave Sotero. "We will do everything possible to ensure that no children are exploited or put in harm's way by any contract involving our agency."
Sotero said CEO Phillip Washington, who ordered the internal review, plans to bring up the issue when he meets with CRRC top executives next year.
The Chicago Transit Authority (CTA) signed a $1.3 billion contract with CRRC subsidiary Sifang America for 846 rail cars.
"CTA has requested that CRRC provide more detailed information about its supply chain for the new 7000-series rail cars, specifically about materials providers and their sources," Chicago Transit Authority spokesman Brian Steele said.
Steele said the CTA has yet to receive a response from the Chinese rail manufacturer.
"Once CTA is able to review more information, we'll be in a position to determine what actions, if any, we can take," Steele added.
The public transportation system in Philadelphia signed a $138 million contract with CRRC for 45 multilevel coaches. The trains will be assembled at the CRRC facility in Massachusetts and are expected to be completed in April 2021, said spokesman Andrew Busch.
The Southeastern Pennsylvania Transportation Authority (SEPTA) is "concerned about issues related to mica mining raised in recent reports," Busch said.
"SEPTA has requested more information from CRRC MA about its supply chain, and the process by which CRRC MA procures materials and components related to the manufacture of SEPTA's multilevel rail cars," Busch added. "SEPTA is also reviewing the contract to determine whether it has control over processes related to the supply chain."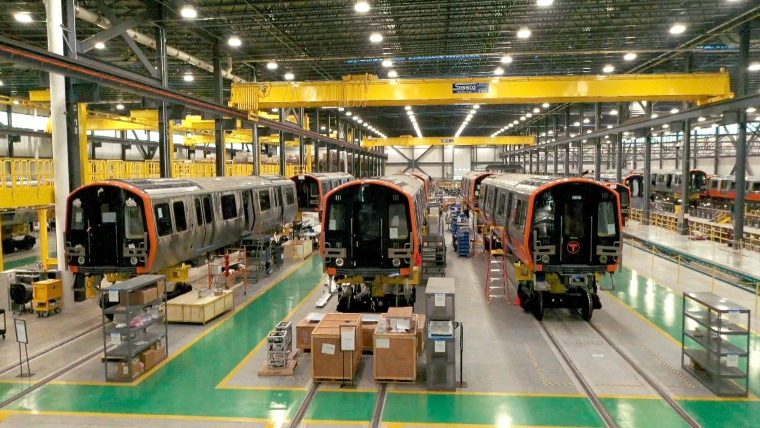 CRRC MA, which manufactures train cars for Boston, Philadelphia and Los Angeles, did not respond to requests for comment. In a statement, the CRRC subsidiary in Chicago said it "expressly prohibits" the use of child labor in the manufacturing of its rail parts.
"The majority of components used in the production of our railcars are sourced from U.S. suppliers," CRRC Sifang America said. "We expect all our suppliers to treat their workers with dignity, respect and responsible employment practices."
CRRC is among the largest train manufacturers in the world. The company builds the shells of its American rail cars in China, then ships them to the U.S. to have their parts installed.
The Massachusetts Bay Transportation Authority (MBTA) is already using CRRC-manufactured train cars after striking a $566 million deal with the company in September 2015. The MBTA didn't respond to requests for comment.
But in a statement to NBC10 Boston last month, the transit authority said general manager Steve Poftak directed his staff to look into whether the CRRC contract will allow them to "exercise any level of control" on where the company gets its "supplies and materials."
NBC News reviewed hundreds of shipping records and traveled more than 400 miles through Madagascar's remote southern region to document the flow of mica mined by children.
The Dutch child protection group Terre des Hommes estimates at least 10,000 children are involved in Madagascar's mica sector.
Kids have developed back and breathing problems from descending into darkened pits without safety gear to collect mineral shards for pennies an hour. Others work at mica processing centers where they spend hours a day banging on mica sheets with socket-wrench-like tools.
Mica is particularly prized in the electronics and automotive worlds because it acts as a natural insulator that doesn't overheat even in extreme temperatures. More than 90 percent of the mica mined in Madagascar makes its way by ship to China, where it flows into a largely opaque supply chain that feeds companies across the globe.