In early November last year, an Amtrak train operator found a body on the tracks outside Baltimore who authorities later identified as YouTube star James "Stobe the Hobo" Stobie.
Stobie was known for sharing his travel stories and love for hopping freight trains in videos posted online. But after years of insights from the road, the former Coast Guard member appeared to have died while riding the rails that he loved so much.
According to data maintained by the Federal Rail Administration released last week, it seems that Stobe was far from alone in 2017.
The FRA data concluded that train deaths have grown steadily in the past 10 years, peaking in 2017. The federal agency said that 888 people died due to train-related incidents last year, and 575 of them were considered trespassers, like Stobe.
The majority of those killed while trespassing were his age as well, falling between 20 and 39.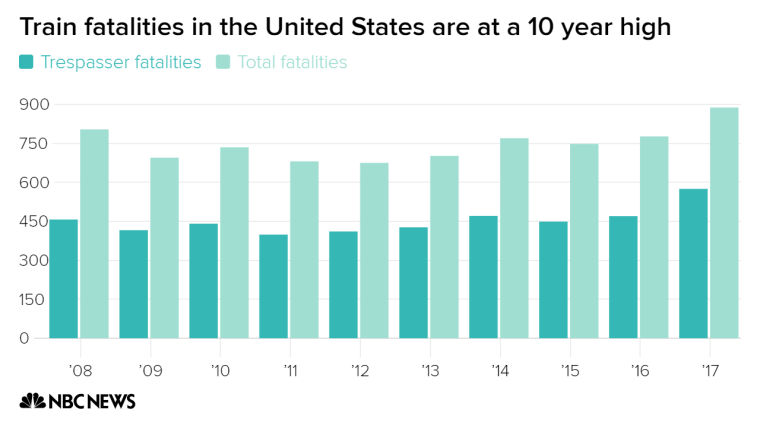 "Trespassers are people who are on the tracks illegally," said Dr. Allan Zarembski, director of the University of Delaware's Railroad Engineering and Safety Program. "People who go on the tracks without permission. Most of the time they do not appreciate railroad safety and they get hit by trains walking down the track."
Railroad trespassing is an outsized problem for rail companies and the FRA, since all train tracks are considered private property but remain easily accessible. Anyone walking along the wooden crossties that make up a track are considered trespassers, from those taking selfies next to a passing train to those using it as a pedestrian shortcut.
Some are even shooting personal fitness videos near the rails, according to Operation Lifesaver, a rail safety organization closely tied to the railroad industry.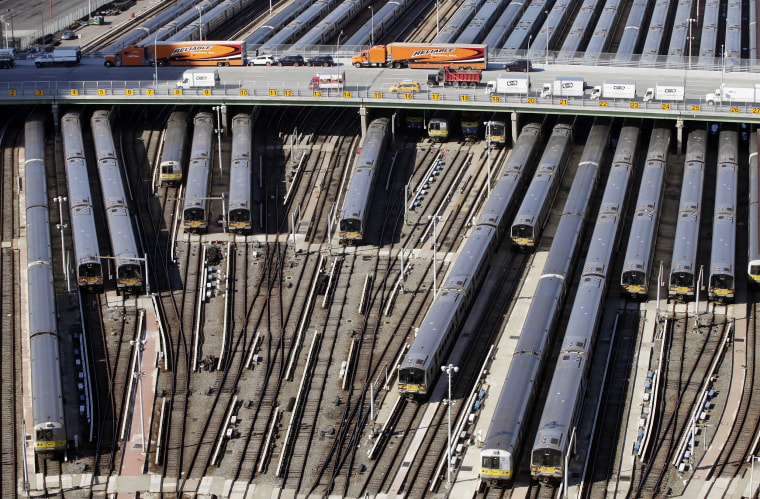 But the danger also extends to those who enjoy riding the rails like Stobe, an activity that is growing in popularity.
"We do know anecdotally that continues to be a big, growing trend," said Libby Snipe, the spokeswoman for Operation Lifesaver.
A report from the Congressional Research Service filed last month noted "that Hollywood often depicts rail trespassing as an acceptable or even attractive activity." It added that the media "could be enlisted to warn of its dangers."
So far that doesn't seem to have happened.
"Just last year Subaru released an ad that had a couple riding in a box car, and we actually wrote them to let them know that idolizing train hopping is very detrimental and they did end up adding a disclaimer and removing the ad," Snipe said.
The reality of jumping on a train doesn't always match the easy, romantic depiction on television screens.
"In an early part of my career I had to get on and off trains that were slow moving," said Zarembski. "By the time you get up to three or four miles an hour that's scary. At five or six miles an hour, I wouldn't do it."
While Zarembski described the activity as foolhardy, Liz Hayes, an artist who formerly rode the rails, said that characterization ignores the reason why people pursue the activity. She said that those who don't have much money use it to travel while maintaining a sense of autonomy.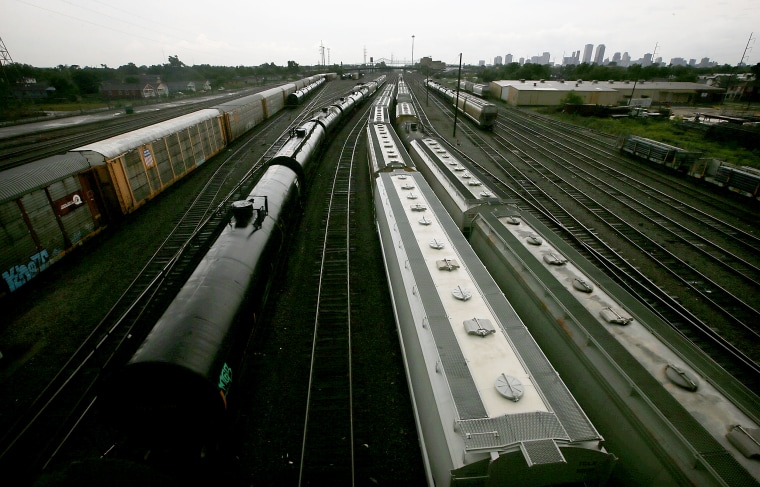 "Hopping trains gives you this really fierce sense of independence," she said.
But now with a few years separating her from her last ride, Hayes noted that while freight hopping is increasingly prevalent, "a giant hunk of steel moving at high speeds" is clearly very dangerous.
"I think a lot of the injuries and deaths result from people taking rides common sense would tell someone are unsafe," Hayes said. "Also getting on or off trains moving at high speeds and alcohol."
Whatever the reason, experts say the decade-high mark in deaths is alarming and something must be done to combat the problem.
The CRS study concluded that "there is no dedicated program devoted to rail trespass prevention analogous" to those dedicated to rail crossing deaths, a one-time major killer that education programs have helped drastically decrease.
But a National Transportation Safety Board forum on rail trespassing in 2015 found that a similar tactic would not work because they still needed to conduct further research to understand to the target audience for those education programs.
As no one has tackled the issue, Congress plans to take up this year. The House Appropriations Committee asked the FRA to consider a new national strategy to prevent trespassing. The federal agencies deadline to provide a new strategy is "no later than August 1, 2018."
"It's hard for me to speculate why this has been such a stubborn safety issue," said Snipe. "But we continue to develop new programs that will hopefully address it."