One by one, students and staff members who survived alleged gunman Nikolas Cruz's deadly rampage at Marjory Stoneman Douglas High School stepped up to a podium Saturday and railed against the gun lobby and gun laws that enabled him to purchase an assault weapon.
At times their voices broke with emotion or rage, but each person who addressed the Rally to Support Firearm Safety Legislation in Fort Lauderdale, Florida, was united in their message: The shooting should never have happened.
Marjory Stoneman Douglas High School student Emma Gonzalez began her speech with a moment of silence for the 17 victims who were killed Wednesday.
"All these people should be at home grieving," she said. "But instead we are up here, standing together, because if all our government and president can do is send 'thoughts and prayers,' then it's time for victims to be the change that we need to see."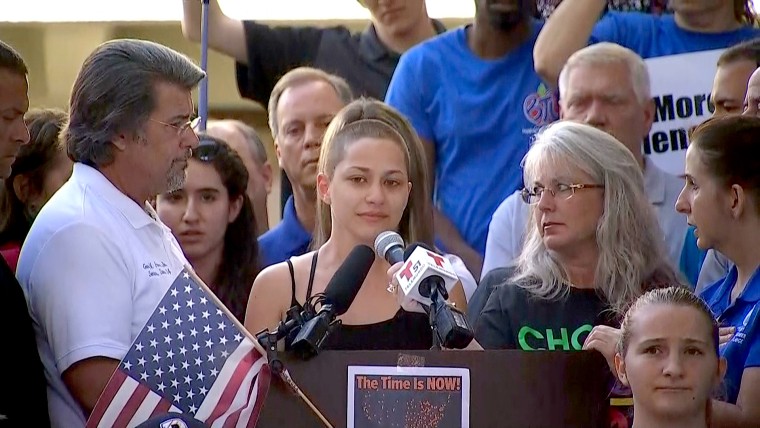 Related: Florida school shooting: These are the 17 victims
Reading from a speech scribbled on the back of her AP Government notes, Gonzalez demanded to know where the "common sense" is in America's gun laws, and called out members of Congress who've accepted money and donations from the National Rifle Association.
She also had a message specifically for President Donald Trump, criticizing him for tweeting a call for action on mental health, while adding that he overturned an Obama-era law that made it harder for people with mental illness to purchase a gun.
"If the president wants to come up to me and tell me to my face that it was a 'terrible tragedy,'" she said, "I'm going to happily ask him how much money he received from the NRA."
In the crowd, students held up photos of their classmates who were killed, and at times responded to speeches with chants of "vote them out," and "Rubio must go."
Douglas High student Sarah Chadwick, whose reply to Trump's condolence tweet went viral, carried a sign that read "we don't want your thoughts and condolences, we want policy & change."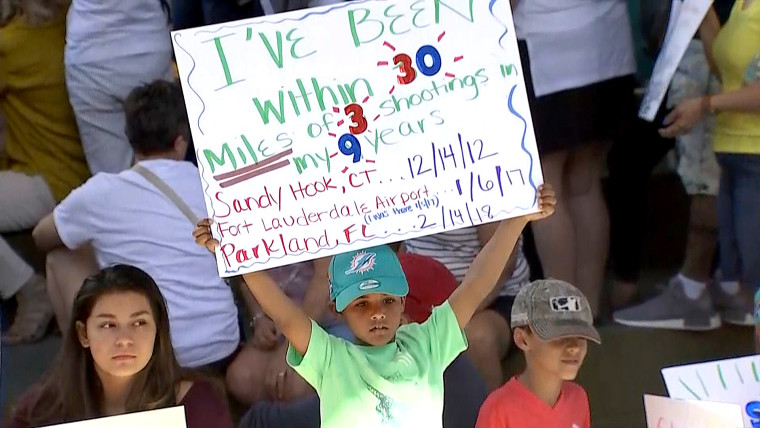 Melissa Falkowski, a Douglas High English and journalism teacher, who hid in the closet of her classroom during the shooting, spoke through tears at the rally.
"They say 'it's not the time' — Now is the time! There is no other time!" she said.
Falkowski said she has made it her life mission to fight for gun legislation and to ensure that school shootings never happen again.
David Hogg, a 17-year-old senior whose message to lawmakers went viral after the shooting, said he wanted the community to channel its pain and frustration into voting out the politicians who support gun laws.
"This fight is not going to be easy. This fight is not going to be short," he said. "The people and the special interests who want to pass gun laws and make it easier for people to get guns are not going to stop — and we can't either."
"Now," Hogg said, "is the time that we say thank you for your prayers and your thoughts but that's not enough."
Trump, who made no reference to the issue of gun control in an address to the nation about the shooting on Thursday, on Twitter Saturday blamed Democrats for a lack of action.
"Just like they don't want to solve the DACA problem, why didn't the Democrats pass gun control legislation when they had both the House & Senate during the Obama Administration. Because they didn't want to, and now they just talk!" the president tweeted.
Related: Trump vows mental health care fix after Florida shooting. He also wants to slash coverage.
Trump in Thursday's address said he would work to help the nation "secure our schools and tackle the difficult issue of mental health." The president on Friday visited victims of the mass shooting at a hospital.
Trump's 2019 budget proposes a substantial 22.5 percent cut to Medicaid, which funded 25 percent of all mental health spending in 2014, according to the Kaiser Foundation.
CORRECTION (Feb. 17, 2018, 7 p.m. ET): A previous version of this article misspelled the last name of a student. She is Emma Gonzalez, not Gonzales.