The American electorate is restless and frustrated with the presidential candidates (who are historically unpopular), the process itself, economic instability and Congressional gridlock. Rhetoric on the campaign trail has ratcheted up. And among Republicans, there is increasing anxiety about a presidential race that appears to be slipping away from them.
The last time at this late stage of a presidential campaign that such unrest and rancor seemed to seize the reins of a general election race was 2008.
With all the momentum seeming to shift toward Barack Obama in the last weeks of September and early October 2008, John McCain's campaign started to take on a nastier tone. The chief architect of that strategy appeared to be then-Alaska Gov. Sarah Palin.
On the stump, Palin electrified partisan crowds by accusing Obama of "palling around with terrorists," in a reference to his former mentor and anti-war radical William Ayers (McCain himself also claimed that the Democratic nominee's political career began in Ayers' living room). Articles and politicos at the time raised alarm over Palin rally attendees shouting things like "kill him" and "off with his head" in reference to Obama.
Related: Donald Trump Again Alludes to Violence Against Hillary Clinton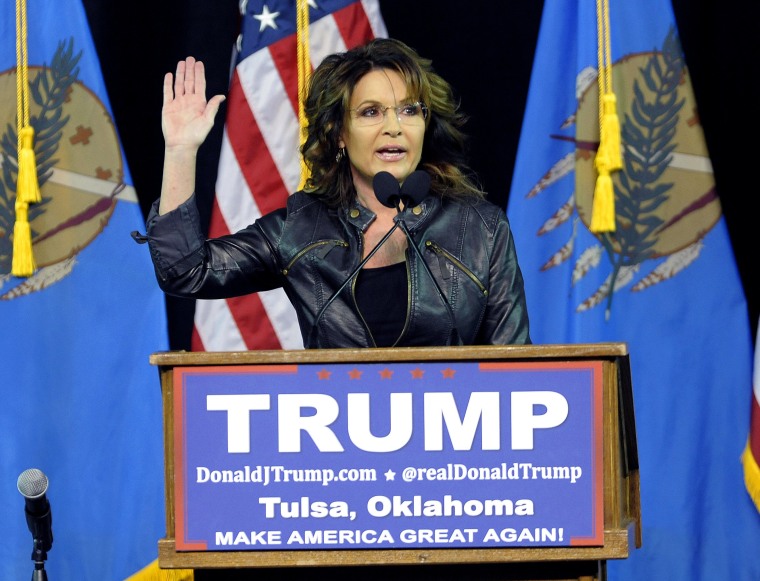 "I don't think it's that big a deal," Rick Davis, McCain's campaign manager, told reporters at time. "I think political rallies have always attracted people who have an emotional connection to the outcome of an election."
But there was concern in the Obama camp about the direction their Republican opponents were going, according Democratic New York Assemblyman Michael Blake, who served as an aide for the then-Illinois senator's 2008 campaign and later in the White House. However, the fact that it was largely Palin -- who was still establishing a national profile -- articulating the more incendiary attack lines, and not McCain, made a difference.
"Words from the top matter even more," Blake told NBC News. "Trump's language is much darker and more direct, borderline criminal even. The realization that they are losing and going to lose absolutely plays a role, but we also can't dismiss that this is Donald Trump."
Throughout the 2016 campaign, many Trump supporters have struck a particularly vicious tone -- with cries of "lock her up" and T-shirts that read "Hillary for Prison." The candidate himself has floated the notion that should Hillary Clinton win in November it would be the result of a "rigged" election or perhaps a politically-motivated infiltration of undocumented voters from abroad.
This week, GOP vice presidential nominee Mike Pence had to talk down a supporter calling for "revolution" if Clinton is elected, which immediately drew comparisons to McCain's decision to tell one of his backers back in 2008 that Obama was not an "Arab."
Still, among the GOP base in 2008, that concept -- and other conspiracy theories -- had considerable cachet, and there were reports that Palin chafed under the McCain campaign's preference for sticking to the issues. According to Palin herself, she yearned to "go rogue" and give the base what it wanted.
This time around, it's the top of the ticket leading the charge for no-holds-barred campaigning.
On Tuesday, Trump made the racially insensitive assertion that he was no longer in metaphorical "shackles." And since the second presidential debate, during which Trump pledged to jail Clinton if elected, there has been a ratcheting up of rhetoric.
Related: Major GOP Donors Are Asking Trump for Their Money Back
Still, those who are concerned about the histrionics of late can take heart in the fact that in 2008, following the election of Obama, there were no widespread acts of violence. For instance, a young Republican who claimed to have been assaulted by an Obama supporter that fall turned out to be a fraud. However, the burning of a predominately black church in Springfield, Massachusetts less than 24 hours after Obama's win was believed to be a direct response to the results.
Blake, who is teaching a course on "race & gender in politics in the Obama era" at the Harvard Institute of Politics, believes that the Clinton campaign -- which is ahead by 9 points nationally, according to the latest NBC News/Wall St. Journal poll -- shouldn't wait to reach out to start salving the wounds of this bruising campaign season.
"I don't expect that there will be this outward massive negative revolt [if Clinton wins] but we actually need to start the healing process now, it can't happen after Election Day," he said. "People don't want to be divided."