Nevada rancher Cliven Bundy on Thursday refused to enter a plea to charges connected with a 2014 armed standoff with federal agents, and a not guilty plea was entered on his behalf.
"I make no plea before this court," Bundy, 69, said at his first appearance in federal court in Las Vegas since being transferred from Oregon to Nevada last month, NBC affiliate KSNV reported.
Bundy is charged along with 18 others in connection with the 2014 confrontation with federal agents, in which the government backed down in the face of armed protesters.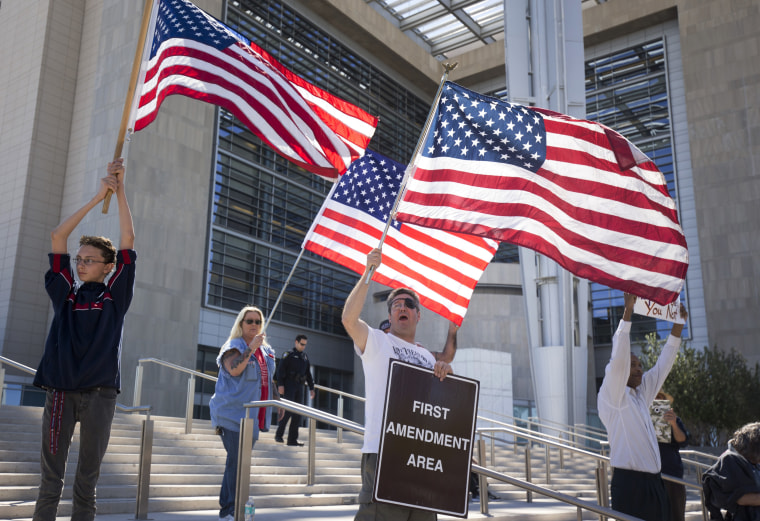 He allegedly sent a "call to arms" to encourage others to travel to his Bunkerville ranch and oppose federal officials who seized his cattle over illegal grazing and $1 million in unpaid grazing fees.
Related: Feds Go After Bundys, Allege '20 Years of Law Breaking'
Outside federal court, demonstrators protested Bundy's arrest and prosecution, calling it "federal oppression."
Among those was the daughter of Robert "LaVoy" Finicum, who was fatally shot by officers during an arrest following the occupation of an Oregon wildlife refuge, carried out in protest of federal government land policies.
"More near and dear, they murdered my father for him taking this very stand. And so, we will not be silenced. We will support and we will stand against tyranny," Finnicum's daughter, Thara Tenney, told KSNV.
Bundy is being held without bail. A detention hearing is scheduled for next Thursday, according to court records.