Hundreds of thousands of rape kits that could identify serial sexual attackers are sitting untested by police departments across the country — despite promises and federal funds to clear the backlog, a new agency-by-agency count suggests.
Documents obtained exclusively by USA TODAY Media Network, an NBC News partner, uncovered more than 70,000 neglected forensic evidence kits amassed by more than 1,000 police agencies. That's just a fraction of the nation's 18,000 police departments, so the total number of untested kits is likely far higher.
Thirty-four states haven't even counted how many untested kits are sitting on shelves, and the Justice Department has not established federal guidelines on how to handle sex-crimes evidence to comply with a law passed by Congress in 2013.
A woman named Johnnie, who was raped in Detroit in 1998, told NBC News her case shows just how important testing a kit can be.
She was asleep next to her infant son, pregnant with her daughter, when a man broke in and sexually assaulted her at gunpoint. She had a feeling she wasn't his only victim.
"If he felt that comfortable coming through my window, I probably wasn't the first one. And I definitely wouldn't be the last," she said.
Forensic evidence was collected at the hospital — and then sent to a dingy warehouse where more than 11,000 other untested kits would accumulate over the years.
Wayne County prosecutor Kym Worthy was appalled when she learned about the cache five years ago. "I think I was kinda stunned, and not too much stuns me," she told NBC News in 2012.
With the help of the Michigan Women's Foundation, Worthy raised millions in federal, state and private funds, and 10,000 of the kits have been tested so far. That has led to the discovery of 456 suspected serial rapists.
When Johnnie's kit was tested, 13 years after her attack, there was a match. Her attacker pleaded no contest to rape and is in prison.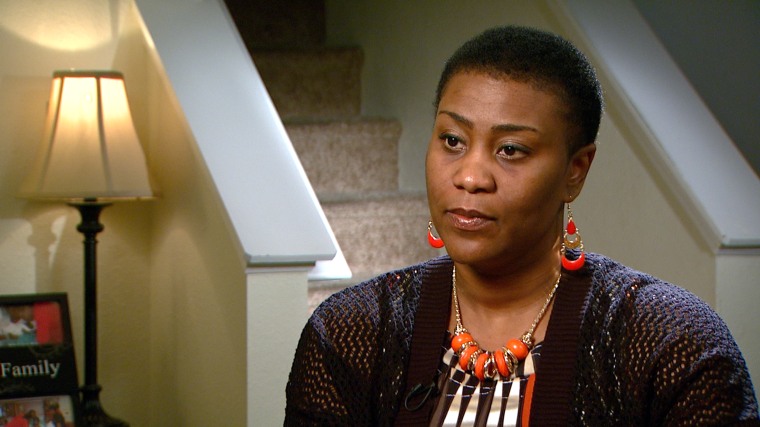 Other large cities have also made progress in clearing their backlogs, but some police officials maintain testing 100 percent of the kits is unnecessary.
Phoenix, Arizona, has 1,782 untested kits, but unlike many of the cities with backlogs, it does have an official protocol for deciding how to process sex-crimes evidence.
Police spokesman Sgt. Trent Crump told NBC News that investigators have determined the kits that have not been tested already don't need to be.
"They have no evidentiary value left for us — meaning we already know who the suspect is," Crump said. "Or we have determined that no crime occurred in those cases."
More than 4,000 kits collected during the same period were processed. Doing the same with the other 1,782 would be a waste of police resources, Crump said.
"You're taking something that has no evidentiary value to you in a case and you're placing that in front of every other crime that is occurring in the City of Phoenix. So, you're taking that and you're placing that in front of a homicide. You're placing that in front of a child abuse," he said.
The Joyful Heart Foundation, a non-profit which was started by "Law and Order" actress Mariska Hargitay, says women who undergo an invasive examination deserve to have the evidence tested.
"We join experts in calling for the mandatory submission and testing of every rape kit booked into evidence and connected to a reported sexual assault," the group said in a statement.
Tests costs about $1,000 each to process, USA TODAY reported. The law passed by Congress in 2013 set up grants to help police pay for audits, but none of the money has been awarded and no protocols have been issued.
In fact, a Justice Department steering committee overseeing the matter met only once, more than a year ago, the report said.
USA TODAY investigative reporter Steve Reilly said he examined whether police agencies and states have laws and policies to guide decision-making about what to do with sex-crimes evidence.
"And we found in many cases there's just no written guidance, no policy, no law at the state level telling police what to do with this evidence," he said. "And as a result, you see widespread inconsistencies in how this evidence is handled."
Johnnie told NBC News that she was surprised to hear the scope of the problem, calling it a "slap in the face" to victims. She is hopeful change is on the horizon.
"I would just like to say to the other survivors out there that may be sitting where I was sitting once upon a time — waiting for that phone call or that letter to come to the mail — keep the faith. You know, don't give up hope.
"Because one day, you just might get that call. It may not be months later, a year later. It may be 13, like mine," she said. "But getting that closure, and seeing the person who did that to you will really make you feel good.
"You know, it'll make you feel like justice was finally served."