LOS ANGELES — Rapper Mac Miller, a former boyfriend of pop superstar Ariana Grande, died from a fatal mix of drugs and alcohol, authorities revealed on Monday.
The artist, whose real name was Malcolm McCormick, "died from mixed drug toxicity" that included cocaine, the opioid fentanyl and alcohol, according to a statement from Los Angeles County Department of Medical Examiner-Coroner.
Urine recovered from Miller's kidneys tested positive for cocaine, the coroner's report said.
"A small bag containing a white powdery substance was located on a small table along the north wall of the studio" in Miller's home, police told the coroner. "A rolled up 20 dollar bill with a white powdery residue was noted in the right pocket of the decedent's shorts."
An additional "bag containing a white powdery substance" was found in a coat pocket of Miller's according to the report.
The 26-year-old performer was found unresponsive at his home in the Studio City neighborhood of Los Angeles on Sept. 7. He's been open about his battles with addiction, in particular to a concoction of cough syrup with codeine and Sprite, known as "lean."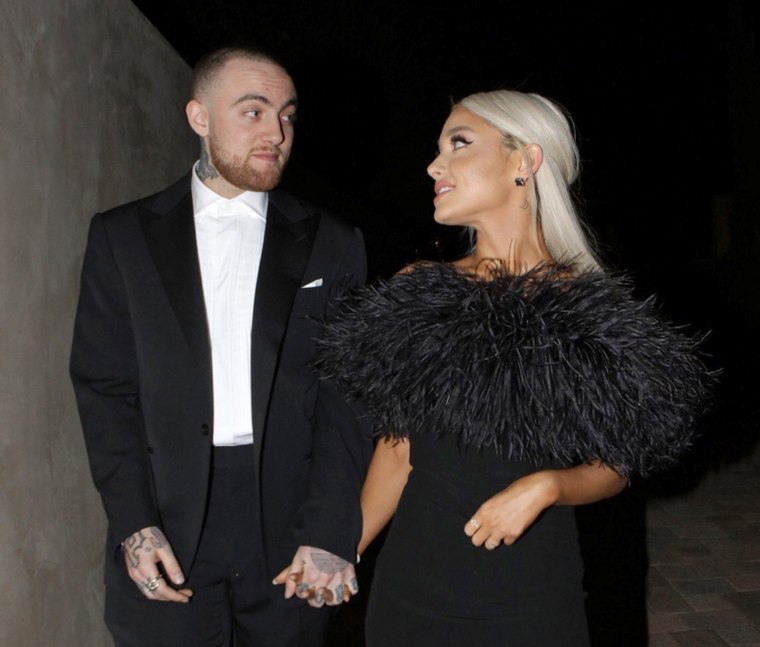 Miller employed a personal assistant, tasked with coming to his home and waking him at 11:30 a.m. each day, according to the coroner's report. That assistant had been with Miller at 10:30 p.m. the night before and came to wake him at 11:35 a.m. on Sept. 7, investigators said.
He was unresponsive and the assistant called 911 and performed CPR before paramedics arrived, investigators said.
The artist had been upbeat with no apparent health issues in recent times, Miller's mom and his assistant both told investigators.
"He (the assistant) said that the decedent had been in good spirits lately and had many positive ongoing projects," according to the report.
Miller's mom last spoke to him the night before his death.
"He seemed very excited about a new album and upcoming tour," the coroner wrote, summing up what Miller's mom observed of her late son.
Grande recently paid tribute to her former partner in social media postings, as she wore a hoodie of his and snuggled with his beloved dog Myron, "Access Hollywood" reported last week. Grande and Miller broke up in May after two years together.
Andrew Blankstein reported from Los Angeles, David K. Li reported from New York.