A rare nor'easter-type storm that dropped torrential rains throughout the East Coast and mid-Atlantic caused major flash flooding Saturday and forced the governor of West Virginia to declare a state of emergency.
The low-pressure storm system — which is more typical of winter and not late July — was expected to move offshore by Saturday afternoon, but leave behind a swath of debris and flooded-out homes and roads, the National Weather Service said.
In West Virginia, Gov. Jim Justice declared a state of emergency in six counties Saturday and mobilized the National Guard to assist in evacuating residents stranded in heavily-flooded areas.
The northern parts of West Virginia saw three inches or more of rain, the NWS reported, and a flood warning remained in place.
At least a third of Marion County, just south of the Pennsylvania border, is under water, said Chris McIntire, the county's homeland security director. He added that the heavy rains began in the early hours of Saturday and more than 40 swift-water rescues occurred overnight.
Judy Hamilton, of Mannington, said she and daughter Maranda felt lucky to be alive after waking up early Saturday morning to find the flood waters rising.
Panicking, Hamilton said she called to check on her daughter, who is disabled and lives in a trailer on their property, around 2:15 a.m. before calling police to request a water rescue.
"It seemed like it took so long for the rescue people to get here," she said. "I was on the phone with her and the porch broke loose. She was screaming for help out her window and I was going crazy."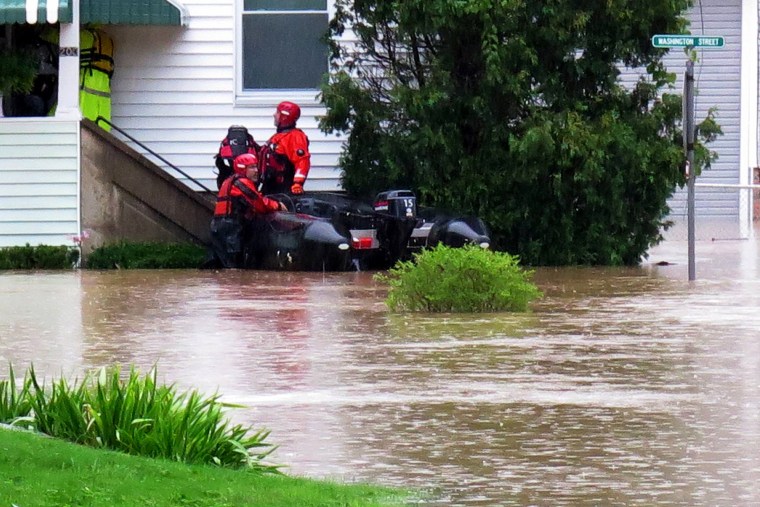 Hamilton said when the first rescue team arrived, their canoe overturned and they had to swim to her house. Eventually, both Hamilton and her daughter were rescued in a motorized boat.
"Our house was flooded about five feet downstairs and upset furniture and ruined everything," she said.
On Friday, more than four inches of rain fell in Maryland, Virginia, southern New Jersey and Washington, D.C., according to The Weather Channel, leaving vehicles trapped in high water and some roads impassable.
In the nation's capital, flood waters swept through Rock Creek Park, half-submerging a playground, downing heavy tree branches and transforming the creek that runs through the popular outdoor space into a gushing river.
About 9 million people across northern Virginia, Maryland and Washington, D.C., remained under a flash flood watch through early Saturday afternoon.
Elsewhere on the East Coast, North Carolina's Outer Banks continued to see mandatory evacuations Saturday — amid heavy thunderstorms moving in during the afternoon — after a construction crew accidentally cut out electricity this week to tens of thousands of residents and summer visitors.
Officials told The Weather Channel that it could potentially take weeks to restore power to Ocracoke and Hatteras islands.
North Carolina Gov. Roy Cooper pressed utility officials on Saturday to expedite repairs to the power lines. In a statement on the outages, Cooper said portable generators had been sent to the islands to provide electricity for public safety, water and sewage services, but would only give limited power for residents.
On Ocracoke, only residents with proof were being permitted to remain on the island. Nonresidents were ordered off.
About 50,000 nonresidents to Hatteras were similarly evacuated, including from rental homes and hotels. Homeowners were being allowed to stay with proof of residency.