The fatal officer-involved shooting of unarmed Cincinnati motorist Samuel DuBose provoked outcry last year for greater police accountability — not just in Ohio, but nationwide.
The racially charged case was notable for at least two reasons: The killing of DuBose by Ray Tensing, a University of Cincinnati police officer, was caught on body camera, and Tensing was charged with murder 10 days later.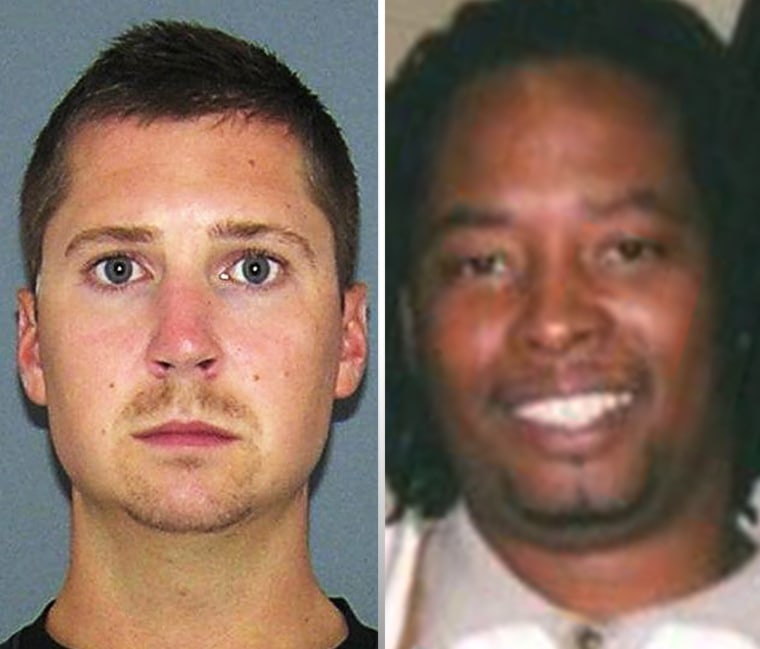 It was a rare instance of an officer not only getting fired for his actions, but indicted as well.
The murder trial against 26-year-old Tensing opened Tuesday morning with the start of the jury selection process. Here's what will be laid out in court:
What led to DuBose's shooting?
Dubose, a 43-year-old father of 13, was driving near the University of Cincinnati in July 2015 when he was pulled over during a routine traffic stop. His Honda Accord was missing a front license plate, police said.
Tensing, who joined the force in 2014, asked DuBose for his driver's license and registration, which he failed to provide. The officer eventually ordered him to step out of his car and tried to open the door, but DuBose refused. The car began to pull away.
With one hand still inside the car, Tensing yelled, "Stop! Stop!" before firing his gun at DuBose, striking him in the head. The car then began traveling out of control before coming to a stop.
What did the police camera capture?
Tensing's bodycam showed the incident unfold. The men had a conversation for about one minute and 50 seconds before it escalated with Tensing and DuBose in a struggle. Within seconds, Tensing fired his gun.
Two other officers were on scene, and their body cameras captured other angles of the shooting's aftermath.
Those officers had insisted in statements that Tensing appeared to have been dragged by the car. But video released from Tensing's bodycam showed that he was not physically pulled with the vehicle and he quickly chased after it as it rolled forward.
What was the reaction to the shooting?
Hamilton County prosecutor Joe Deters, who moved swiftly to announce murder and voluntary manslaughter charges against Tensing, called it a "chicken crap stop" and said DuBose was "purposefully killed."
Tensing became the first officer in Cincinnati to face murder charges for killing someone while on duty. He pleaded not guilty.
Tensing told investigators that he feared for his life — a point also argued by his attorney.
"He has tried to create great prejudice against my client, but fortunately that's what we have courts for," Tensing's attorney, Stew Mathews, said after charges were announced by Deters. "Because when all the evidence comes out, I think there will be a different version of what went on here."
An outside review found that DuBose's death was "entirely preventable."
What could happen to Tensing?
Tensing remains free on a $1 million bond. If found guilty of murder, he could be sentenced from 15 years to life in prison. If he's convicted of voluntary manslaughter only, however, he could get three to 11 years in prison.
How long could the trial last?
More than 200 perspective jurors will be interviewed this week, court officials said. Jury is selection expected to take place Monday.
The trial could last about two to three weeks, according to NBC affiliate WLWT.
What was the fallout from the case?
The University of Cincinnati already settled with the DuBose family earlier this year.
The settlement included a $4.85 million payment to the family, as well as free undergraduate tuition to the University of Cincinnati for all of his children and an apology from the school.
The university's police force, meanwhile, is operating under new guidelines that require officers to be more visible within the local community while de-emphasizing traffic enforcement.
Update: An earlier version of this report said two other officers' body cameras captured different angles of the shooting. The cameras captured other angles of the shooting's aftermath.